Whatever Happened To DJ Jazzy Jeff?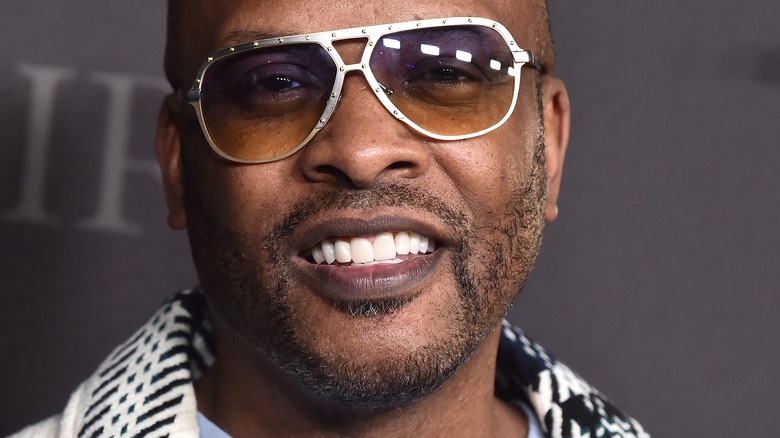 DFree/Shutterstock
When we say the words "DJ Jazzy Jeff," there are definitely a couple of other words that pop immediately to your mind, and they rhyme with "mesh flints." Jazzy Jeff, real name Jeffrey Townes, will forever be associated with international megastar Will Smith, with whom he scored scads of gold and platinum albums and chart-topping hits in the '80s and '90s as the rap duo DJ Jazzy Jeff and the Fresh Prince. The association was further cemented when Jeff joined the cast of Smith's beloved '90s sitcom "The Fresh Prince of Bel-Air" as the recurring character Jazz, the good buddy of the title character, who couldn't seem to keep from getting chucked headlong out the front door by good old Uncle Phil on an alarmingly regular basis.
These things you likely already know, but we're here to fill you in on a couple of things you might not. First, Jeff has a deservedly towering stature in hip-hop, one that goes far beyond his squeaky-clean pop hits with Smith. Second, in the years since he tasted pop and sitcom stardom, he has never stopped doing his thing for even a minute, and that thing usually involves a pair of turntables, a mixer, a ridiculously deep library of vinyl, and a big crowd. Let's explore just why Jazzy Jeff is such an icon in the hip-hop community, and what he's been up to for the last couple of decades.
Jazzy Jeff is one of the greatest DJs of all time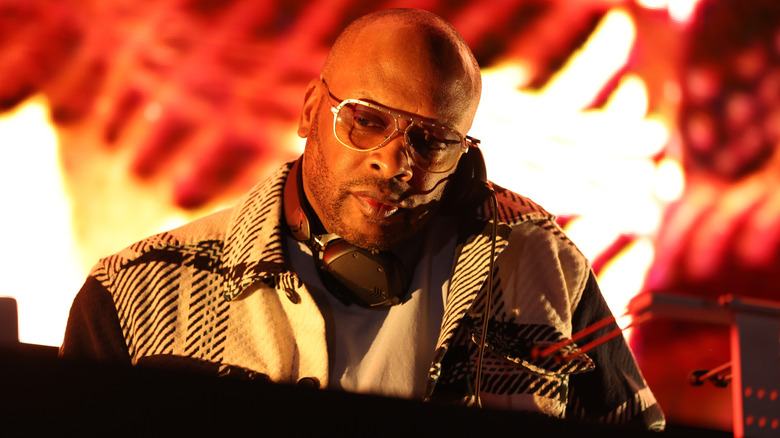 Rich Fury/Getty Images
OK, look: Yes, Jazzy Jeff was the guy behind the decks in that goofy video while Will Smith griped about how parents just don't understand, and he's instantly recognizable while hurtling through the front door of a Bel-Air mansion as if launched by a catapult. But the reason for his stature among hip-hop heads is simple — he's a turntable freakin' wizard. Even on his very first album with Smith, 1987's "Rock the House," it was clear that Jeff's precision with the crossfader — the go-between lever the DJ manipulates on the mixer with the non-record hand — was unparalleled, and he also exhibited an elegant swing to his scratch that few DJs of the time were capable of. (He's not called "Jazzy" for nothing.) 
While Jeff didn't often get the chance to cut loose on his hit singles with Smith, he was always given ample showcase material on their albums' deep cuts, many of which featured verses wherein Smith shamelessly bragged about Jeff's skills, alternating with breaks wherein Jeff skillfully backed up those boasts. It wasn't enough for Jeff to be better than pretty much everyone else with the tools of his trade, though — before that first album was even released, he was already busy creating brand-new tools.
He co-invented a scratch that revolutionized the form
Today's crossfaders can, if the DJ requires it, cut the volume on a turntable completely and cleanly with a tiny flick of the wrist. But in the '80s, they were a heck of a lot mushier, which is why Jazzy Jeff's razor-sharp scratches sounded so impressive. In a deep cut on "Rock the House," titled "The Magnificent Jazzy Jeff," Jeff debuted the technique (which we've helpfully cued up for you above) that would prompt the crossfader's modern redesign. It involved either a modification to the fader to make the cutoff crisper or the use of a simple momentary button that would mute the turntable when tapped. Executing the technique rhythmically while moving the record back and forth resulted in something that sounded a lot like a Transformer turning into whichever vehicle in the old cartoon ... hence, it came to be known as the transform scratch.
Jeff wasn't the only one to try this. According to "Last Night a DJ Saved My Life," the transform may have first been practiced by Philly's late, great DJ Spinbad, and further developed by Jeff and DJ Cash Money in competition with each other. Also, Mixmaster Ice of UTFO (perhaps Jeff's only contemporary who was as fast on the crossfader) broke out the transform on his group's 1987 album "Lethal," and crossfader inventor Grandmaster Flash lent a hand, even marketing a momentary button-based device called the FlashFormer that same year.
But to have even a pinkie in this innovation is to have helped change scratching forever, as it allowed for a level of precision that quickly became a new standard.
He started his own record label and production company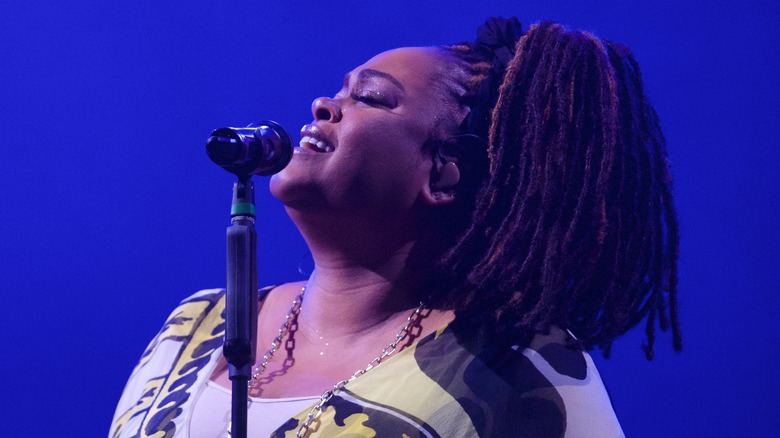 Gregory Reed/Shutterstock
Being the DJ of his outfit, Jazzy Jeff seems to have always been accustomed to hanging in the background, kicking butt and taking names while Smith flashed his big old charisma all over the place. If it ever bothered him, you wouldn't know it by the fact that one of his earliest business endeavors was created to put other artists in the spotlight: In 1990, he founded the record label, production company, and recording studio A Touch of Jazz, with the express purpose of helping out artists from his beloved Philadelphia (and, of course, putting out releases for himself and Smith).
In the intervening years, the label has found a nice little niche fielding R&B and rap releases from the likes of Jill Scott, Kev Brown, and Lil Kim, and has also released soundtracks for major Hollywood productions like "Rush Hour 2," "Love Don't Cost a Thing," and "Made in America." Of course, Jeff also snuck out a couple of releases that may have flown under your radar — because as it turns out, he didn't stop making music after parting ways with Smith.
He's put out a couple of excellent solo albums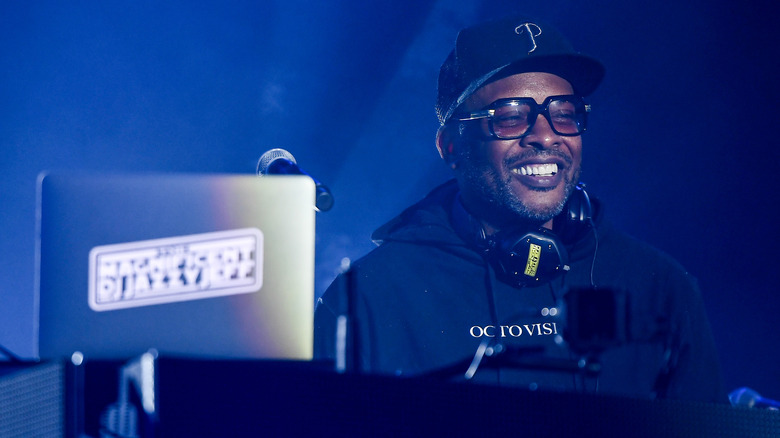 Ian Gavan/Getty Images
As you may have gathered, Jazzy Jeff has rocked the descriptor "The Magnificent" since before anyone outside of Philly knew just how magnificent he was. In 2002, he made it official with his first solo album from A Touch of Jazz, "The Magnificent," which featured a handful of up-and-coming Philly artists in addition to appearances from legends like Freddie Foxxx, J-Live, and Last Emperor. In 2007, he followed that release up with his sophomore effort, titled (wait for it) "The Return of the Magnificent," which was even heavier on the legends, with Posdnuos from De La Soul, Big Daddy Kane, Rhymefest, Method Man, Jean Grae, and CL Smooth all dropping by.
Strangely enough, "The Magnificent" appears to have been shorted an appearance by another MC you may have heard of. A track titled "When to Stand Up," which was leaked online in 2011, featured none other than Eminem, dropping his trademark tongue-twisting punchlines in the style specific to his late '90s work. It's unclear why the track didn't make the cut — perhaps it was that big, fat, profane jab Em took at Will Smith to open the second verse of "The Real Slim Shady."
He contributed to one of the better hip-hop movies of the last decade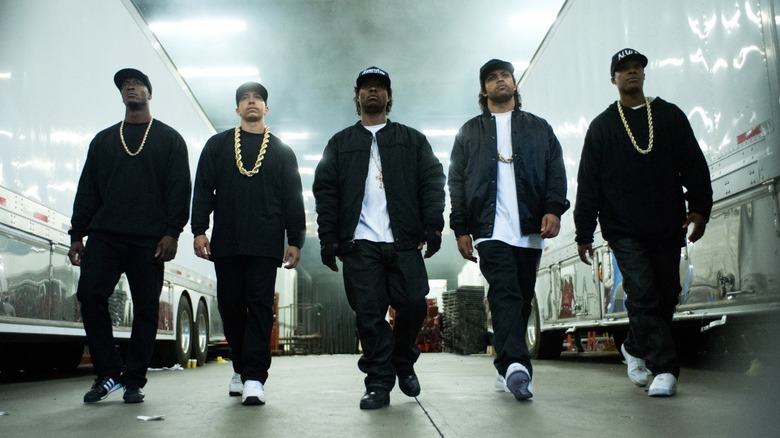 Universal Pictures
2015's "Straight Outta Compton," the NWA biopic, was an entertaining, somewhat accurate recounting of the rise of the "world's most dangerous group." With its spot-on cast (including Ice Cube's actor son, O'Shea Jackson, Jr., playing young Cube) crushing it in service of a compelling story, the flick was a critical and commercial success, although some acquaintances of the group have taken slight umbrage with some of the details that were omitted. (Hey, if we were Dr. Dre, we probably wouldn't want to rehash that infamous Dee Barnes-slapping incident either.) The movie's soundtrack is chock-full of faithful recreations of NWA's iconic tracks — and when it came time to record new version of DJ Yella's (Neil Brown, Jr.) hot scratches, Dre knew just who to call.
In a conversation with Philly Voice, Jazzy Jeff revealed that he at first didn't believe it when mutual acquaintances kept telling him Dre was trying to contact him, until he found himself on the phone with the legendary producer. "It was cool because we had seen each other a couple of years ago; we bumped into each other in Hong Kong," Jeff remembered. "He was like, 'I need someone who was there to be able to do all the DJ work in the movie.' I was really extremely honored that he picked me. And it was a lot of fun ... It was definitely surreal going to the screening of the movie and hearing it. It was such a great movie."
Jeff has been touring ... a lot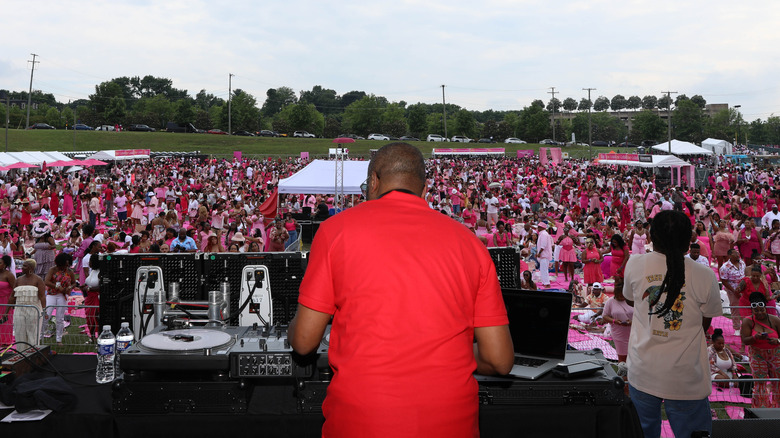 Brian Stukes/Getty Images
Of course, when one is a DJ, one must spin, preferably in front of as many people as possible, and Jazzy Jeff certainly hasn't been slacking in that respect. In 2019, Vibe caught up with him just after he finished spinning for a crowd of thousands in Taipei, and Jeff told the publication that it was a trip to Bristol, England, in 1998, that opened his eyes to the fact that his craftsmanship was of a type that crowds all over the world would appreciate.
"It's a big world out there," he said, sharing that he eventually began dragging along local MCs and buddies just because he wanted them to see for themselves the kind of audiences that would turn out to see him even in far-flung corners of the world. "I am going to bring you 'cause you gotta see this s**t. You don't understand ... you're at the house party, at the ballroom party, thinking that 'this is it,' and [then] there are 50,000 people on the beach [overseas] enjoying this music."
Hauling along his young friends and proteges to his overseas gigs, though, also serves a different purpose. "You know, as grateful as I am, I am not supposed to be in the position that I am in," Jeff said. "Like, Michael Jordan is not supposed to be one of the best basketball players at 50-something. [The fact that he is] points out an issue. We need to do something to break this because there is no way that you want the culture to die with you. No, that is selfish."
He's organized a retreat for other creatives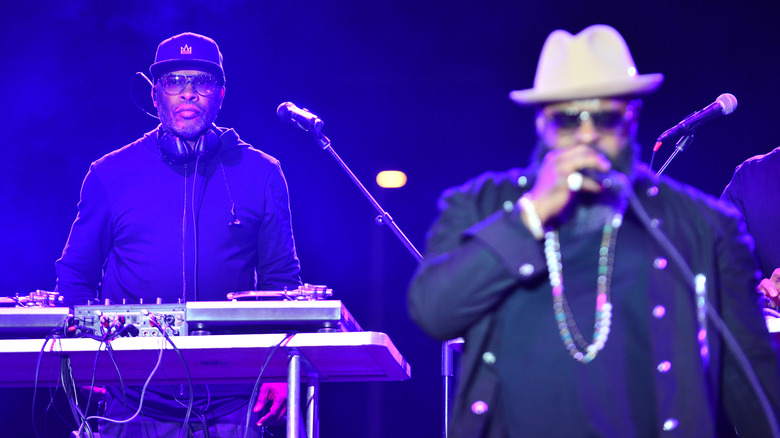 Johnny Louis/Getty Images
When it comes to furthering hip-hop culture and music in general, Jazzy Jeff puts his money where his mouth is. In the same conversation with Vibe, he opened up about the Playlist Retreat, which he began holding annually at his home in 2015. The idea was to bring together musicians, techies, activists, executives — really, anybody with a horse in the "making good music" race — to generate new ideas and foster creativity. Or, as Jeff explained it, "It's providing creative spaces that build collaboration. I can make music by myself, but if I make music with you, it has the chance to be twice as good."
The Retreat's official website describes it as "an intimate gathering of progressive artists for the purpose of inspiration, motivation, and collaboration ... an organic exchange between people who believe in a greater purpose for expression through music." A lofty goal, sure, but it also sounds a heck of a lot like the function that hip-hop culture itself served in its early years. While the event appears to have been on hiatus for a couple of years (likely due to the COVID-19 pandemic), you can catch the vibe over on its Instagram.
Jeff has maintained a big online presence
For that matter, if you want to catch up with Jazzy Jeff online, it won't be hard. His YouTube channel has been sporadically active over the years, and during its periods of highest activity, it's very active — like during the several years that he was producing the web series "Vinyl Destination," which highlighted his globe-hopping exploits with his buddies (such as his protégé Skratch Bastid, a ridiculously skilled DJ in his own right) often in tow.
You'll also find scratch tutorials, breakdowns of a few of Jeff's many remixes, goofy installments such as "DJ Jazzy Jeff tries ramen for the first time" (really, Jeff?), and occasional live streams featuring sets by Jeff's DJ homies and sometimes the man himself. Oddly, Jeff's posts slowed down during the pandemic era, but that's likely only because his globetrotting ways were limited during that time, and it would surprise us not at all to see his frequency of posts ramping up once he's back out on the road more regularly.
He's still good friends with, and occasionally still performs with, Will Smith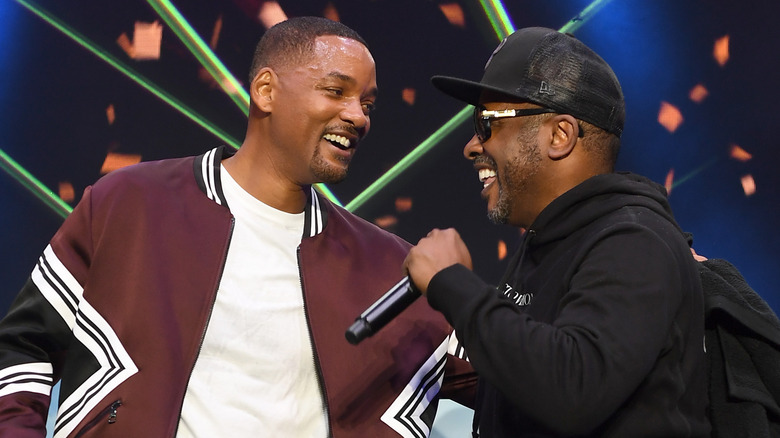 Ian Gavan/Getty Images
Despite not being an official act for decades (their last album was 1993's "Code Red"), it's not like Jazzy Jeff and the erstwhile Fresh Prince have ever had any kind of falling out. They're still best of friends.
In fact, you might be surprised just how many times in the last 20 years or so the Fresh Prince has seen his way clear to pick up the mic once again, with Jeff manning the decks as always. The pair reunited at Live 8 in 2005 (via WXPN), on the BBC's "Graham Norton Show" in 2013 (along with Smith's son Jaden and fellow "Fresh Prince of Bel-Air" alum Alfonso Ribeiro, who did indeed perform a certain dance), and at a trio of music festivals in Europe in 2017, one of which fell in the vicinity of Smith's birthday. At that show in Budapest (via Belfast Telegraph), Smith told the crowd, "We were just two kids from Philly that had a dream, so there has never been a time in my life that I didn't look to the side and have a great friend ... For more than half of my life he has been one of the best friends I've ever had."
It's clear that Jeff's overseas experiences with his childhood buddy-turned-international superstar are incredibly kickass icing on the cake of his career; in a Facebook post (via ITV) after playing the Blackpool Festival in Lancashire, England, Jeff called the gig "one of the greatest moments of my life."
He's very happy with where his career ended up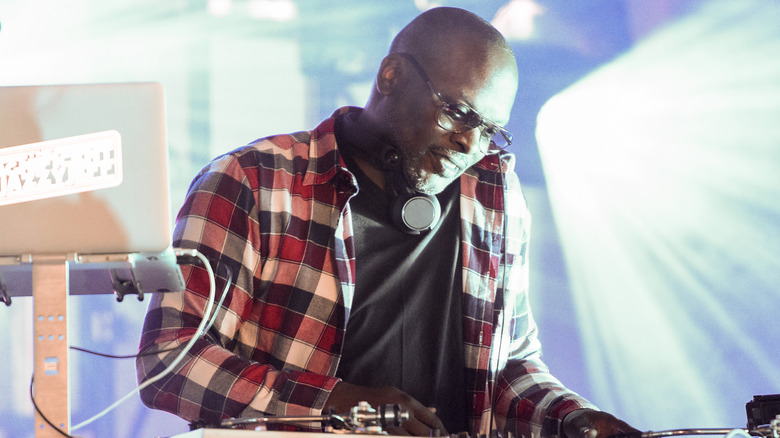 Noel Vasquez/Getty Images
Jazzy Jeff may not command seven-figure paydays like his buddy, but one gets the idea that it bothers him not at all — he is pretty obviously living his best life. This was made plain when WTOP caught up with him at the National Harbor Wine Festival in 2022, a chat during which Jeff revealed his and Smith's master plan. "He wanted to be a movie star and I wanted to do music," Jeff said. "None of this was a surprise ... It was a means to the end. It wasn't meant for us to be a group forever. We had already thought past that."
As for his current life as a producer, in-demand DJ, and hip-hop legend, Jeff could find not a single complaint to register. "It's great because it doesn't pigeonhole you into one thing," he said. "I've been able to pretty much make the music that I've wanted to make, whether I'm the artist or not. It's very weird having a goal and achieving the goal. When people ask, 'Where do you plan on being in the next 10 years?' I'm like, 'Right where I'm at.' If I've found utopia, why leave?"