How Charlie Chaplin's Meeting With Gandhi Inspired His Film Career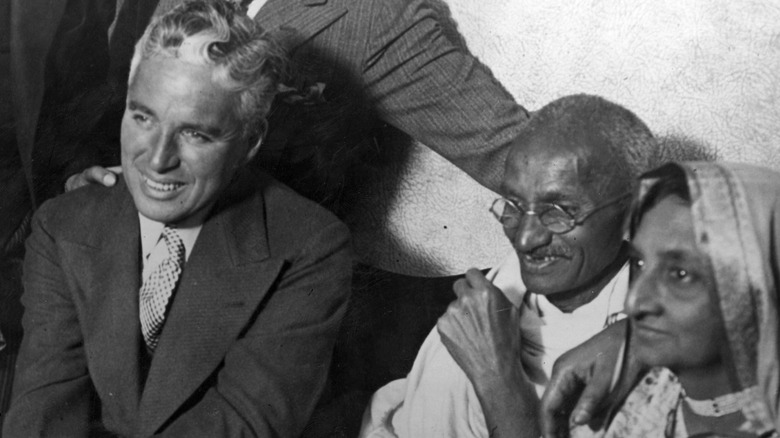 London Express/Getty Images
A brief meeting between Charlie Chaplin and Mahatma Gandhi on September 22, 1931, in a home in London's East End, profoundly inspired Chaplin — leading him to create what has been hailed as a cinematic masterpiece. By that time, both men were not just famous, but living legends, one as a freedom fighter, the other as a beloved entertainer. The thousands of Londoners who showed up to glimpse the pair that day showed both men's popularity, per Open Culture.
Chaplin had starred in more than 70 films, according to IMDb, and written and directed several, including "City Lights," which had just come out to rave reviews. Gandhi had been fighting for India's independence from Great Britain and was there for a conference with the British government in which he hoped to push for constitutional reforms. But, the meeting between these two giants of the 20th century nearly didn't take place.
Gandhi Didn't Know Who Charlie Chaplin Was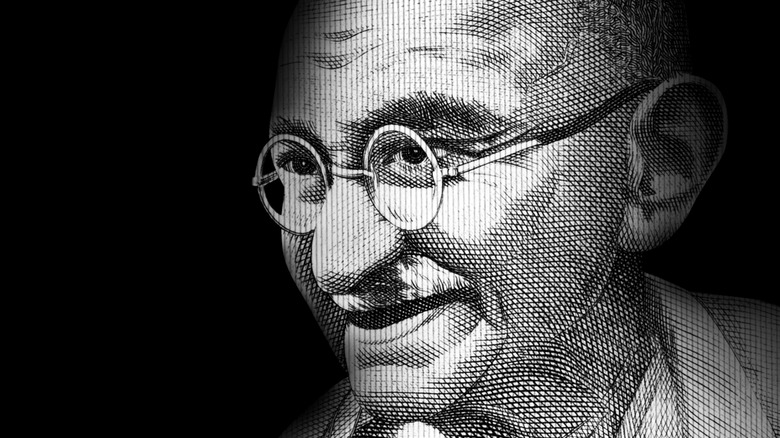 Frederic Muller/Shutterstock
Charlie Chaplin had become interested in economic and social issues and was then on an 18-month world tour where he also met such luminaries as Albert Einstein and Winston Churchill, as detailed in Chaplain's travelogue "A Comedian Sees The World" (via the official Charlie Chaplin website). Chaplin, who was born in 1889 in London, had come from poverty, per The Guardian, and understood firsthand the issues plaguing the era.
When he sent a note requesting the meeting with Gandhi, the latter initially declined, not knowing who Chaplin was. Gandhi wasn't a movie buff, having only seen two in his life, one of which was Hindi, according to the Bombay Sarvodaya Mandal — Gandhi Book Centre. Gandhi begged off meeting Chaplin, but when he was told who the comedic genius was and that he had made millions of people laugh, Gandhi agreed to the meeting, per The Leaflet. On the appointed day, Chaplin made his way through a massive crowd and into the home of a friend of Gandhi. The acclaimed leader of Indian nationalism was dressed in his traditional loincloth, sandals, and a blanket over his shoulder, and the two sat down for a short conversation, according to the BBC.
Gandhi Inspired the Last Great Silent Film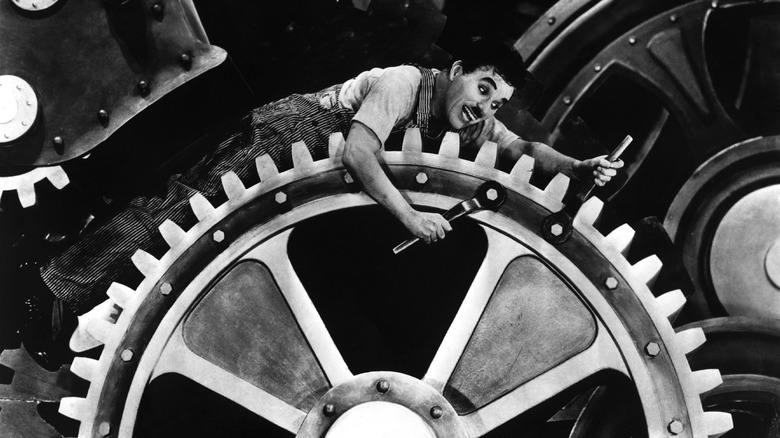 United Archives/Getty Images
One of Charlie Chaplin's first questions to Gandhi was about his "abhorrence" of modern machinery. Gandhi answered, that "machinery in the past has made us dependent on England, and the only way we can rid ourselves of that dependency is to boycott all goods made by machinery," per The Print. Chaplin would write in his 1966 book "My Autobiography," according to The Print, that he "got a lucid object lesson in tactical maneuvering in India's fight for freedom, inspired, paradoxically, by a realistic, virile-minded visionary with a will of iron to carry it out." 
Their conversation would directly inspire Chaplin's 1936 masterpiece "Modern Times," which took a lighthearted approach to important social issues, including the dehumanization of technology, per Britannica. "Unemployment is the vital question ... Machinery should benefit mankind. It should not spell tragedy and throw it out of work," Chaplin told a reporter, according to the official Charlie Chaplin website. The movie, which was made well after the "talkies" came to Hollywood, had no recorded dialogue but had a soundtrack, and featured the last appearance of Chaplin's beloved "Little Tramp" character.