What R. Kelly's Conviction Means For His Other Criminal Charges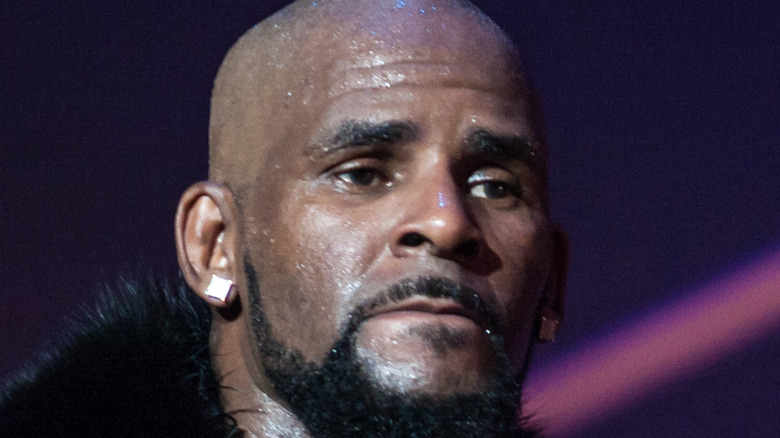 Jamie Lamor Thompson/Shutterstock
R. Kelly — born Robert Sylvester Kelly — was convicted of sex trafficking and racketeering in 2021 in New York. His sentencing was held in June 2022, and prosecutors asked the judge to give him 25 years, while the defense asked for 10 years, per CNN. The judge ultimately decided to sentence R. Kelly to 30 years. Jurors heard testimonies in a five-week trial where witnesses recounted the physical and sexual abuse they experienced at the hands of the R&B singer. R. Kelly's defense team cited that their client was sexually abused as a child, which led to his behavior, but the judge stated that it didn't excuse him from what he did.
According to R. Kelly's lawyer, Jennifer Bonjean, she will be appealing the sentence. She further stated that her client is ready to face prison time and regrets the things that he did, as reported by The New York Times.
R. Kelly's downfall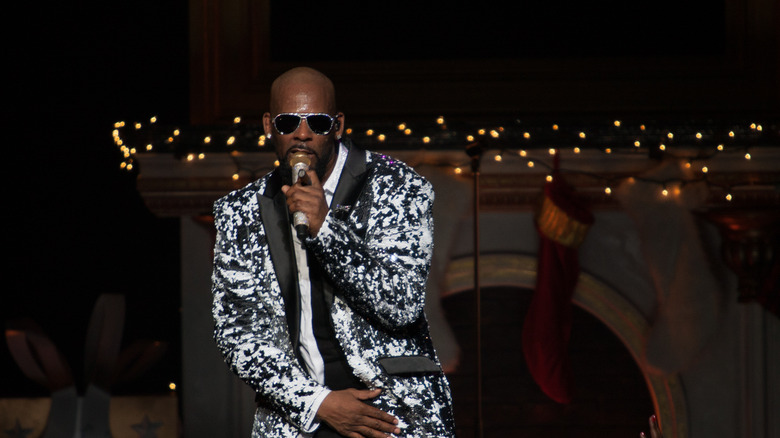 Jamie Lamor Thompson/Shutterstock
R. Kelly gained recognition in 1990 when he joined a talent show, and he released his first album with Public Announcement in 1992. In total, he released 18 studio albums, the last being a Christmas album released in 2016. In 1994, R. Kelly, then 27 years old, illegally married 15-year-old singer Aaliyah in secret. The union was later annulled due to Aaliyah's age (via ABC News). In 1997, Tiffany Hawkins filed a lawsuit claiming that she had sexual relations with R. Kelly in 1991 when she was just 15 years old. The lawsuit was settled for the amount of $250,000.
More accusations against the R&B singer came out in the following years, and in 2002, he was arrested on charges of child pornography but was acquitted years later (via The New York Times). In 2017, several parents came out alleging that R. Kelly brainwashed their children into keeping them in a "sex cult." At the same time, social media campaigns to halt support for the singer started, which resulted in the #MuteRKelly movement. Despite video evidence that supported the claims, R. Kelly denied the sexual misconduct allegations against him. He was arrested in 2019 with charged with racketeering and sex trafficking.
More trials to come for R. Kelly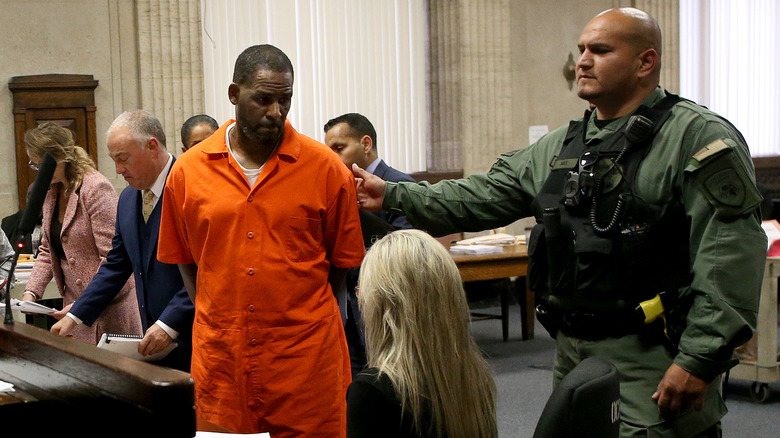 Pool/Getty Images
R. Kelly's legal battles aren't over yet. Now that his sentence has been handed down in New York, he will be facing another trial in his hometown of Chicago. According to CBS Chicago, R. Kelly is facing obstruction of justice and child pornography charges in the Windy City. In 2021, one of R. Kelly's lawyers, Steve Greenberg, stated that his client's case in Chicago is far more severe than his case in New York, as it involves child pornography that carries a harsher punishment (via ABC 7 Chicago). However, Greenberg said that they are prepared.
The Chicago trial was initially scheduled to begin on August 1, 2022, but it was pushed later to August 15 due to courtroom availabilities. Greenberg has since withdrawn from representing R. Kelly and was replaced by Jennifer Bonjean. Apart from the Chicago case, the singer still has other charges to face: prostitution with a minor in Minnesota and sex crimes in Illinois.