The Tragic Reason Travis Barker Didn't Fly In A Plane For Over A Decade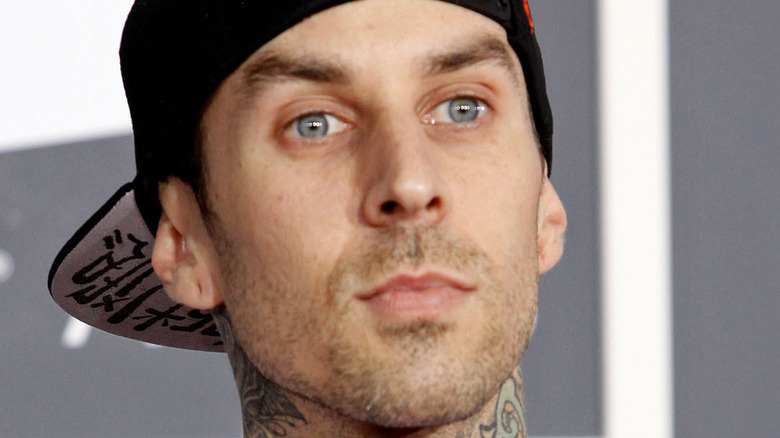 Joe Seer/Shutterstock
Legendary musician Travis Barker has been a household name for decades. However, he's probably most known for being the drummer in the crowd-pleasing, popular pop-punk band "Blink-182." For the first five years of the band's existence, they played with drummer Scott William Raynor Jr., according to Drum Magazine. It was after he left that Barker joined, bringing the band back to a trio with himself, Tom DeLonge, and Mark Hoppus and soaring to fame.
Barker's musical passion doesn't end with a pop-punk band singing about aliens and trouble with getting girlfriends, though, as he's also played in other bands, including Transplants with fellow punk musician and "Rancid" vocalist Tim Armstrong. He's also worked as a producer for countless other artists like Machine Gun Kelly, The Used, and Dirty Heads (per AllMusic). His remarkable talent and driving force in the music industry aren't the only things in Barker's life that have made an impact on him. Unfortunately, tragedy hit his life in a big way, and a traumatic experience left him with a lifelong healing process ahead of him.
He was in a horrible plane crash in 2008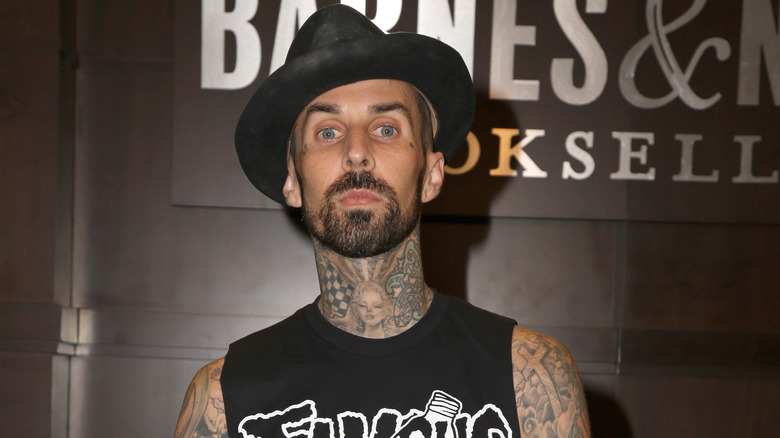 Kathy Hutchins/Shutterstock
On September 19, 2008, Travis Barker boarded a flight to California, not knowing it would change his life forever. The flight crashed due to issues during take-off in South Carolina and killed four people, including his security guard and assistant, Charles Still and Chris Baker, respectively (via Men's Health). Among the others killed were the two pilots flying the plane. Barker and his close friend DJ AM were able to get out using the emergency exit and were the only two that survived the crash.
However, Barker didn't get out without injury as he was covered in jet fuel, and flames roared all over his body. Ultimately, Barker ended up with third-degree burns on around 65% of his body and had to have over two dozen surgeries and multiple skin grafts along his road to physical recovery. The experience changed Barker forever and brought an already present fear of flying to new extremes. Although Barker remains a dedicated musician and has continued to be one of the most productive humans around, his path to recovery isn't linear, and healing from an experience this traumatic comes in many forms for many ailments.
The road to recovery is a lifelong journey for Barker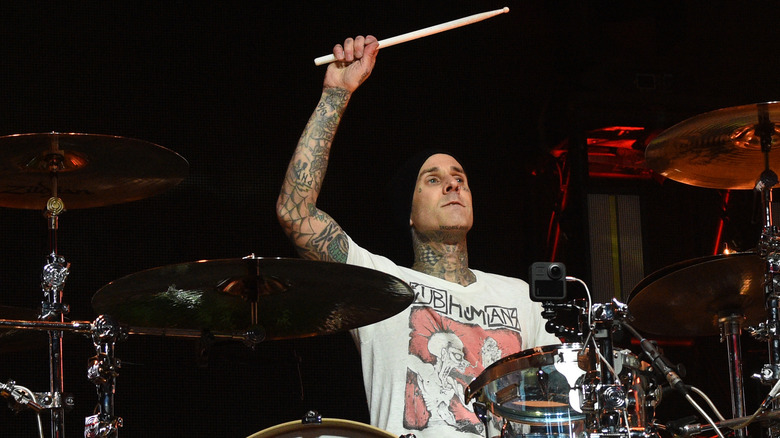 Kevin Mazur/Getty Images
In a lot of ways, the plane crash was just the beginning of a horrible time in Travis Barker's life. His road to physical recovery had him in a hospital for months receiving grueling treatment to heal his badly burned skin. In addition, Barker was unable to attend the funerals of his friends who passed away in the crash, and the only other survivor of the crash, DJ AM, passed away just a year later (per Men's Health).
Barker struggles with post-traumatic stress disorder (PTSD) and has spent the years since the crash traveling by any form other than flying. Until recently. In an interview with Nylon, Barker opened up about how his wife, Kourtney Kardashian, gave him the support he needed to feel secure enough in her presence to fly again for the first time in 13 years: "She had just said to me, 'I would love to do so much traveling with you. I want to go to Italy with you. I want to go to Cabo with you. I want to go to Paris with you. I want to go to Bora Bora with you.' And I said, 'Well when the day comes you want to fly, I'm telling you I'll do it with you. I would do anything with you. And just give me 24 hours' notice.' And that's what she did." Flying again is a huge milestone for Barker after his near-death plane crash in 2008 and further proof that trauma can happen in many ways.
If you or someone you know is struggling with mental health, please contact the Crisis Text Line by texting HOME to 741741, call the National Alliance on Mental Illness helpline at 1-800-950-NAMI (6264), or visit the National Institute of Mental Health website.