Disturbing Details About R. Kelly's Childhood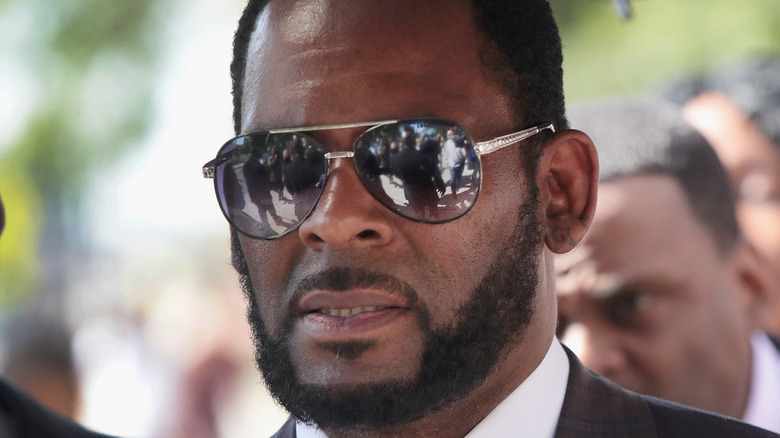 Scott Olson/Getty Images
Announced in a sentencing hearing in a Brooklyn courtroom in late June, 2022, R. Kelly will spend at least 30 years in prison for a 2021 conviction on eight counts of child sex abuse and one count of racketeering, based on reporting from the BBC. At that hearing, the former R&B singer-songwriter and hit record producer was also ordered to pay a $100,000 fine. In the case for which the musician was sentenced, his defense asked for leniency because Kelly himself was an alleged victim of sex abuse as a child, according to the AP. Kelly must now also stand trial for similar charges in Chicago, as well as at the state level in both Illinois and Minnesota.
Disturbing details from Kelly's childhood first emerged in the 2019 documentary series "Surviving R. Kelly" on the Lifetime cable network (via IMDb). In the show, a number of women, many of whom had aspirations to make it in music, recounted their experience of sexual abuse at the hands of the singer. Some of the alleged abuse took place when those women were only children, and the show characterized Kelly's influence on the girls as similar to that of a cult leader's influence on his followers. In the series, Kelly's brother, Carey Kelly, also revealed a history of sexual abuse in the Kelly family.
Both R. Kelly and his brother, Carey, were allegedly abused by their sister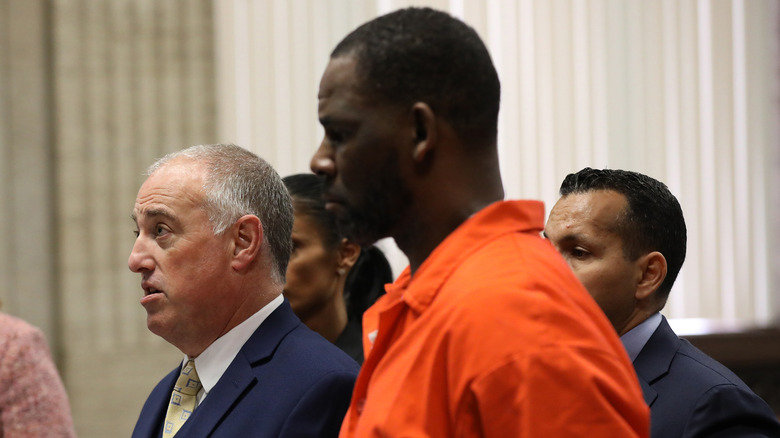 Pool/Getty Images
In the show, "Surviving R. Kelly," the disgraced hitmaker's brother, Carey Kelly, spoke openly spoke of alleged sexual abuse experienced by both himself and his brother R. Kelly while they were children at the hands of their older sister, Theresa Kelly. When it started, Theresa was 16 while Carey was 6, and Robert (R. Kelly's birth name) was 10, as Carey Kelly revealed in an episode of the talk show "Unwine with Tasha K," after the series premiered. That interview is available on YouTube.
Both in the series "Surviving R. Kelly" and in the interview with Tasha K, Carey Kelly said their sister isolated him and R. Kelly from their older brother, Bruce, on several occasions to sexually abuse them. Although Carey never witnessed similar acts occurring to his brother Robert, Carey alleged the abuse took place and that his brother may have even enjoyed it, according to Ebony. The alleged abuse took place over the course of six years, Carey said. Neither Carey or R. Kelly ever told their mother about what happened before she died (via Ebony).
Because of abuse, R. Kelly's defense asked for leniency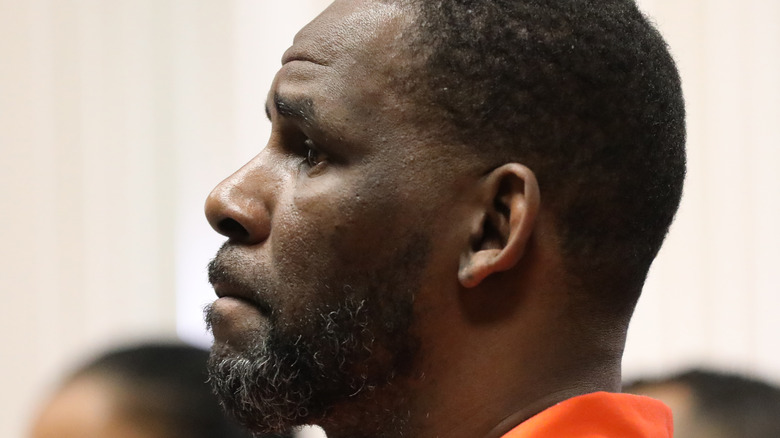 Pool/Getty Images
Given the nature of Kelly's conviction for which he received sentencing in June, 2022, R. Kelly could have spent anywhere from a decade in jail to life in prison. In light of the crimes for which Kelly was convicted, the prosecution in the case asked for a minimum sentence of 25 years. Kelly's defense asked for leniency and a 10-year sentence, and for those allegations of sexual abuse from Kelly's childhood to be taken into consideration by the judge, according to Insider. As Insider goes on to explain, that trauma from Kelly's past led directly to "hypersexualized" behavior, his defense asserted. At age 55, which R. Kelly was at the time of his sentencing, a 25-year sentence would amount to life in prison for the former star, according to Kelly's defense attorneys. 
The argument of the defense was supported by expert testimony from psychologists who evaluated the singer. In response, prosecutors said Kelly showed little remorse for the crimes for which he's convicted, and he may have lied to the psychologists who spoke with him. His version of what transpired was not supported by facts, the prosecution also said. Kelly's next court appearance in Chicago is scheduled for August, 2022 in Chicago where he'll face child pornography and obstruction of justice charges, as the AP reports.
If you or someone you know may be the victim of child abuse, please contact the Childhelp National Child Abuse Hotline at 1-800-4-A-Child (1-800-422-4453) or contact their live chat services.