Justice Breyer's Final Words To Biden Upon His Supreme Court Retirement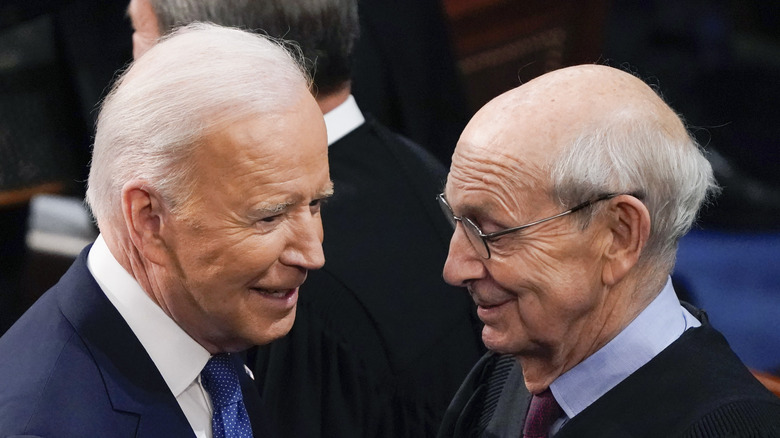 Pool/Getty Images
After the Trump administration oversaw the appointment of three Supreme Court Justices, including the highly controversial Associate Justice of the Supreme Court Brett Kavanagh, the early years of Biden's presidency have seen Democrats agitating for fresh appointments to the Supreme Court that reflect the need for greater diversity and representation of the American public.
Per The Washington Post, among the Democrats' activities in reimaging the Supreme Court has been to pressure the longrunning Supreme Court Justice Stephen G. Breyer, 83, to announce his retirement and thereby made space for the government to nominate and confirm a new associate justice, 51-year-old Ketanji Brown Jackson, who breaks new ground in being the very first Black woman to serve on the Supreme Court. ​
In January 2022, Justice Breyer publicly confirmed his imminent retirement. In a letter to President Biden, Breyer announced:
"I am writing to tell you that I have decided to retire from regular active judicial service as an Associate Justice of the Supreme Court of the United States ... I enormously appreciate the privilege of serving as part of the federal judicial system ... I have found the work challenging and meaningful. My relations with each of my colleagues have been warm and friendly. Throughout, I have been aware of the great honor of participating as a judge in the effort to maintain our Constitution and the rule of law" (via CNN).
Justice Breyer's official resignation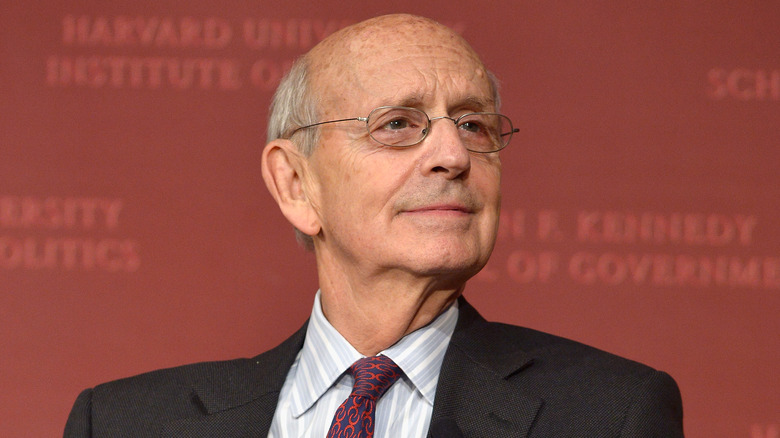 Paul Marotta/Getty Images
Judge Ketanji Brown Jackson was officially confirmed as the next associate justice of the Supreme Court, taking the retiring Judge Breyer's long-held seat, after winning a close-run Senate vote by 53 to 47. Those voting for her included all 50 Senate Democrats and independents, along with three Republicans, according to NPR. "It has taken 232 years and 115 prior appointments for a Black woman to be selected to serve on the Supreme Court of the United States, but we've made it," Jackson told the audience at her confirmation ceremony, per ABC News. 
Following the ceremony, President Biden described (via Twitter) Jackson's confirmation as a "historic moment for our nation," adding: "We've taken another step toward making our highest court reflect the diversity of America. She will be an incredible Justice, and I was honored to share this moment with her."
With Jackson confirmed, all that was left was for Justice Breyer to officially announce the date of his retirement, which he did on June 29, 2022, writing to President Biden that his final observations would take place the following morning and that he would officially retire his post at noon, June 30. And, notably, his  sparsely worded final official letter to President Biden echoed almost exactly the sentence with which he signed off his retirement announcement in 2022: "It has been my great honor to participate as a judge in the effort to maintain our Constitution and the Rule of Law."
Justice Breyer's legacy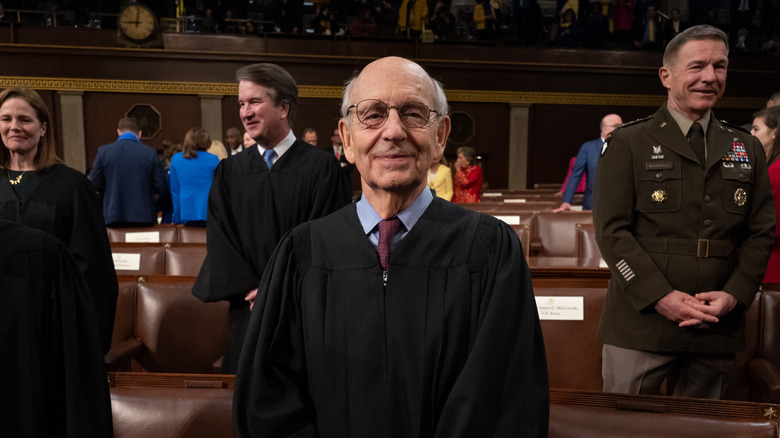 Pool/Getty Images
Justice Stephen G. Breyer's achievements were summarized in a joint press release from his Supreme Court colleagues, including Chief Justice John G. Roberts, Jr, who stated: "Justice Stephen G. Breyer is an energetic jurist and dear friend. He has rendered nearly half a century of distinguished public service to our country, including 42 years as a federal judge — 27 as a Member of this Court ... Justice Breyer's optimism and profound love of country, expressed through word and deed, have inspired countless others. He is a tireless and powerful advocate for the rule of law — in the United States and abroad."
Breyer's other colleagues on the Supreme Court were similarly effusive with their praise, with Associate Justice Clarence Thomas saying that his years working with Breyer had been "an absolute joy."
As noted by Forbes, Breyer enjoyed a long legal career which included acting as an assistant special prosecutor after Watergate, before ascending to the Supreme Court in 1994 during the Clinton administration. But while the details of Justice Breyer's career are undoubtedly impressive, his own summation of what constitutes a good life is far more humble. 
As he explained in an interview during his Supreme Court tenure: "You play the hand you're dealt. You're dealt one. And you do the best with what you have. If people say yes, he did, he tried, he did his best and was a decent person, good." (via ABC News)