Richard Simmons' Terrifying Medical Emergency On The David Letterman Show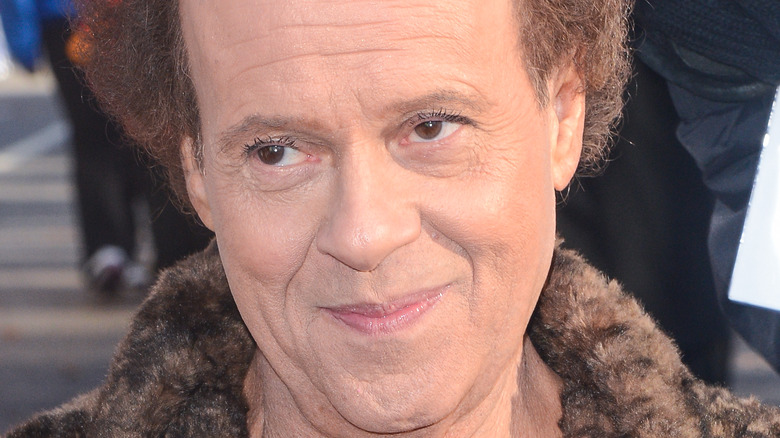 Ray Tamarra/Getty Images
These days we may not hear as much from Richard Simmons as we used to. There was a time, though, when the live-wire health and wellness media personality was on every morning show (including a syndicated production of his own, per IMDb), and a sure-fire choice for some laughs on late night TV. In his signature short-shorts and tank tops, Simmons was a favorite, in fact, of late-night host David Letterman, beginning when Dave was on NBC and continuing after Letterman switched to CBS in '93 (via Britannica).
Simmons' always upbeat demeanor provided the perfect foil for Letterman's trademark cynicism and penchant for pranks. Throughout Letterman's career in late night, Simmons would be his guest 35 times, according to CBS News. In 2000, Simmons made one such appearance on Letterman's program. It was then that Letterman took things a little too far with his hijinks. As a result, Letterman inadvertently brought on a scary medical emergency for the fitness star. Simmons would not return to the Letterman show for six years (via CBS News).
Simmons appeared on Letterman dressed like a turkey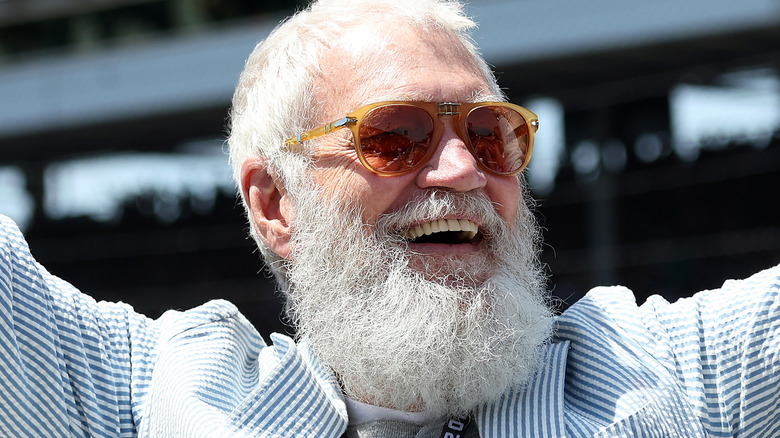 Jamie Squire/Getty Images
On the occasion of Simmons' health scare on CBS' "Late Night with David Letterman," it was only a few days before Thanksgiving. In the holiday spirit, Simmons made his appearance dressed as a turkey, in keeping with his eccentric persona and the often unpredictable and sometimes chaotic nature of his on-screen interactions, especially with Letterman. On this occasion, that turkey costume influenced what happened next, according to the New York Daily News.
Over time, the on-screen interactions between Simmons and Letterman took on a caustic tone, so much so it became unclear how much Simmons was in on the joke, or if Dave had actually hurt his feelings. In 2002, Simmons told the Pittsburgh Post-Gazette that he loved Letterman, but sometimes the host went too far. "Dave and I love each other; it's just that we cross the line and he makes me cry," Simmons said. But, he continued, "It's all in the game of humor."
Letterman sprayed Simmons with a fire extinguisher
In that same 2002 Pittsburgh Post-Gazette interview, Simmons — who at that point had not appeared on "Late Night with David Letterman" for two years — went on to explain what happened to him the last time he made an appearance on the show. Possibly in response to Simmons' turkey costume (because what do you do with a turkey but cook it?) and his flamboyant personality, Dave pulled out a fire extinguisher and hosed Simmons down after Simmons tried to kiss him, as the New York Daily News goes on to report. "I like you, but I just don't feel like kissing you," said Letterman. (The clip is posted on YouTube.)
The substance expressed from the fire extinguisher aggravated Simmons' asthma, a condition he's lived with since he was a child. The situation was so serious that paramedics were called in to help and Simmons had to be hospitalized, according to Definition. "I have severe asthma, and I panicked," Simmons went on to tell the Pittsburgh Post-Gazette. Despite the scary health emergency and the subsequent six-year break between Simmons appearances, the fitness star did return to "Late Night" with Letterman in 2006, as CBS News goes on to report.