The Truth About David Letterman's Relationship With Oprah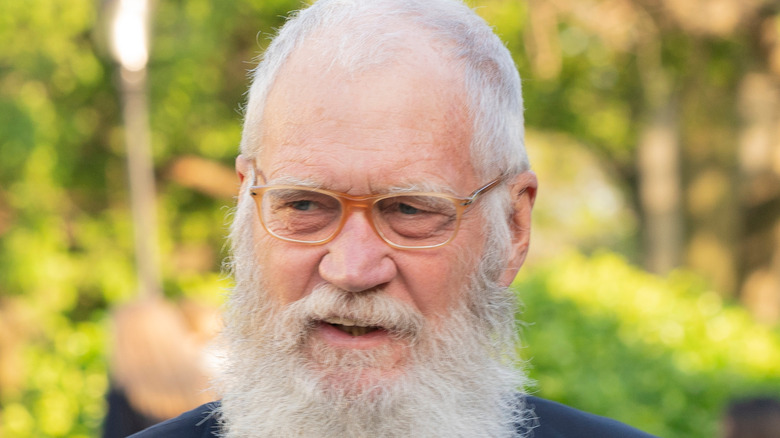 lev radin/Shutterstock
David Letterman, who spent decades as the king of late night television, made many friends and enemies over the years. But it took years to sort out how to characterize his relationship with the popular talk show host Oprah Winfrey. She appeared as a guest twice on his show before its 1993 move to CBS, but she wasn't thrilled by the experience, according to People magazine. Winfrey didn't appreciate being the punchline to some of Letterman's jokes. She explained to Time magazine that she felt "completely uncomfortable" on his show because of this (via Today). 
Letterman once told Jon Stewart, former host of "The Daily Show," that he may have also contributed to the tension between himself and Winfrey by sticking her with his lunch tab while on vacation (via the Huffington Post). "We were both at a restaurant having lunch on vacation" when Letterman told his waiter that "this woman right over there has been kind enough to take care of our check." And Letterman certainly didn't help make things better as the host at the Academy Awards ceremony in 1995. He tried to make a joke using some celebrity names, pretending to introduce them to each other, saying "Oprah? Uma. Uma? Oprah. I feel much better. Have you kids met Keanu?" (via The Hollywood Reporter).
Letterman and Winfrey finally end rumored feud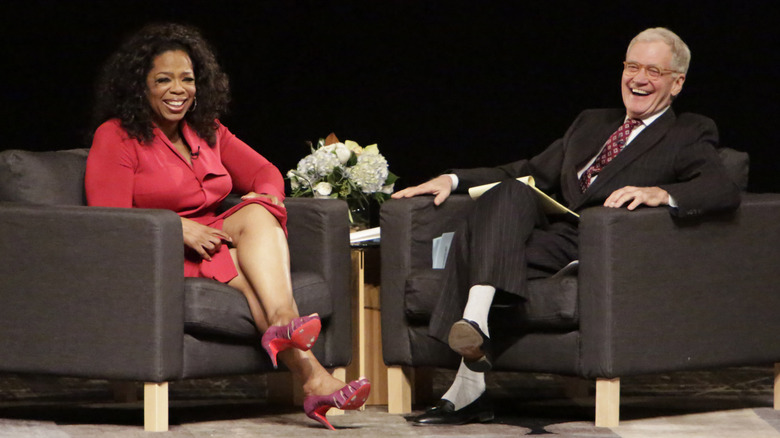 Ron Hoskins/Getty Images
Letterman tried in 2003 to get the public to coax Winfrey to appear on "The Late Show," but he had no luck. She said no, but she invited him to appear on "The Oprah Winfrey Show." Letterman turned Winfrey down, saying, "Here's what would happen: I would go on the Oprah show, and I would break down and sob like a little girl" (via People magazine). He later changed his tune and campaigned for an invite to her show, but to no avail, according to Vulture.
Two years later, Oprah relented and agreed to appear on Letterman's show, ending her 16-year stretch of avoiding his program. The pair seemed to get along well during their reunion, with Letterman calling Winfrey "the most beloved woman in America — despite the fact she gave us Dr. Phil," according to People. Winfrey insisted that "I have never for a moment had a feud with you." She was on the show to promote the Broadway musical "The Color Purple," which she had helped produce.
In 2007, Letterman returned the favor, overcoming his own reticence to make his first appearance on "The Oprah Winfrey Show" (via Vulture). He, usually the interviewer, didn't have the easiest time being on the receiving end of questions from Winfrey. But Letterman did open up about some personal topics, such as his son Harry and his past heart surgery. The pair even teamed up again in 2012 for a special event at Letterman's alma mater, Ball State University (pictured above), according to CBS News. This time around, Letterman was the one asking the questions.