How Did Iron Maiden Get Their Name?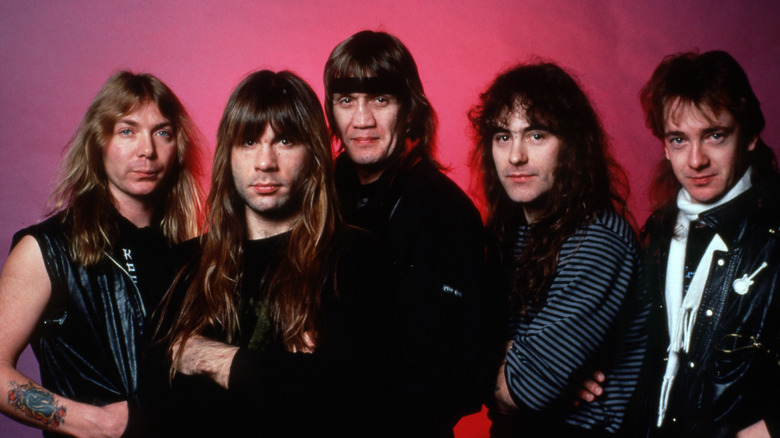 Icon And Image/Getty Images
Iron Maiden is one of the biggest and most successful heavy metal bands on the planet, and they have been for well over 40 years. From their self-titled debut album through their latest release — 2021's "Senjutsu" — Maiden has sold over 100 million albums worldwide (via Official Charts).
Maiden was formed in the late 1970s by fleet-fingered bass god and principal songwriter, Steve Harris. According to an article from a 1979 issue of Sounds, Harris was frustrated by feeling stuck in a musical no man's land between the punk bands that had taken over the U.K. and the New Wave bands that were ushered in right behind them in the early '80s. The band did go on to become a "New Wave" band, just not that kind of New Wave.
The New Wave of British Heavy Metal, or NWOBHM, is exactly what it sounds like. After the genre's pioneers like Black Sabbath had introduced heavy metal to the world, a new generation influenced by them followed suit, and in some respects one-upped them. NWOBHM bands like Iron Maiden, Judas Priest, and Motörhead played heavier and faster than their predecessors, per MasterClass. In turn, they inspired the next generation of heavier and faster musicians — thrash metal outfits like Metallica and Slayer — to do the same.
Where did the name come from?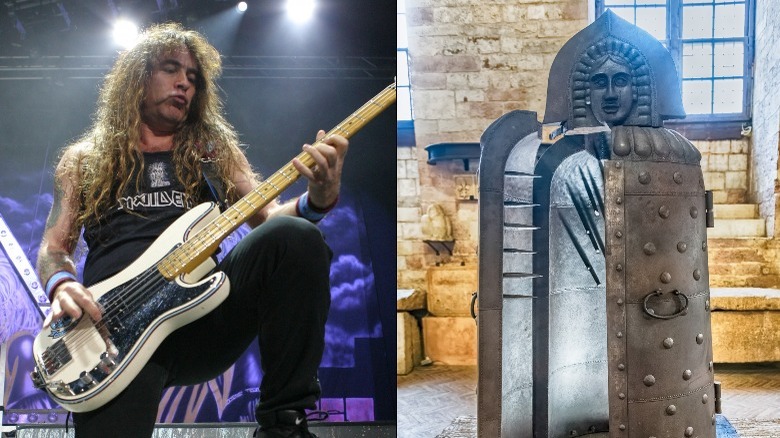 Marco Rubino/Shutterstock & undefined & Bill Tompkins/Getty
Iron Maiden has become a band synonymous with heavy metal, and not just because they influenced every metal band that came after them. They also have one of the most metal-est of metal band names the metal world has ever seen. Steve Harris explained the origin of the name in a 1979 interview with Sounds.
"Did you ever see the film 'The Man In The Iron Mask'?" Harris asked the interviewer. "Well I saw it on television and that's when the name first occurred to me. Although strictly speaking I believe an actual 'Iron Maiden' is an altogether more vicious torture device ... you know, it's a metal case with these nails set inside of it and if you fasten it over someone's head they get kind of spiked. Very unpleasant."
Harris was right ... to a degree. An iron maiden is exactly that, a brutal torture device comprised of a casket with spikes inside that impaled those unfortunate enough to be crammed inside, but it was also fictional, per Gizmodo. It wasn't actually used as a torture device in the Middle Ages, but instead popped up in conceptual form in the 18th or 19th century. Still, it makes for a great name for a heavy metal band, at least, as Harris noted, "As long as you don't think about the unfortunate Margaret Thatcher connections."
The Margaret Thatcher controversy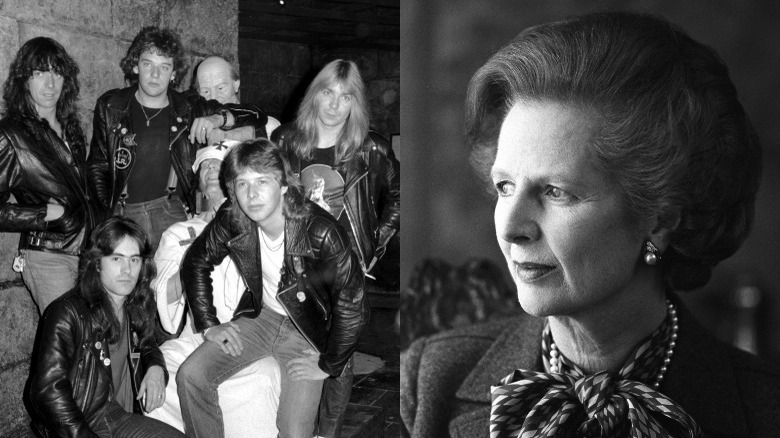 Brian Rasic & Express/Getty
What Harris was alluding to was then British Prime Minister Margaret Thatcher, who after a visit to the Soviet Union was given the nickname "the Iron Lady" in the press, a nickname fairly close to Iron Maiden. "Eddie took offence to this, and even more so when she started taking our posters," Maiden's long-time manager Rod Smallwood joked. According to Mick Wall's 2004 book "Run to the Hills: The Authorised Biography of Iron Maiden," the band decided to do something to take their name back in a tongue-in-cheek way. They had artist Derek Riggs do a painting of the band's undead mascot Eddie, standing over Thatcher with a knife for the cover of their single "Sanctuary."
The cover was eventually censored with a black bar covering Thatcher's eyes, but it still garnered a lot of widespread criticism and attention. Maiden decided to play nice and give Thatcher a chance to get revenge on Eddie. On the cover of the band's 1980 single "Women in Uniform," Eddie walks down a street with his arms around two women, while Thatcher lays in wait ready to ambush him with a machine gun (via Dangerous Minds).