The Crazy Real Life-Story Of Iron Maiden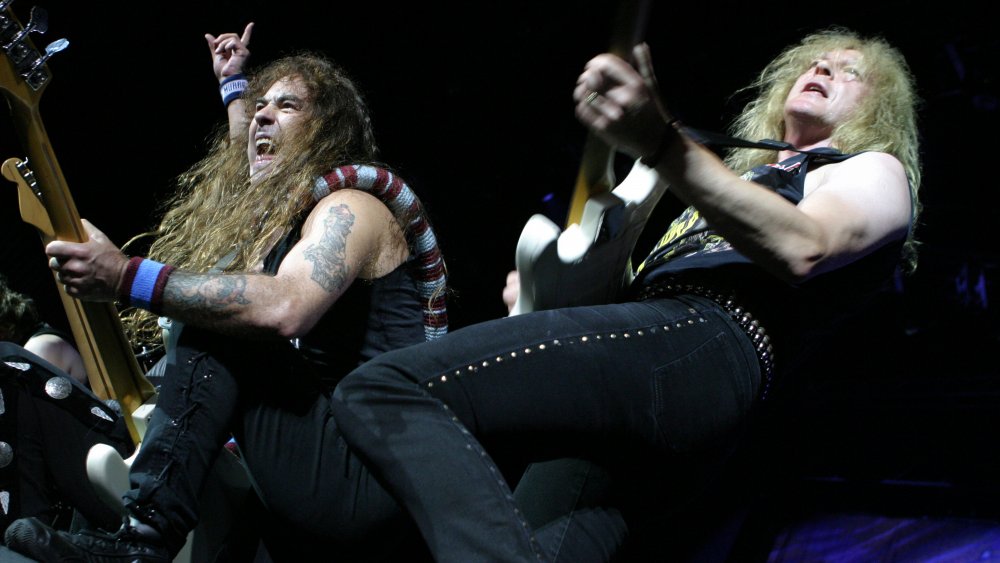 Bill Tompkins/Getty Images
Legendary English metal band Iron Maiden has come a long way from when they were first founded in 1975. Some of their most popular releases include The Number of the Beast, Piece of Mind, Powerslave, Somewhere in Time, and Live After Death. As per the band's official website, they have been dedicated to staying true to their creativity, original voice, and dedicated fan following. They've been comfortable with their critics and fans alike, and have managed to pull off some incredible performances in their time.
In fact, Iron Maiden has performed live shows more than 2,000 times and thrilled fans in 63 countries. They've released 16 studio albums and demonstrated incredible energy on stage with tricks and props like flame throwers, pyrotechnics, and their ever-present mascot Eddie. Iron Maiden is considered an incredibly influential metal band that set the way forward for other outsider musicians in the industry. What's not as well known is their crazy journey: the band has had unbelievable highs and lows throughout their time performing. And they're showing no signs of stopping. Here's taking a look at Iron Maiden's crazy, wild history. Brace yourself.
Iron Maiden was formed in 1975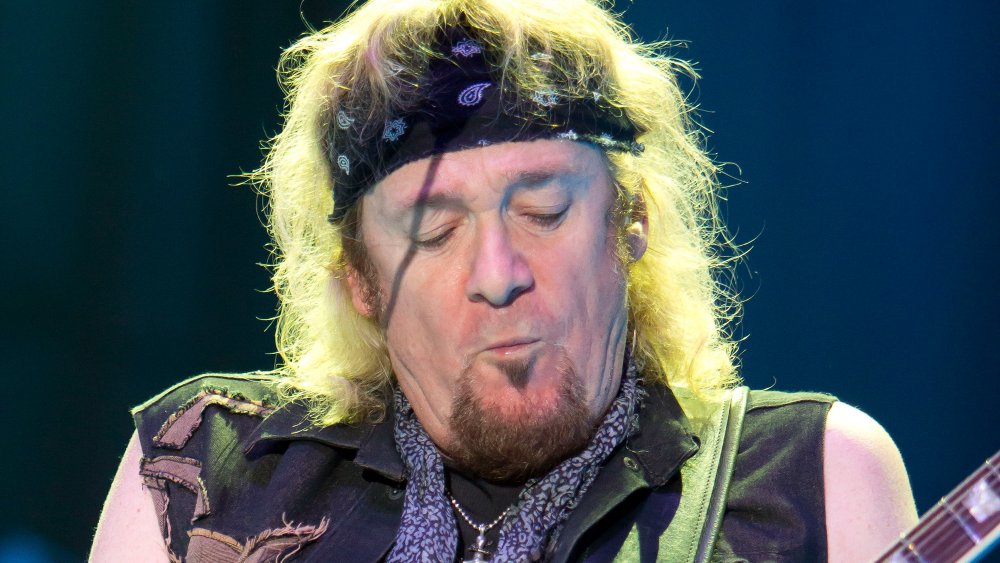 Scott Legato/Getty Images
Iron Maiden's origins go way back to 1975. They were formed that year by bassist and musician Steve Harris who, as explained by CNN, worked hard to assemble like-minded musicians to make his dream come true. According to Iron Maiden - Uncensored On the Record by Dave Artwood, Harris was already a part of a band called Smiler. Harris was not too keen on the music he was working on and wanted to evolve in terms of genre — taking in influences from "Zep" to Thin Lizzy. And before he knew it, he was a part of a group that eventually became Iron Maiden. 
This was far from easy. As Artwood wrote, Harris had to take a loan from his aunt to organize the band and appeal to their followers. Harris said, "We had to be well organized. We started doing our own T-shirts, a couple of hundred at a time ... We travelled all over the country to get gigs, Aberdeen and Blackpool over a weekend and back to work on Monday." The group was young but determined to grow and make a dent in the music scene back then. They were particularly keen on creating their original sound and standing out among their punk contemporaries.
Iron Maiden worked hard for a breakthrough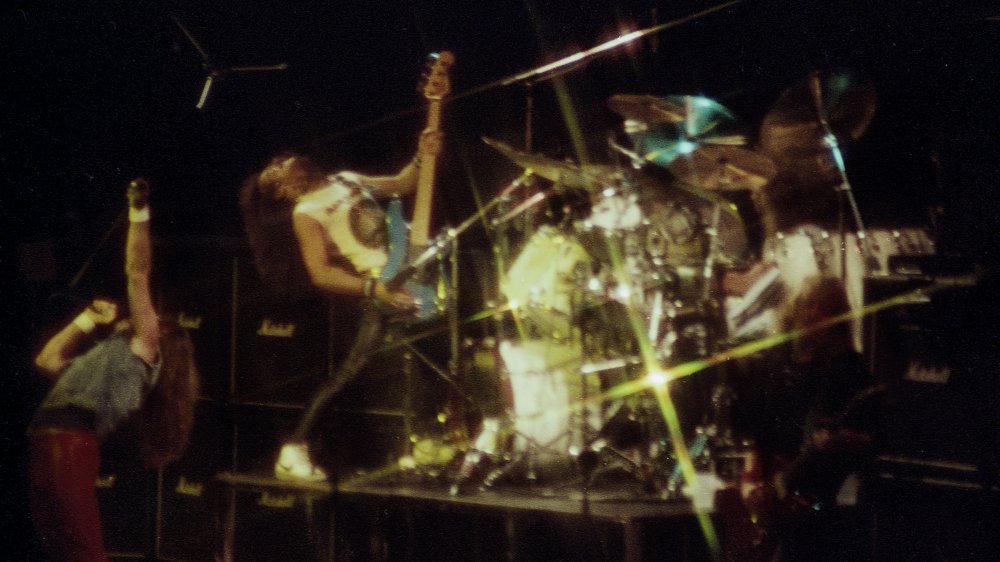 Bill Tompkins/Getty Images
Iron Maiden did not have an easy start at all. They had to work hard to get noticed and worked on a demo in Cambridge, according to Artwood's Iron Maiden – Uncensored On the Record. The demo eventually became known as the Soundhouse Tapes and contained three songs released in 1979. The band managed to sell all of its 5,000 copies of the demo in just a few weeks. After finishing the demo, they approached a DJ called Neal Kay in London which really helped them get one of their songs, "Prowler" into the spotlight.
Harris said that they decided to use the tape and turn it into a record because a lot of kids asked them where they could be purchased. "The Soundhouse Tapes were the very first thing we recorded. It was just a demo...It really wasn't great quality," Harris explained. That said, they did manage to hit the right notes with their effort. It's also worth noting that the band members of Iron Maiden were pursuing music on the side and holding down day jobs at that point. However, their musical journey had already begun and things were about to get wilder. It helped that they were slowly building a fan base by staying dedicated to their vision and doing as many gigs as they could.
Iron Maiden got their first deal in 1979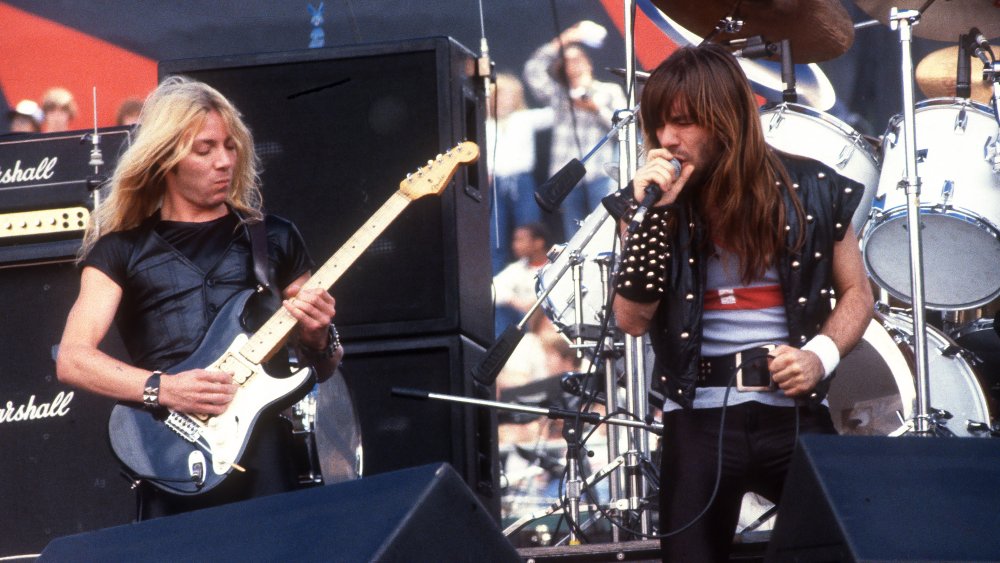 Larry Hulst/Getty Images
There was a turning point for Iron Maiden in 1979. As highlighted in Iron Maiden – Uncensored On the Record, they signed a three-album deal with EMI, which was a game-changer for the band. They benefitted from the support they received from a new manager, Rod Smallwood, who joined them. What's interesting is the fact that they didn't have great expectations from their self-titled album. As explained by Kerrang, Iron Maiden first started working on their album in January 1980 but found themselves struggling. They faced obstacles with their producers and worked with what they had, resigning themselves to their fate.
The record wasn't perfect and they had issues like a somewhat flat production. Despite the problems, their final result was described as raw and energetic. But Iron Maiden members weren't sure what would happen after they released their record and whether it would be well-received. Much to their surprise, the album peaked at number four on the UK Albums Chart. Iron Maiden couldn't believe it. "We didn't expect it to go in that high," Harris said. "At first I thought someone had made a mistake ... I made them go and check twice and even then I still couldn't quite believe it." Whether they were ready for it or not, Iron Maiden had arrived.
Iron Maiden's mascot Eddie was based on a dead soldier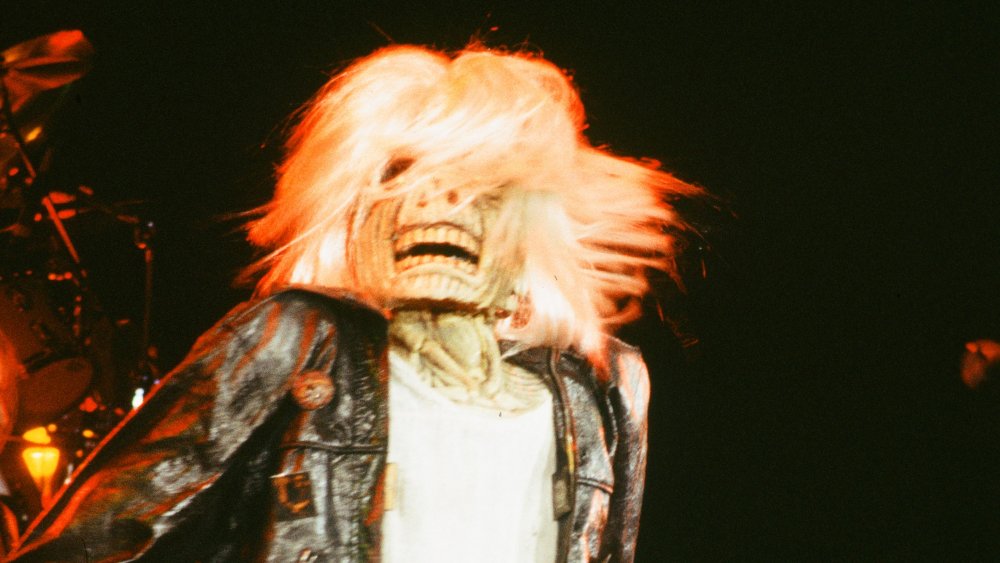 Koh Hasebe/shinko Music/Getty Images
Edward T. Head, also known as Eddie, is Iron Maiden's official albeit unconventional mascot who has gained popularity over the years and has also evolved with time. In the 1970s, the mascot was simply a skull placed near the drummer, according to CNN. "It had flashing red eyes and it would spew out this funny stuff and fake blood all over him," drummer Nicko McBrain said. Eddie got to grace Iron Maiden's debut album cover and has since been featured on their releases.
This mascot was drawn by British artist Derek Riggs. When asked about what inspired him to draw Eddie, Riggs replied that he sought inspiration from something he'd spotted on Time magazine. The picture was an American army man's head from the Vietnam War. He used that as a reference point for painting Eddie's ghoulish head. Riggs also claimed to be inspired by the punk movement of the '70s, which had the "street philosophy about the youth of the time being wasted." When it came to Iron Maiden, Riggs was given a lot of flexibility in terms of how he wanted to depict Eddie. "The various looks of Eddie are often derived from the direction that the band wants to go in at the time," Riggs explained. "One year, it was Egyptian, another year it was sci-fi, and so on. Usually, the details of what came after was my doing. They just gave me a direction and then let me run with it."
Iron Maiden actually took time to carve their identity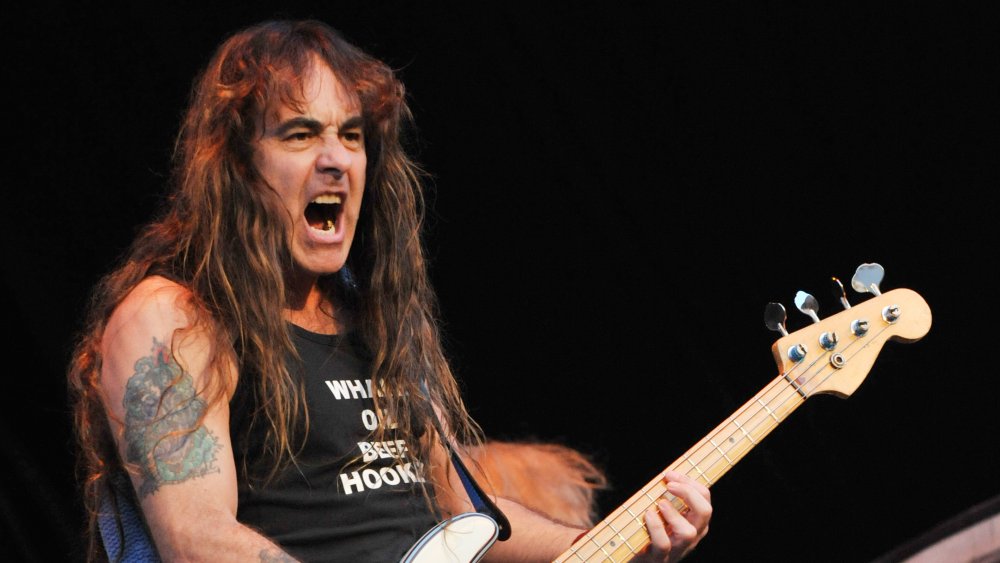 Gie Knaeps/Getty Images
Despite being so well-known for their influence in the rock scene today, Iron Maiden didn't actually know they would end being a heavy metal band (via Kerrang.) They found their identity gradually. "I couldn't have started a punk band, that would have been against my religion,"  Harris once said. "We found it hard to gig at first, but once we started playing ... we discovered we were able to pull in loads of people just like us who love heavy metal and don't want to know about new wave," he explained.
Iron Maiden, as illustrated by Kerrang, took some time to come up with their unique sound, experimenting until they found their niche. They were raw, aggressive, and were far more ambitious than their peers. A vocalist from the band, Dennis Wilcock, would often experiment with props like fake blood, fire, and make-up while Eddie, their mascot, was starting to show up at gigs in the form of a mask.
Iron Maiden's horror imagery was highly controversial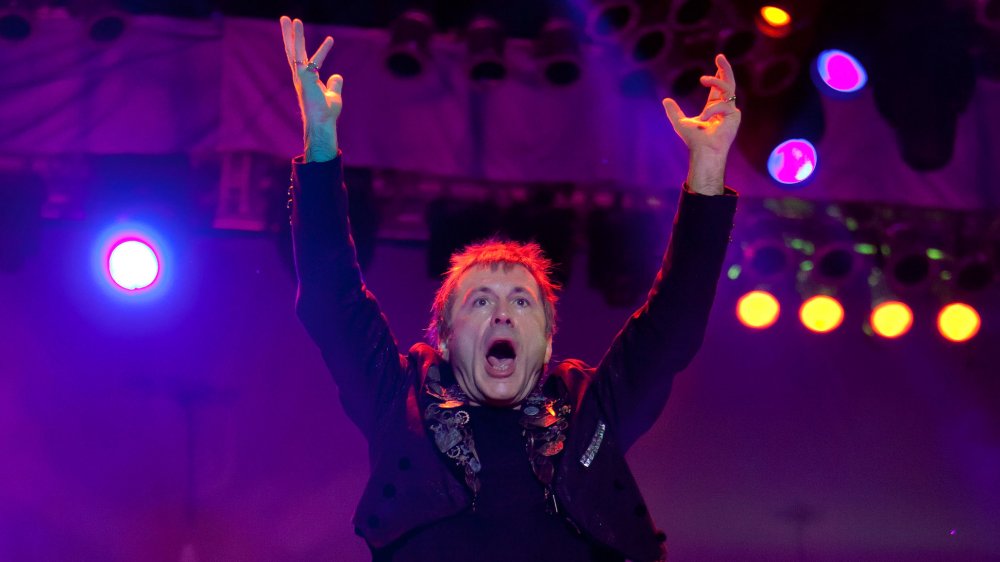 Scott Legato/Getty Images
Iron Maiden had its fair share of controversies as a band. In fact, according to Iron Maiden – Uncensored On the Record, after their album, The Number of the Beast was released in 1982, the band courted controversy for its work. Christian groups rallied against the band and called their music "satanic." What made things worse were eerie coincidences like their producer Martin Birch being in a car crash and later getting a repair bill for... ahem ... £666, per Ultimate Classic Rock.
Steve Harris was asked in a Rolling Stone interview about what inspired The Number of the Beast. "It was things like watching The Omen but it was more inspired by a poem [by Robert Burns] called 'Tam o' Shanter,'" Harris revealed. "I've just always liked reading books and watching horror films." He also explained that he has immense respect for all religions and thinks everyone should be free to believe what they do want to believe. His only gripe is with those who try to force others to adhere to their ideas and cite religion as an excuse for their actions. 
Iron Maiden sued a gaming company for copying them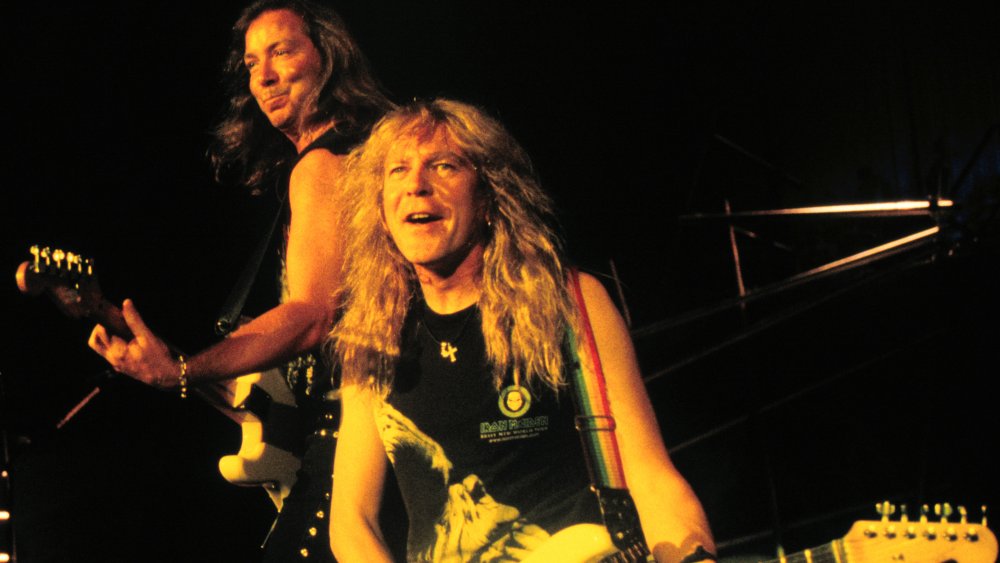 Tim Mosenfelder/Getty Images
While their name, Iron Maiden, is allegedly based on a disputed ancient medical device that was used to torture people, the band has copyrighted its name and logo since 1984 (via Polygon). In 2019, the band went after the makers of a game that sought inspiration from Iron Maiden's name as well as its stylized logo. The ex-owners of the Duke Nukem IP found themselves in a tough sport over a first-person shooter game called Ion Maiden that was first released in February 2018. 
The trademark infringement case was filed in California and demanded that the company in question pay up to $2 million for violating copyright laws. They also asked for the company to destroy anything that had the existing logo and trademark, and refrain from using it any further. Plus, they demanded that the ionmaiden.com domain be canceled or transferred to the band. As far as Iron Maiden was concerned, the game was rather confusing and could potentially mislead fans into thinking that was some kind of connection between the band and the game when in fact, there was none (via CNN). 
Iron Maiden's biggest tour was in over 20 countries
Eyeswideopen/Getty Images
Following the release of their fifth album, Powerslave, Iron Maiden embarked on one of their biggest tours of all time, a grand event that was performed in over 20 countries in 1984 and 1985 (via The Telegraph). They were on the road for 11 months, and on their North American gigs, Iron Maiden performed for a staggering number of people: 58,000 fans in four nights in Los Angeles' Long Beach Arena. The tour was exhausting, to say the least, and was one of their most ambitious projects of all time.
"I thought that was the best show that Maiden ever put on," Bruce Dickinson — who became lead singer after Paul Di'Anno exited in 1981 — once said in an interview. "Virtually everything on [the tour], the whole set, apart from the lights, was done Music Hall style — It was all boxes and ropes and two blokes pulling levers. It was so simple, it was like pantomime." 
According to Louder Sound, Iron Maiden was left weary after they finally finished touring. In fact, Bruce Dickinson, who is also a pilot, by the way, was so tired, he even thought about quitting music. "I was just very, very mentally exhausted by the whole grind, if you like –- of grinding out 13 months on the road with no stable social life of any description," Dickinson explained, adding that he considered options that wouldn't pay him as well but would perhaps leave him more content. After the harrowing tour, Iron Maiden took some time off before to recover.
Some of Iron Maiden's gigs were seriously marred by violence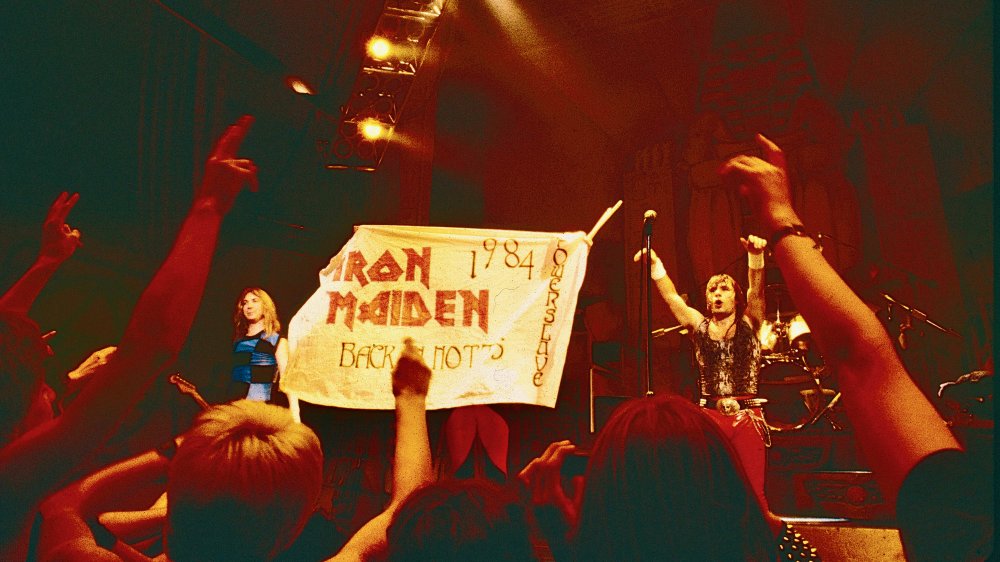 Steve Rapport/Getty Images
As much as Iron Maiden chose to stay away from violence themselves, mosh pits were sometimes a bit too dangerous and violent during their gigs, something that was bothersome. In fact, Bruce Dickinson once mentioned that moshing made him angry and he wasn't a big fan. As told in Iron Maiden – Uncensored On the Record, a gig in Paris turned unexpectedly violent and upset Dickinson. "Moshing is really dangerous and it pisses me off ... there were 15 people down the front absolutely hell-bent on beating the crap out of anyone who didn't want to join in," Dickinson reflected.
Dickinson added that girls and boys were getting hurt, and no one was being spared in the ruckus. For him, the essence of rock lies in comradeship, the sense of belonging. He thinks it's knowing that you've got each other's back no matter where you are from because you love the same music. As far as Dickinson is concerned, moshing just goes against that sense of unity that otherwise brings fans together and is far too egocentric, ultimately ruining things for everyone involved.
Iron Maiden had major ups and downs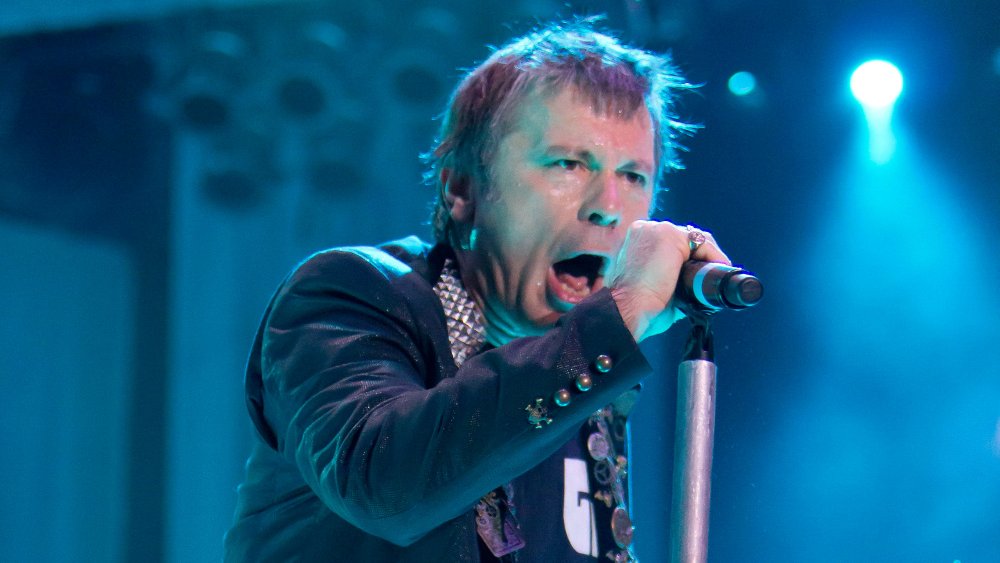 Scott Legato/Getty Images
As a band, Iron Maiden has dealt with a massive number of ups and downs through the years. They've witnessed members come and go, they've struggled to discover their identity and battle controversies. Let's take Bruce Dickinson, for example. He quit the band, had an incredibly unfortunate replacement in Blaze Bayley, and returned shortly after. Unfortunately, he was diagnosed with tongue cancer in 2014 and had to take time off again (via Revolver). 
The band supported him as a team and decided to put off touring until Dickinson was back on his feet, according to the BBC. Iron Maiden publicly announced that they'd wait until their frontman had recovered his full strength and healed from tongue cancer — a definite setback for a singer.
Dickinson was humble about his journey and said, "I've been through what a load of people go through every day. There's thousands of people every day in the U.K. and around the world who have treatment for this kind of thing. In that respect, the only thing that's special about it is that I'm quite a well-known person. I've been very fortunate."
It's true that he did have a hard time coping when the side effects of the cancer treatment were at their worst. In fact, Dickinson was so constipated that he considered trying to make himself feel better with the help of a corkscrew, according to Revolver. Luckily, he dropped that idea.
Iron Maiden's Dickinson played during the Bosnian war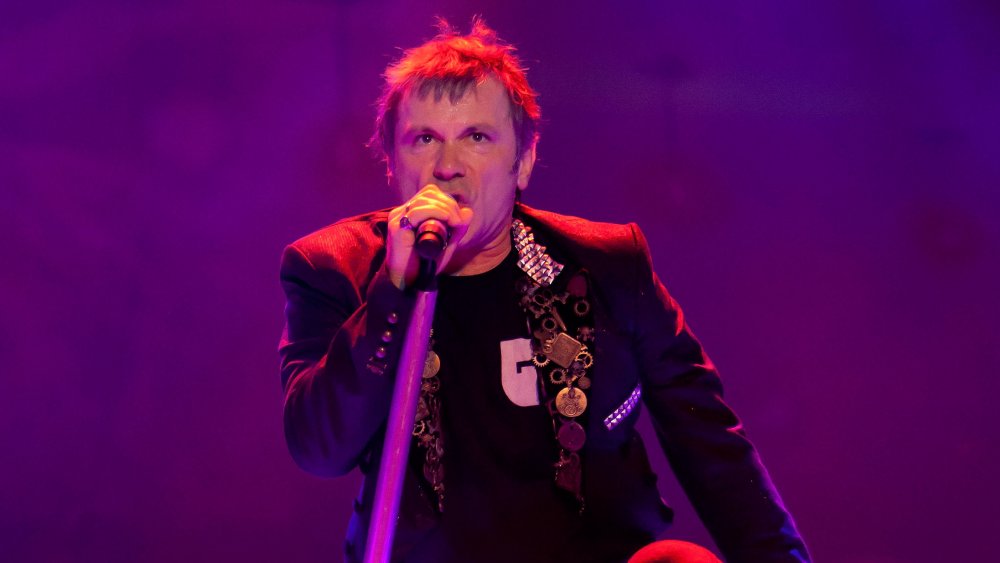 Scott Legato/Getty Images
As a band, Iron Maiden was simply not afraid to challenge the status quo. For example, in the 1990s, when Bosnia was a war-torn nation and struggling to set itself free, the band's frontman Bruce Dickinson risked his life to play there. As explained by The Guardian, it all began with a phone call to Bruce Dickinson. He was contacted by someone from the U.N. in Bosnia who asked whether he would be interested in performing in Sarajevo. He replied with, "Yeah, why not."
To be fair, Dickinson wasn't sure what he was signing up for and didn't really know about the backstory in Sarajevo. But he didn't back down later and did show up to perform with his band Skunkworks, which earned him a lot of appreciation from the gathering crowds. In fact, in 2019, Bosnia granted Dickinson honorary citizenship for his kindness all those years ago. "The arrival of Mr. Dickinson in Sarajevo in 1994 was one of those moments that made us in Sarajevo realize that we will survive, that the city of Sarajevo will survive, that Bosnia-Herzegovina will survive," the city's mayor Abdulah Skaka said (via ABC News).
Iron Maiden's legacy is unquestionable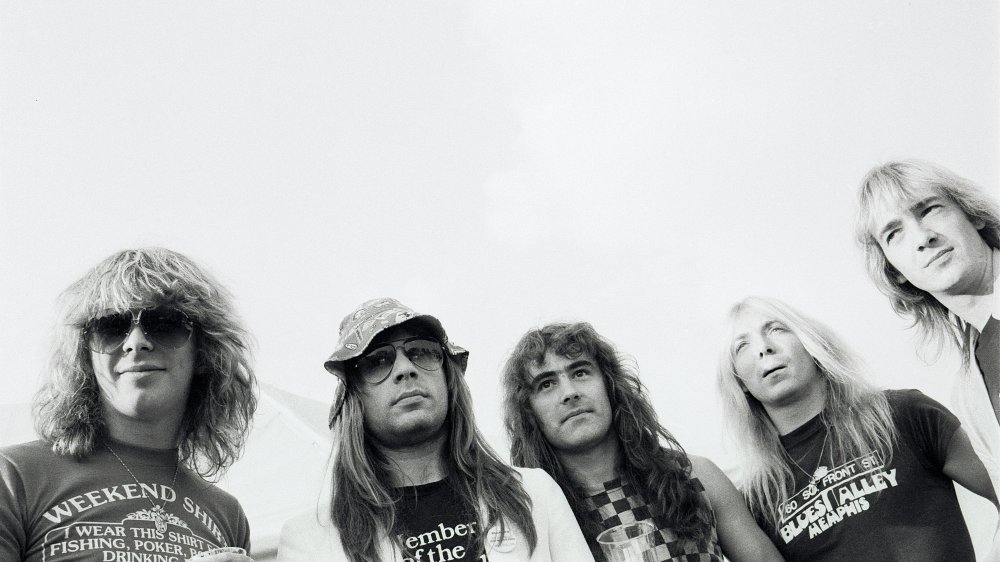 Steve Rapport/Getty Images
Whether you like the band or hate it, Iron Maiden has managed to become a heavyweight in the world of metal and rock music. They're now considered to be one of the greatest rock bands of all time with a crazy fan following. They even have a beer named after them (in the great tradition of celebrity-endorsed alcohols.)
"We're all a bit odd ... all a bit eccentric one might say," Dickinson told CNN in a bid to explain as to what could have helped the band last all these years later. "If it weren't for Iron Maiden, none of us would have ever have met up; we all come from different backgrounds, different places, different locations. And we get together and it works because the one thing that puts us all together is Iron Maiden. It genuinely is like a family."
As far as Harris is concerned, Iron Maiden doesn't care about accolades as much as they about their work itself. They don't fret over whether they receive honors even though they do like it when they do. Ultimately, all they wish for is to be remembered as a great brand and nothing else.