Your Chances Of Making A Hole In 1 In Golf Are Way Slimmer Than You Realized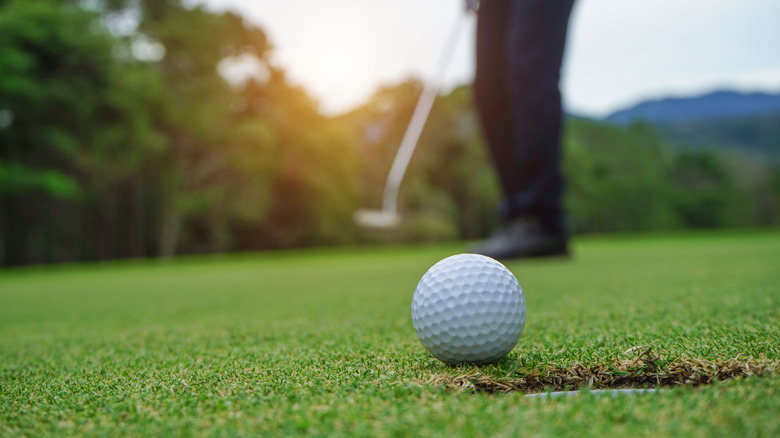 Mr.Somchai Sukkasem/Shutterstock
However talented an athlete, however long they have spent honing their craft, some of their greatest feats will always tend to involve a certain degree of luck. For Brazilian soccer icon Ronaldinho, the quarter final of the 2002 World Cup offered just such a moment. He took a long-distance free kick, per The Mirror, that was fully expected by many to be floated in for a teammate to capitalize on. Instead, the ball shot straight over the head of England's goalkeeper David Seaman into the net, setting up a 2-1 scoreline that would win Brazil the match (and, ultimately, the whole tournament).
Was this remarkable goal intentional? In June of 2022, Ronaldinho told Expedia (via The Mirror) that he was still asked that question. "No, it wasn't on purpose," the Brazilian ace reportedly admitted. "But we studied a lot and we knew that Seaman advanced a bit off his line and I was lucky enough that the ball entered the net the way it did."
Even at that level, at that distance, nobody can be quite sure where the ball is going to end up after they distribute it. This is just as true in golf, even adventure golf. A hopeful strike of the ball and, if it ricochets off that gorilla's foot or pirate ship hull just right, you just might sink it in one. More by luck than judgment. Have you ever wondered about the chances of scoring a hole in one? They're not good.
Even professional golfers struggle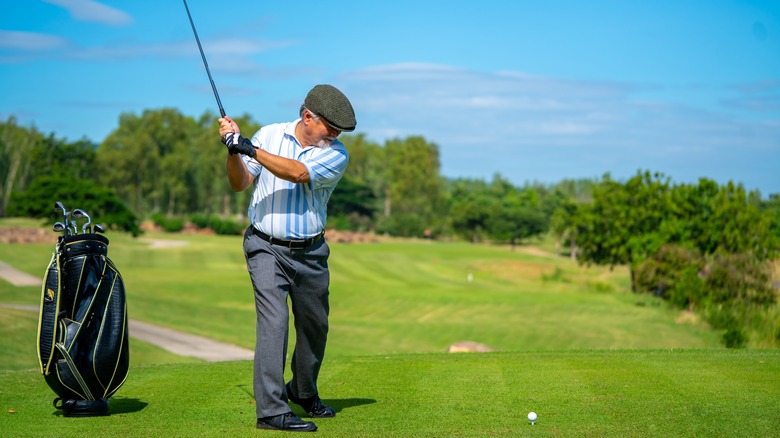 CandyRetriever/Shutterstock
Golf enthusiasts run the gamut, from children swinging wildly through an elephant's mouth on a novelty course to the true legends of the game. Seasoned golfers, of course, have the benefit of experience and a practiced hand. This can go a long way toward obtaining an elusive hole in one on a real golf course in a professional setting.
As The New York Times reports, April 2022 saw Stewart Cink achieve a magnificent Masters hole in one at the Augusta National Golf Club. Only one hole at the club is shorter than this particular one, No. 16, which is flanked by tricky bunkers and a water hazard. Cink told the outlet, "On that one, I knew to push it a little further back because that bank brings the ball not only left but also back towards the tee." Then he saw the spectators jump to their feet.
"This was exactly the way I would have drawn it up. It was like a dream shot," he concluded, delighted by the fact that his son Reagan had been caddying for him to witness the moment. According to The New York Times, this hole has yielded the most Masters hole in ones of any at the club, and that's still only 24 since 1934. The exact odds of scoring a hole in one make for sobering reading. According to Golf Digest, the chance of a tour player scoring a hole in one is about 3,000 to one.
One of the most celebrated accomplishments in sports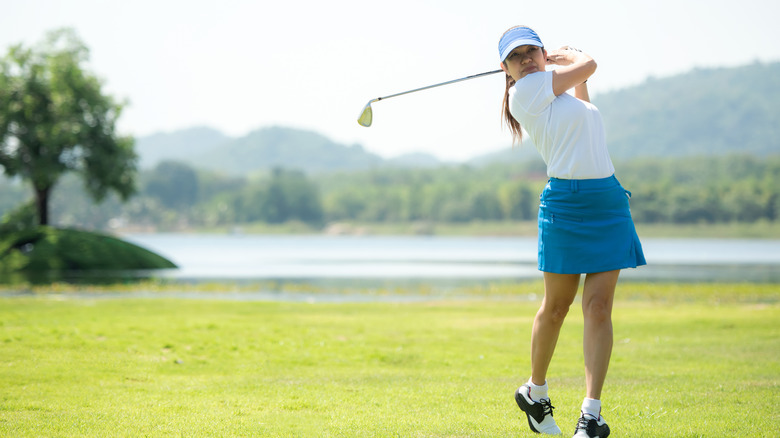 Freebird7977/Shutterstock
American Hole 'n One gives pro golfers a slightly better chance, with an estimated 2,500 to 1 chance of hitting that tiny target the first time. For the average golfer, Golf Digest reports that the chance is reportedly just 12,000 to 1, and if a bet were placed that a professional would triumph at a specific hole, the chance of a payoff would be even worse: 14,000 to 1. Golf Digest goes on to report that the ultimate unlikely feat would be a player with a low handicap getting two holes in one in a round. The dizzying odds for that scenario? One in 67 million.
The hole in one, for its rarity and difficulty, remains an iconic achievement in golf. In April 2018, Tiger Woods fondly recalled the first ace he ever scored, which took place at Long Beach's Heartwell Golf Park when he was just a child. He said (via PGA Tour on Twitter), "The ball carries the bunker, it rolls into the hole. Everyone in my group celebrates but me, I can't see that high. So one of the guys picks me up, shows me there's no ball on the green."
The pursuit of this rare achievement just might lead many more aspiring young golfers to successful careers in the sport.