The NBA Player Who Was Fined $50,000 For Untying His Opponents' Shoes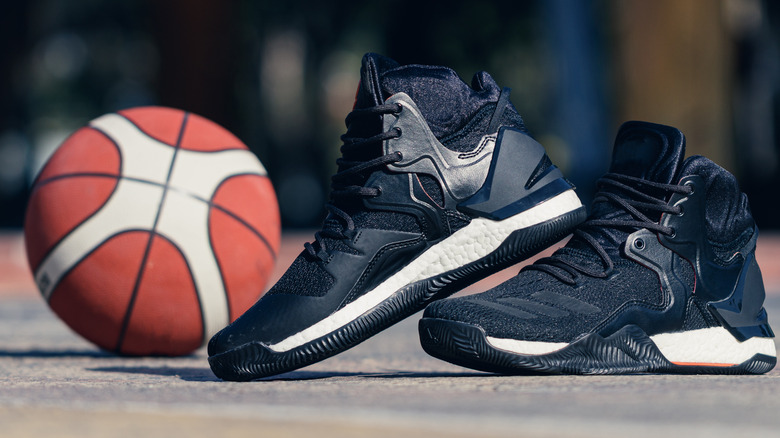 Carlos Neri/Shutterstock
Since the dawn of organized competitions, athletes have been trying to find ways to toe the line of legality when it comes to getting an edge on opponents. One way this can be accomplished is through the gamesmanship. Sure, one athlete's version of gamesmanship could be another's version of poor sportsmanship or even cheating, but if that's the price to pay for getting a win, then so be it.
Gamesmanship can take the form of run-of-the-mill trash-talking or taking advantage of a loophole in the rule book, but it can also be done by teams at an organizational level, like when the Atlanta Falcons were found to be pumping crowd noise out of their stadium's speakers to make it difficult for visiting teams to communicate and hear snap counts. They got caught, according to USA Today, and wound up losing a draft pick for their troubles.
One athlete who paid a particularly hefty price for repeated offenses that could be labeled as gamesmanship is basketball player J.R. Smith, who wound up paying tens of thousands of dollars because he just couldn't get himself to stop untying other players' shoes (via Sports Illustrated),
J.R. Smith's first untying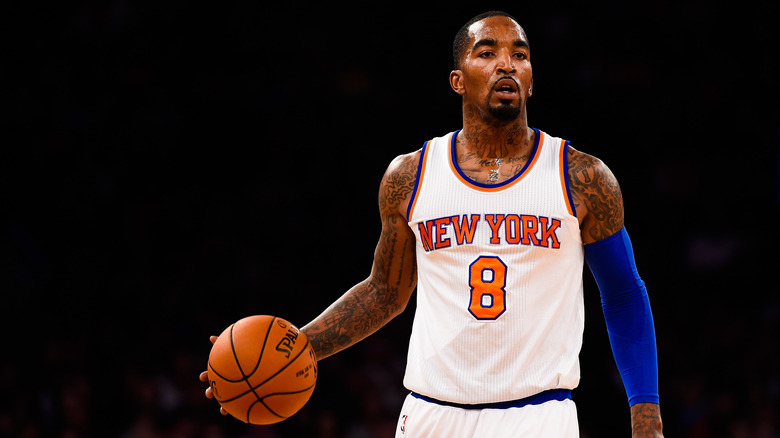 Alex Goodlett/Getty Images
According to Basketball Reference, J.R. Smith is a two-time NBA champion who won titles with both the Cleveland Cavaliers and Los Angeles Lakers, yet one of the most memorable moments of his career happened when he was a member of the New York Knicks. Smith had entered the league at just 19 years and spent time with the New Orleans Hornets — including the 2005-06 season, when the team played in Oklahoma City after Hurricane Katrina — and then a handful of seasons with the Denver Nuggets before arriving in New York ahead of the 2011-12 season. According to Yahoo Sports, by the time he was taking the Madison Square Garden court, Smith was already known around the league as a bit of a wild card who was prone to some on-court antics. However, none became as famous as his repeated offenses by way of untying the shoes of opposing players.
The first came in a January 5, 2014, game against the Dallas Mavericks. The Knicks wound up winning the game 92-80, but everyone was buzzing about what Smith had done to Maverick's forward Shawn Marion (via Sports Illustrated). With Mavericks center Dirk Nowitzki gearing up for a free throw, Smith was standing next to Marion. Smith then bent down and put his hands on his knees, but his left hand took a detour toward Marion's feet. With a quick flick of the wrist, Smith untied Marion's left shoe. Nowitzki made the shot, and both players jogged down the court, Marion unaware that his shoelace was flapping in the breeze.
J.R. Smith, the serial untier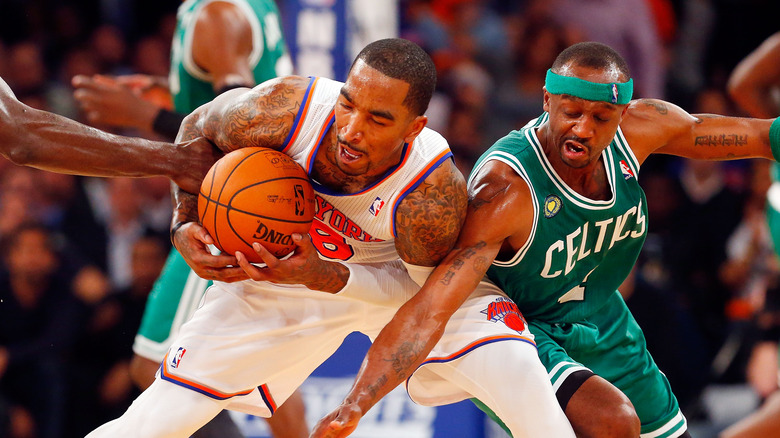 Jim Mcisaac/Getty Images
No one noticed Smith's shenanigans in the moment, save for eagle-eyed fans watching at home. However, after the game, the NBA issued a warning to Smith that continuing to untie his opponents' shoes ("recurring instances of unsportsmanlike conduct") would not be tolerated, per Sports Illustrated. However, it must have fallen on deaf ears, because the very next game — a January 7 matchup against the Detroit Pistons — Smith tried it once again. This time, his target was Pistons forward Greg Monroe, only this time, Monroe saw it coming and quickly moved his foot out of the way, leaving his laces intact.
Once again, the league caught wind of this and made Smith pay a whopping $50,000 fine for ignoring their initial warning. In 2014 Smith admitted to Bleacher Report that he'd have continued doing it if it weren't for the fines. However, this wasn't the end of J.R. Smith's attempts to mess with his opponents' uniforms. According to the New York Post, Smith tried to pull down Vince Carter's headband. Smith denied that he had done this, but the video (posted on YouTube) proves otherwise.