Inside John Wayne's Painful On-Set Injury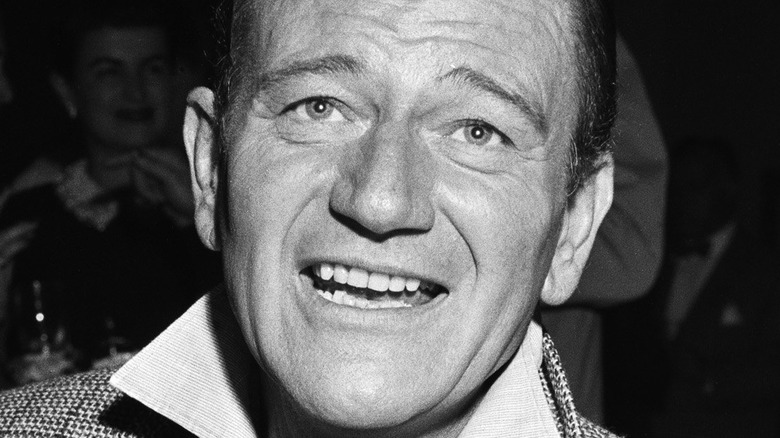 Michael Ochs Archives/Getty Images
Some movie stars aren't afraid to put their bodies on the line in the name of filmmaking. John Wayne was no exception. Over his decades-long career, Wayne dealt with and worked through his fair share of health issues and injuries, especially toward the tail end of his life. The Duke had bouts with cancer which ultimately led to this death, per Variety, yet the entire time he worked through it. According to Outsider, Wayne made his final public appearance just months before his death at the 51st Academy Awards, where he was tapped to hand out the biggest prize of the night, the Oscar for best picture. Wayne sauntered on stage looking conspicuously thin, despite squeezing into a wetsuit before throwing on his tuxedo in hopes that it would make him appear more robust.
Health issues played a significant role in Wayne's life. According to Outsider, it was a shoulder injury that he suffered while bodysurfing that led to Wayne losing his football scholarship to the University of Southern California. With a future on the gridiron out of the picture, Wayne turned to showbiz and became one of the biggest stars in movie history.
John Wayne's health before his injury
United Archives/Getty Images
One of the things about John Wayne's career was his insistence on performing his own stunts, even when his health issues should've been enough to justify calling in a stunt double. In the mid-1960s, Wayne had one of his lungs and several ribs removed to combat cancer (via Factinate). While this operation saved his life in the short term, it led to persistent health issues for the rest of his life, per Express, but he still performed stunts as much as he could.
In 1969, Wayne was shooting the film "The Undefeated," a western like so many of the films that made him a Hollywood legend. It co-starred Rock Hudson, Roman Gabriel, and Antonio Aguilar (via Texas Archive of the Moving Image). In the film, Wayne plays a former Union Army colonel attempting to drive a herd of cattle across the Rio Grande and into Mexico where he could sell them.
The Duke breaks some ribs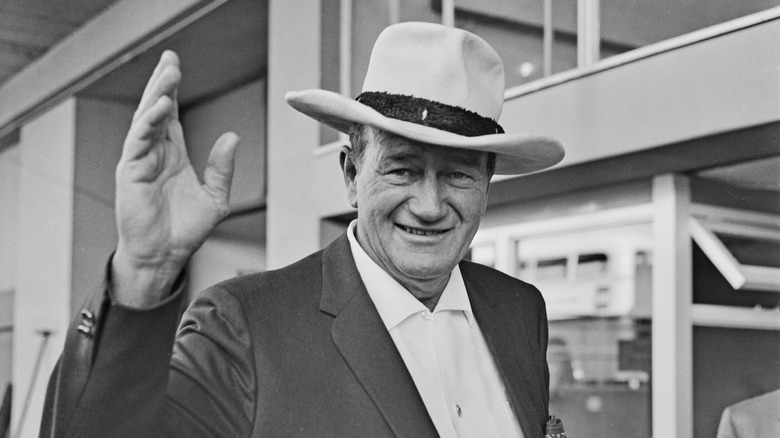 Evening Standard/Getty Images
Wayne was filming a scene for "The Undefeated" that involved him on horseback. However, The Duke quickly went from "on" horseback to "off" horseback in an instant, and the aging star — who was in his early 60s — slammed into the ground and broke three ribs, per Outsider. The fall wound up putting Wayne out of service for two weeks, according to Country Music Family, but he managed to get back in the proverbial (and literal) saddle to finish the movie, although the film's director Andrew V. McLaglen had to get creative and shoot The Duke from precise angles to hide the fact that he was laboring from his injuries.
The last decade of Wayne's life was spent navigating various health issues, including a final fight with cancer that led to his death. At the end of his life, The Duke was preparing to undergo experimental treatments to fight his cancer, but he was ultimately too weak to receive those treatments or chemotherapy. He died at the age of 72 on June 11, 1979.