What Did Seinfeld Have To Do With Frank Sinatra's Daughter Missing His Death?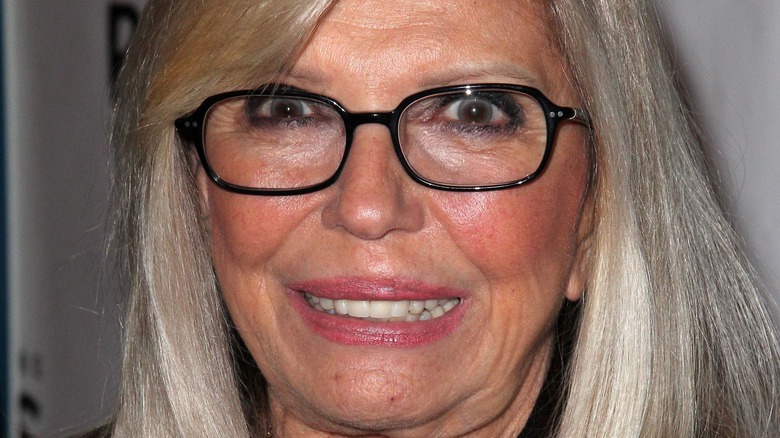 s_bukley/Shutterstock
It might be hard to remember where you were on May 14, 1998, but there's a pretty decent chance that you were watching the "Seinfeld" series finale. The legendary NBC sitcom came to an end with a finale that, while poorly received by fans and critics alike, drew a jaw-dropping 76.3 million viewers. It's a huge figure, eclipsed only by two other finales, the 1993 "Cheers" finale, which garnered 84.4 million sets of eyes, and the 1983 finale for "M*A*S*H" which garnered 105.9 million viewers (via Insider).
One of the viewers that night was Nancy Sinatra, daughter of legendary crooner, actor, and Rat Pack leader Frank Sinatra. While Nancy's late-'90s television viewing habits wouldn't usually be particularly remarkable, what was remarkable is the massive moment she missed because she was waiting to see if — spoiler alert — Jerry, George, Elaine, and Kramer wound up getting thrown in jail for running afoul of Good Samaritan laws.
The life and death of Frank Sinatra
mark reinstein/Shutterstock
In 1998, Frank Sinatra was 82 years old and had one of the most illustrious careers in the history of show business behind him. Three years earlier, the man who made his life and career on stage took his final bow when he performed his last gig at the Palm Desert Marriott Ballroom in Palm Desert, California (via Biography).
Sinatra had seen a big resurgence in the last decade or so of his life when he released an album called "Duets" in 1993. Of course, as the name implies, the album was a series of duets with a range of some of music's biggest names, from fellow crooner Tony Bennett, to soul legend Aretha Franklin, and rock icon Bono. The album was a hit, and Sinatra — who was 77 at the time the record was released — got a final jolt of career momentum. It could be argued that he didn't really need it, as his place in pop-culture history had been cemented well before "Duets" hit the scene.
On May 14, 1998, Old Blue Eyes suffered a heart attack and died at Cedars-Sinai Medical Center in Los Angeles. According to his obituary in The New York Times, the Hollywood icon was surrounded by "his fourth wife, Barbara, his son, Frank Jr., and daughters, Tina and Nancy" when he died. However, it was later revealed that Nancy Sinatra was not in fact there the moment her father died. (As of this writing, The Times has yet to make a correction to that effect.)
Nancy Sinatra was caught up in the Seinfeld finale when her father died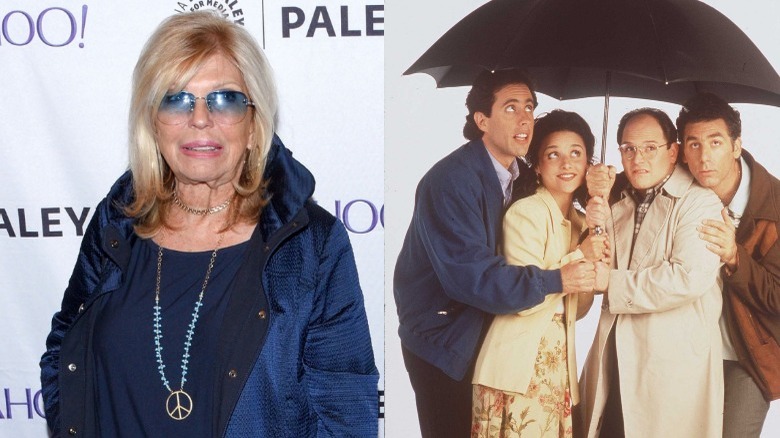 Getty Images & Grant Lamos Iv/Getty
It's never easy to be the child of one of the biggest stars in entertainment, but that didn't stop Nancy Sinatra from having a solid career in her own right. In 1966 she released the song "These Boots Are Made for Walkin'," which became a No. 1 hit, according to Biography. Nancy became just as well known for her modeling work, and after a break through the 1980s to raise her family, she returned to music in the 1990s.
According to the Jewish Telegraphic Agency, on May 14, Nancy had planned to visit her father. However, she got caught up in the two-part "Seinfeld" series finale. Unbeknownst to her at the time, her father suffered a heart attack and was rushed to the hospital — a feat reportedly made easier thanks to the 76.3 million people who stayed off the roads across the country to watch the finale.
Sadly, it was only after the show had ended that Nancy learned her father had died. Since then, she has expressed extreme regret for not being by her father's side at the time. In a 2009 interview, she claimed that she was watching "Seinfeld" because her stepmother, Barbara Marx, didn't tell her that her father was dying. "Now, I know that in order to live a happy life you're supposed to let go of your anger and move on, but I was five minutes down the road, watching TV, while my dad was dying," she said, according to Stuff. "That's something I will never forget, let alone forgive."