What Are The Death Penalty Laws In South Korea?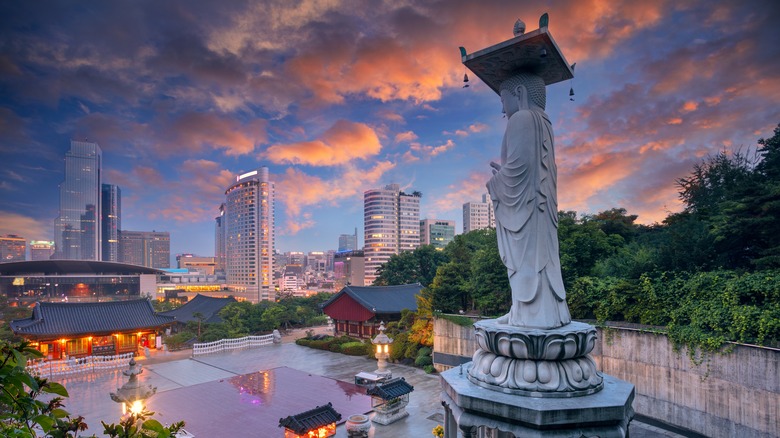 Rudy Balasko/Shutterstock
South Korea is an ideal place to live for many reasons. Home to 52 million people, it is a wealthy, advanced democracy and the world's 11th-largest economy, according to U.S. News & World Report, which ranks it the 15th best nation to call home. South Korea measures high on quality of life indexes, with good public schools, public healthcare, and job opportunities. Residents enjoy splendid cuisine, beautiful historic sites, and captivating cultural creations such as music and television shows that other countries have only recently grown obsessed with. Further, the nation has a very low crime rate (via World Population Review).
Despite its high marks for safety, however, South Korea, like any other advanced society, occasionally sees ghastly murders, which spark intense debate over capital punishment. For example, per Newsweek, in 2004 Yoo Young-chul was arrested for the murder of 20 people, plus acts of cannibalism, and sentenced to death. The case generated a surge in support for capital punishment, a blow to the efforts of those wishing to abolish it. Yet nearly 20 years later, Yoo still awaits execution. In June 2022, a man convicted of double murder received the rare sentence of death (via Yonhap News). He will likely grow old waiting for execution as well. Why?
Abolitionist in Practice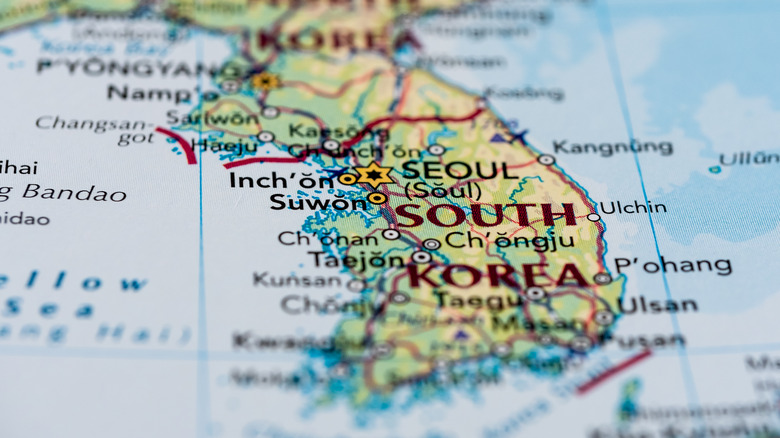 Nick Beer/Shutterstock
Although capital punishment remains legal in South Korea, the government has not carried out an execution since 1997 (via Newsweek), when a moratorium was put in place by a government sympathetic to its abolition. Though this can be lifted at any time, it set a precedent that has been followed by presidents and their administrations for decades. About 60 inmates are on death row today and will likely remain there. Amnesty International labels the nation as "abolitionist in practice."
However, battle lines over the issue have been drawn between the general public, human rights activists, and the government, which itself is divided, with different branches showing varying levels of support for capital punishment.
According to research published in the International Journal of Comparative and Applied Criminal Justice, a strong majority of South Koreans support the death penalty for reasons of deterrence and retribution.
In 2020, the justice ministry voiced full support for capital punishment, whereas the executive administration supported, for the first time, a resolution at the United Nations calling for a suspension of all executions (via The Korea Times).
An impassioned activist movement to end the practice began in 1989, when attorney Lee Sang-hyok founded the Council for the Abolition of the Death Penalty in Seoul (via Amnesty International). They point out that innocent people can be executed, and that execution precludes rehabilitation forever.
A Court Battle Begins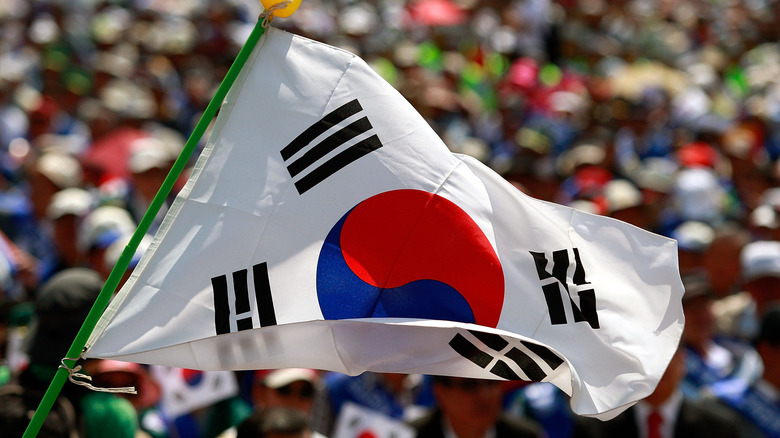 Chung Sung-jun/Getty Images
Though it can be imposed for multiple serious crimes, for instance spying for North Korea, the courts largely impose the death penalty for murder convictions (via Amnesty International). And with elected South Korean administrations thus far holding firm against actually carrying out executions, the courts have become a hot spot of the debate.
Capital punishment opponents have brought multiple lawsuits over the decades arguing that the practice violates South Korea's constitution. The Constitutional Court, similar to the Supreme Court in the United States, ruled that executions were constitutional in 1996 and 2010 (per Hankyoreh). The vote was 7-2 in the first case. The next one was much closer, at 5-4.
On July 14, 2022, the Constitutional Court will again hear a case on this issue. The petition is being brought by the Catholic Bishops' Conference of Korea (CDCK) Committee for Peace and Justice (via Hankyoreh). Though the outcome cannot be predicted, it is quite possible the Court's findings will align the legal status of executions with standard government practice and abolish the death penalty.