Why Paul McCartney Couldn't Stand Phil Spector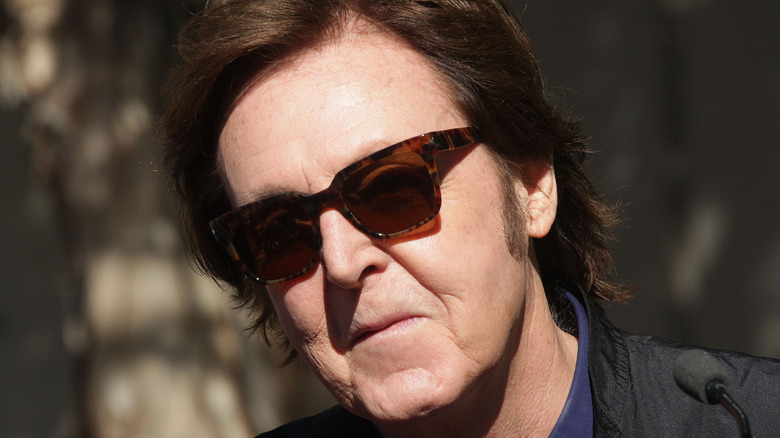 DFree/Shutterstock
Needless to say, celebrities tend to travel in glamorous circles. Their renown in whichever industry they happen to have conquered can afford them all kinds of collaboration opportunities. When superstars work together, great things can happen. Elton John and Eminem famously performed "Stan" together at the Grammy awards, and a lifelong friendship was the result. In 2017, John gushed about Eminem on "The Graham Norton Show," reporting (via The Graham Norton Show on YouTube), "We've been amazing friends ever since. He's ... an amazing guy ... I just adore him."
For every heartwarming tale of A-list friendship, however, there's a sad story of a feud. It seems that celebrities butt heads and egos as often as the Ancient Greek gods of Mount Olympus. John's fellow British musical maestro, Paul McCartney, has had his share of run-ins with stars, including his fellow Beatles.
Phil Spector, according to Far Out Magazine, was a producer who was closely involved with some of the Beatles' final work as a unit. Rather too closely involved for McCartney's liking, it seems, which is exactly how he attracted the wrath of the singer-songwriter.
Phil Spector's heavy-handed influence on the Beatles' songs
Michael Ochs Archives/Getty Images
According to The Beatles' official website, melancholy classic "The Long And Winding Road" was at the forefront of McCartney's issue with Spector. The former wrote the song, which was actually the band's final No. 1 hit and featured on their poignant album "Let It Be."
At a time when the band was slowly falling apart, lyrics like "many times I've been alone and many times I've cried, anyway you'll never know the many ways I've tried" provide a tragic sort of insight into the mindset of the Fab Four. As with many songwriters, McCartney's work seems deeply personal at times, and "The Long And Winding Road" would surely have been a song that he didn't want to see altered or compromised from his vision. That, however, was reportedly just what Spector did.
In an interview with The Evening Standard in 1970 (via Far Out Magazine), McCartney stated "The album was finished a year ago, but a few months ago American record producer Phil Spector was called in by John Lennon to tidy up some of the tracks ..." This wording suggests that a subtle, gentle approach to producing was expected, but Spector instead went in completely the opposite direction.
Paul McCartney wanted his songs, his way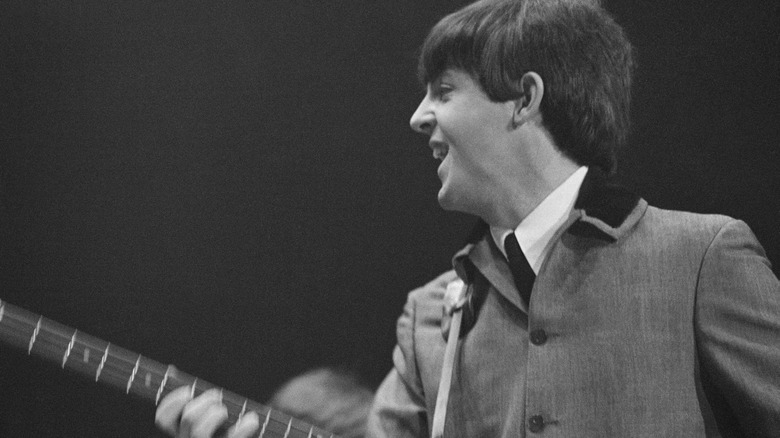 Rowland Scherman/Getty Images
According to Barry Miles' "The Beatles Diary Volume 1: The Beatles Years," Phil Spector took that ball and ran with it. Per Miles, the producer "recorded a 50-piece orchestra and chorus to create a 'wall of sound' backing track for 'Across The Universe,' 'The Long And Winding Road' and 'I Me Mine.'" In the process, Spector was so confrontational that he "managed to anger and upset everyone involved with the session."
Miles also states that only Ringo was at the studio while all this was going on. The band members were later sent copies of Spector's heavy-handed adjustments to the songs, and McCartney seems to have been horrified. He told the Evening Standard (via Far Out Magazine), "No one had asked me what I thought. I couldn't believe it ... it's no good me sitting here thinking I'm in control because obviously, I'm not." McCartney ended up writing a letter to the head of Apple Corps, Allen Klein, that said in part, "In future, no one will be allowed to add to or subtract from a recording of one of my songs without my permission."
As the band's official website states, Spector's version of "The Long And Winding Road" did originally see release. The incensed songwriter would later use this incident as one of his primary reasons for suing his bandmates in order to free them from their obligations to the record company. Ultimately, then, while there was no one single cause for the Beatles' break up, Phil Spector's overly-exuberant production was one contributing factor.