How Many Academy Awards John Wayne Really Won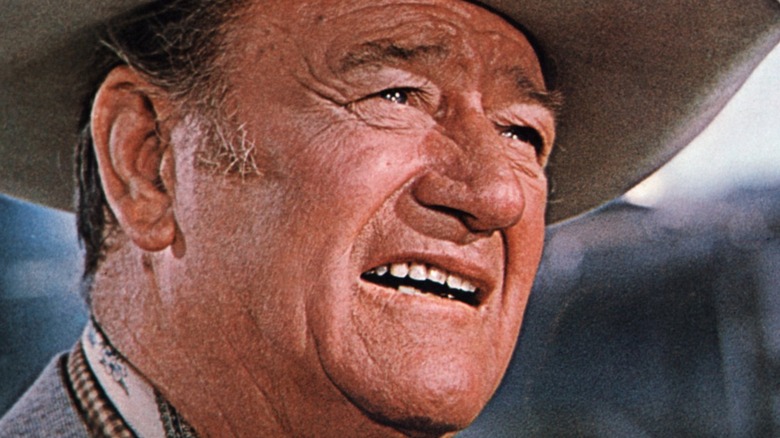 United Archives/Getty Images
Despite working in countless successful films, John Wayne only received critical recognition for a few roles. He became a symbol of rugged masculinity, often playing rough-and-tumble cowboys and no-nonsense soldiers during his long career. Born in 1907, he started life as Marion Morrison, in Winterset, Iowa (via Britannica). Wayne went to California for college, enrolling at the University of Southern California. It was a summer job at a movie studio that opened the door to Hollywood stardom.
Through his job, Wayne became friendly with legendary director John Ford. Ford gave him some of his first small acting roles. In the beginning of his film career, Wayne used the name Duke Morrison, using his childhood nickname for his first name. He later officially became "John Wayne," making his debut using that name in director Raoul Walsh's "The Big Trail" (1930), according to the actor's official site. It would be nearly two decades and dozens of movies before Wayne would earn his first Academy Award nomination.
John Wayne received his first nomination in 1950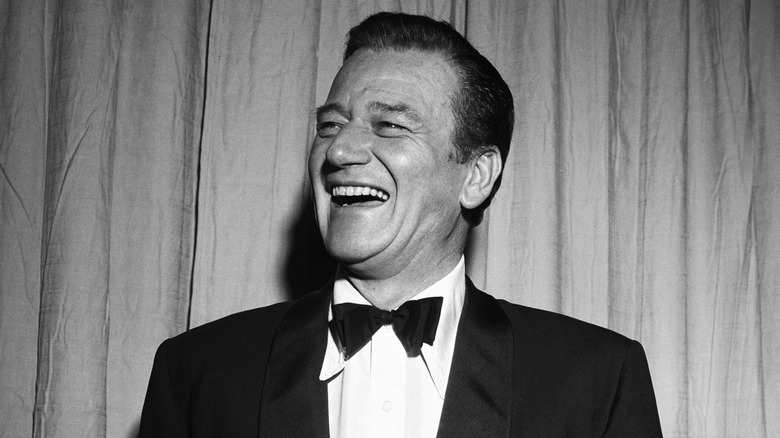 Michael Ochs Archives/Getty Images
Wayne picked up his first Academy Award nomination for his portrayal of a tough-as-nails yet caring Marine sergeant named John Stryker in "Sands of Iwo Jima" (1949), per IMDb. Released just four years after World War II, the film tells the story of a group of marines who fought in the historic battle at Iwo Jima (via Variety). "Sands of Iwo Jima" earned praise for its action sequences and for Wayne's acting. It also earned nominations in film editing, sound recording, and writing, according to the Academy of Motion Picture Arts and Sciences.
Unfortunately, Wayne faced some stiff competition for the best actor honors. He was up against the likes of such stars as Kirk Douglas for "Champion" and Gregory Peck for "Twelve O'Clock High." But it was Broderick Crawford who took home the award for his performance in "All the King's Men," which was based on Robert Penn Warren's Pulitzer Prize-winning novel about a ruthless politician. Wayne had to wait for years before he had another opportunity to win Hollywood's biggest prize.
John Wayne won his only Academy Award in 1970
United Archives/Getty Images
For the popular western "True Grit" (1969), Wayne played a different type of character, per Britannica. He starred as Rooster Cogburn, a one-eyed, worn-down Deputy U.S. Marshal with a greater fondness for drinking than being a lawman. His character becomes a reluctant hero of sorts when he agrees to help a young girl named Mattie (played by Kim Darby) track down her father's killer. The unlikely duo becomes a trio when they are joined by a Texas Ranger named La Boeuf (played by Glen Campbell). The film also marked the reunion of Wayne and director Henry Hathaway — they had worked together on several films over the years. "True Grit" was perhaps their finest project together, and it earned Wayne his second Academy Award nomination for best actor.
At the 1970 Academy Awards, Wayne waited to hear who would be the winner along with his fellow nominees, all of them well-regarded actors: Richard Burton for "Anne of the Thousand Days," Peter O'Toole for "Goodbye, Mr. Chips," and Dustin Hoffman and Jon Voight for "Midnight Cowboy." Singer and actress Barbra Streisand delivered the good news to Wayne, telling the world that he had earned his first and only Academy Award of his career. A teary eyed Wayne joked in his speech (posted on YouTube) that "Wow, if I had known that, I would have put that patch on 35 years earlier." All kidding aside, he seemed genuinely honored to have won, adding, "I feel very grateful, very humble, and all thanks to many, many people."