The Meaning Behind Metallica's Master Of Puppets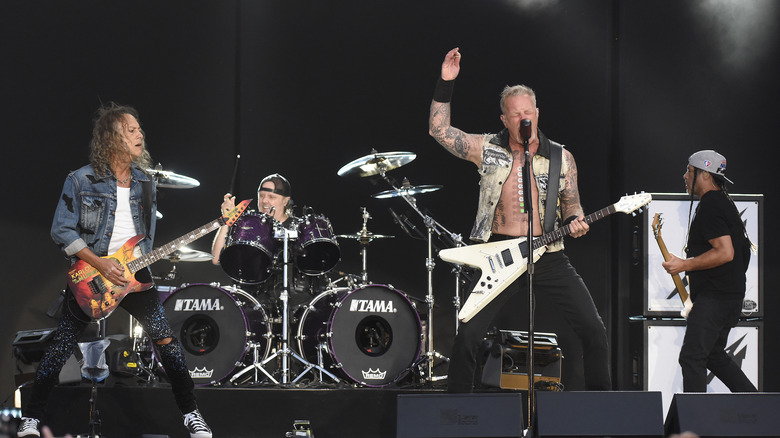 Tim Mosenfelder/Getty Images
Metallica's "Master of Puppets" was released in 1986 from the band's album of the same name. The often-described "thrash metal masterpiece" was written by all the band members — James Hetfield, Lars Ulrich, Kirk Hammett, and Cliff Burton. The band often includes the song in their live performances and remains one of Metallica's most iconic tracks decades after its release. In fact, as noted by Setlist, it's the band's most played song in their years of touring.
As a whole, the album "Master of Puppets" is an intense album full of rage. In 1986, Hammett described it as the band's take on the world. "There's a lot of ugly things out there and no matter how much you try and escape you always have to wake up and face the fact that the world is f*****-up and ugly," (per Metallica: The Early Years and the Rise of Metal). Reflecting on the time the album was written, Hetfield said that they were young and angry, and they chose to vent their anger through their songs.
Master of Puppets is about drugs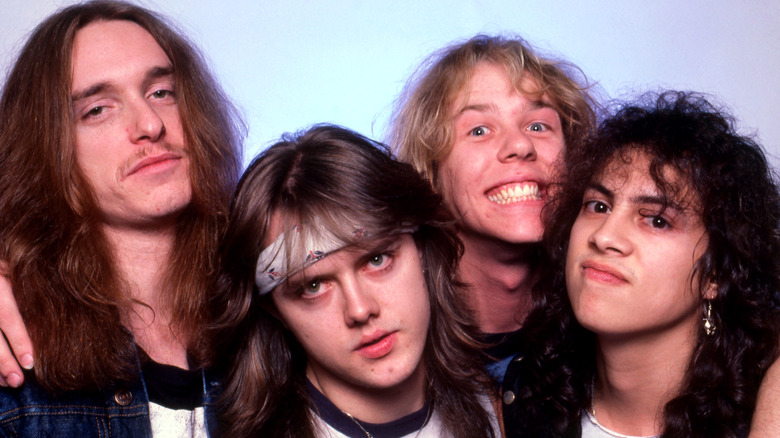 Icon And Image/Getty Images
Songs can have different meanings for people, but for Metallica, "Master of Puppets" is about the destructive effects of taking drugs. James Hetfield shared his insights with Thrasher magazine in 1988, as reported by Story of Song. Hetfield said that a person who takes drugs initially controls what and how much to take, but eventually, it's the drugs that control the person. His explanation is clear in the lines, "Taste me you will see / More is all you need / You're dedicated to / How I'm killing you."
The song gives drugs a persona in the form of the master, with the addict as the puppet. "I'm pulling your strings / Twisting your mind and smashing your dreams," is about the devastating effects drugs can have on an addict. After the song was written, Hetfield also related "Master of Puppets" to his own struggle with alcoholism, as noted by Song Facts. Hetfield had been sober for 15 years when he relapsed and voluntarily checked himself into a rehab facility in 2019. "I know that I could go back and f*** things up pretty quickly and I don't need to do that," he said (via Harmony Recovery Center).
Renewed interest in Master of Puppets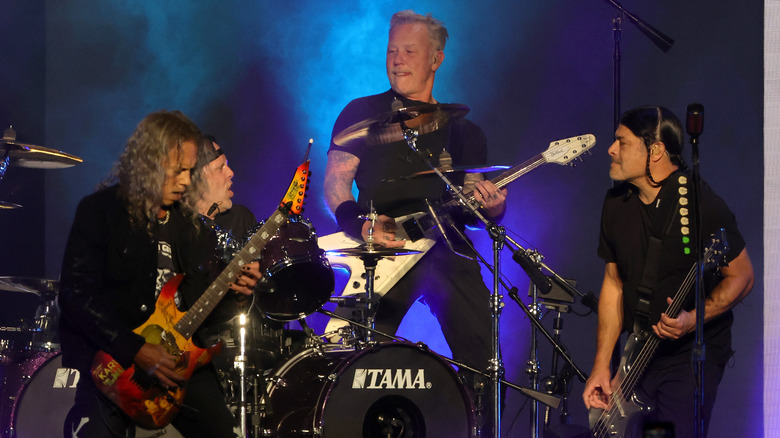 Ethan Miller/Getty Images
In July 2022, "Master of Puppets" gained renewed interest more than 35 years after its release when it was featured in a pivotal scene in Season 4 of Netflix's "Stranger Things," according to Variety. The members of Metallica are fans of the show, and getting approval wasn't difficult. In fact, another Metallica song, "The Four Horseman," was used in Season 2. When the episode was released, the band took to Instagram and lauded how their song was used, describing it as "so extremely well done."
As a result, "Master of Puppets" topped music charts after the episode's release. According to The New York Post, the song nabbed the top spot on the iTunes rock chart. The song has also climbed on Spotify's global chart from the No. 26 position to No. 17 in just a day. To date, "Master of Puppets" has been streamed more than 433 million times on Spotify. In 2016, the "Master of Puppets" album was inducted into the Library of Congress' National Recording Registry, the first heavy metal album chosen for preservation.