The Meaning Behind Welcome To The Jungle By Guns N' Roses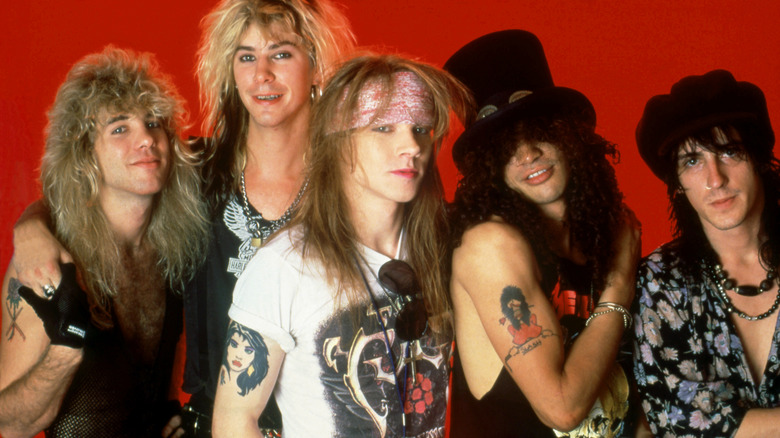 Icon And Image/Getty Images
"Sweet Child O' Mine" may have been the song that put Guns N' Roses on the map as rock 'n' roll titans, but if you bought their 1987 debut album, "Appetite for Destruction," before they even made a dent on the Billboard charts, you would have had one heck of an introduction to these band through the record's lead-off track, "Welcome to the Jungle." The song, after all, was far more in line with GNR's identity as a band of street punks with musical instruments, and it didn't do too poorly on the charts either, peaking at No. 7 on the Billboard Hot 100 in December 1988, just a few months after "Sweet Child O' Mine" became the band's first-ever hit — and only No. 1 hit single.
Thanks to those tunes and many others, Guns N' Roses' significance in pop culture is still felt to this day. One needs to look no further than director Taika Waititi, who included four of the band's greatest hits in the soundtrack of his latest Marvel Cinematic Universe entry, "Thor: Love and Thunder" — the aforementioned "Welcome to the Jungle" and "Sweet Child O' Mine," plus "Paradise City" and "November Rain" (via IGN). And since this is arguably the best time to revisit these songs and the inspirations behind them, many of you may be wondering how GNR came up with an instant classic — and a killer lead-off track — in "Welcome to the Jungle."
It's a song about a small-town kid adjusting to the big-city grind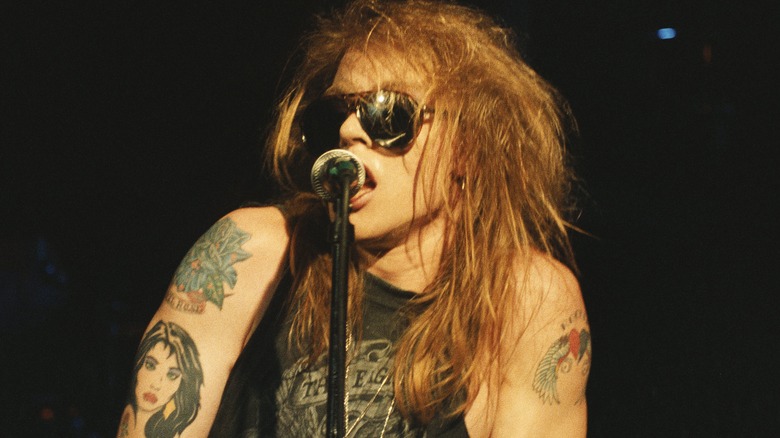 Marc S Canter/Getty Images
If you took your knowledge of Guns N' Roses' backstory — as well as your knowledge of the song's video — and guessed that "Welcome to the Jungle" is about Axl Rose's struggles moving from Lafayette, Indiana, to the tough streets of Los Angeles, you're only partly correct. But the idea is there, as the song's title and lyrics were actually inspired by Rose's feelings as a 20-year-old visiting a friend in Seattle and realizing how different things are in the big city.  There was also an encounter Rose had with a homeless man in New York around the same timeframe (via American Songwriter), where the man allegedly told Rose and his friend, "You know where you are? You're in the jungle baby. You're gonna die." 
A few years later, as Guns N' Roses was working on songs for "Appetite for Destruction," Rose found a link between the lyrics he wrote in 1982 and the survival of the fittest he and his bandmates regularly went through in L.A.'s seedier parts of town. As for the homeless man's warning, those, of course, were the same lines Rose would scream in the breakdown toward the end of "Welcome to the Jungle."
Commenting later on the lyrics of "Welcome to the Jungle," Slash recalled identifying with the themes covered by the song. "It was a very telling lyric," Slash explained, as quoted by Louder. "Just the stark honesty of it. If you lived in Los Angeles, and lived in the trenches, so to speak, you could relate to it. And knowing Axl, I could relate to exactly where it was coming from."
The music was tailor-made for the gritty lyrics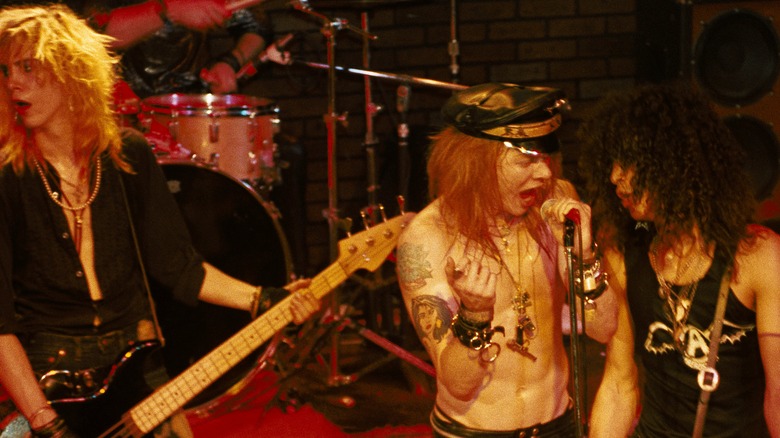 Marc S Canter/Getty Images
As pointed out by Louder, "Welcome to the Jungle" also stands out for its instrumental nuances, starting with the song's intro, a simple, yet portentous-sounding guitar run that evokes a sense of impending danger. The site also compared Axl Rose's opening howl to a police siren, further adding to the street-tough grittiness of the tune. And while the song delivers on its dangerous promise with its heavy main riffs, it also features a breakdown that allows Guns N' Roses to relax a bit before turning up the nastiness once again. This part of "Welcome to the Jungle" was actually lifted from a song recorded by one of bassist Duff McKagan's earliest bands. "The Fake" was released in 1980 by Seattle punk band The Vains and composed by McKagan, who was only 16 when the song came out.
According to Slash, "Welcome to the Jungle" was the first real collaborative effort from GNR, a song where everyone in the band added something to the mix. "There was no analyzing this stuff –- writing a song was something that happened spontaneously," the axeman went on to explain. "But in that whole 'discovering ourselves' period from eighty-five through eighty-six, when we were living very haphazardly and getting together and jamming, there was something going on that not a lot of people had. And this song just had this natural feel that was very cool."
Cool enough for "Welcome to the Jungle" to remain relevant several decades after the fact, as evidenced by its inclusion in the "Thor: Love and Thunder" soundtrack.