What Kremlin Officials Think About Boris Johnson's Resignation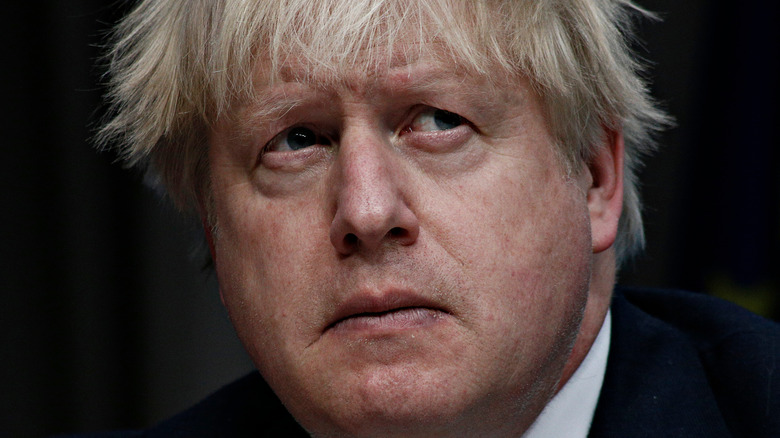 Alexandros Michailidis/Shutterstock
On July 7, United Kingdom Prime Minister and head of the Conservative Party Boris Johnson resigned from his office after years of controversy and tumult. As reported by CNN, his announcement came after the historic resignation of nearly 60 members of his government. The announcement prompted reactions and commentary from government officials from around the world, including Russia. Russia has criticized Johnson for his support of Ukraine after its invasion by Russia in February 2022.
The resignation followed a public outcry after Parliament Member Chris Pincher, appointed by Johnson as deputy chief whip in February, was accused of groping two men at the private Carlton Club in London on the night of Wednesday, June 29. Per the BBC, Pincher resigned the following day, writing in his resignation letter that he'd "drank far too much" and "embarrassed myself and other people." It soon came to light that complaints about Pincher's history of sexual harassment dated back for several years. Johnson apologized on July 5 for appointing Pincher to his leadership position in Parliament despite knowing about his history of inappropriate behavior; two cabinet members resigned, citing a lack of confidence in Johnson's leadership, and dozens more followed.
Reactions to Johnson's resignation varied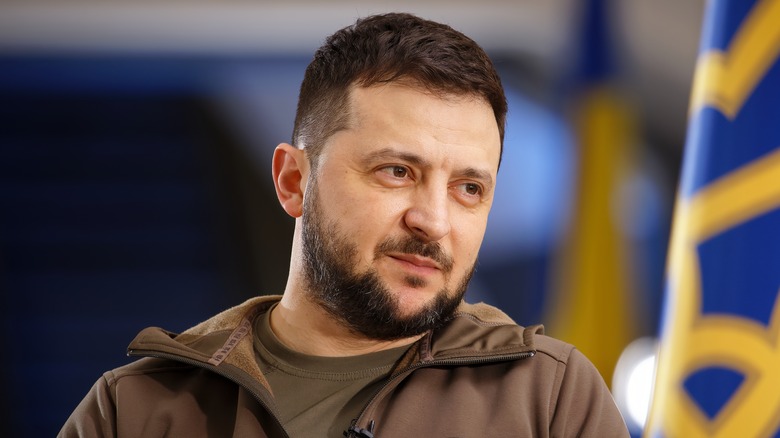 Dmytro Larin/Shutterstock
Boris Johnson refused to resign immediately, but soon changed his tune, announcing from a podium in front of his office at 10 Downing Street: "It is clearly now the will of the parliamentary Conservative Party that there should be a new leader of that party and therefore, a new prime minister," per CNN. He will remain PM until his party chooses a new leader.
Reactions to Johnson's resignation poured in from within the United Kingdom and around the world, as reported by ABC News. Keir Starmer, leader of the United Kingdom Labour Party, opined, "He needs to go completely. He's inflicted lies, fraud and chaos in the country ... It's obvious he's unfit to be prime minister. That's been blindingly obvious for a very, very long time." Ukrainian president Volodymyr Zelenskyy (above) posted on Instagram, "All Ukrainians were saddened by the news of the resignation of the leader of the Conservative Party. We are sincerely grateful for the decisive and uncompromising help from the first days of the war. Special thanks for your leadership in defending the interests of Ukraine in the international arena." 
Members of the Russian government minced no words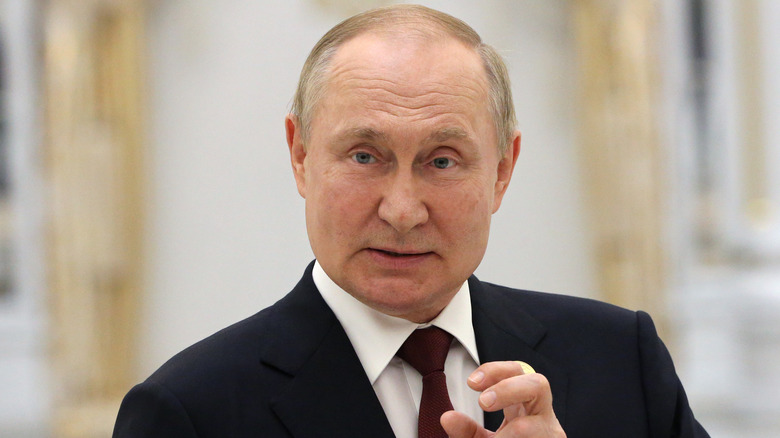 Contributor/Getty Images
Perhaps unsurprisingly, the public statements from members of Vladimir Putin's (above) Russian government differed wildly from that of Zelenskyy. As reported by Insider, Boris Johnson aligned with Volodymyr Zelenskyy and Ukraine when the country was invaded by Russia. The leaders have met in person twice, spoke on the phone regularly, and the British government has provided the equivalent of $4.5 billion in military support to Ukraine. Some British commentators have suggested over the last several weeks that Johnson was actually using this alliance, which is reportedly supported by a majority of United Kingdom residents, to make himself look better to his constituents in the face of controversy and calls for his resignation.
It comes as no surprise, then, that reactions from the Kremlin to Johnson's resignation have been quite scathing. Per Reuters, Kremlin spokesperson Dmitry Peskov bluntly said of Johnson just before his resignation, "He doesn't like us, we don't like him either." Vyacheslav Volodin, speaker of Russia's lower house of parliament, said, "The clown is going. He is one of the main ideologues of the war against Russia until the last Ukrainian. European leaders should think about where such a policy leads." Maria Zakharova, identified by Reuters as the top spokesperson for Russia's foreign ministry, seemingly credited Johnson's support of Ukraine with his downfall, saying, "The moral of the story is: Do not seek to destroy Russia. Russia cannot be destroyed. You can break your teeth on it — and then choke on them."