World Leaders React To The Assassination Of Shinzo Abe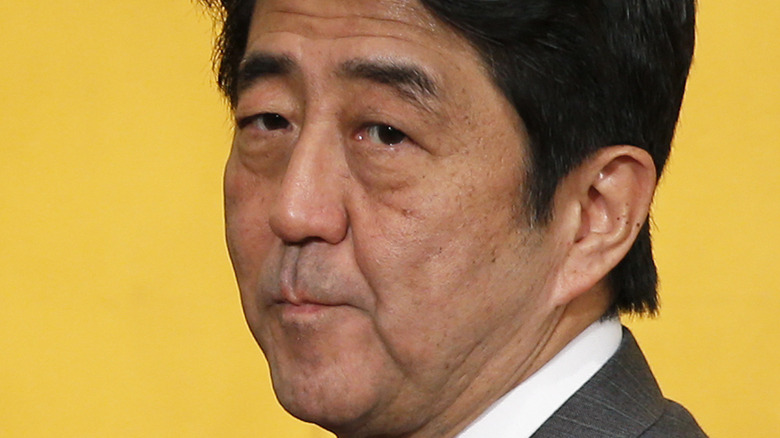 Bloomberg/Getty Images
On June 8, former Japanese Prime Minister Shinzo Abe was giving a speech in the city of Nara. He was visiting the city in Western Japan ahead of the nation's parliamentary elections. During Abe's speech, a pair of loud noises could be heard which were followed by a lingering cloud of smoke.
The sounds and the smoke emanated from a homemade firearm constructed by a 41-year-old man named Tetsuya Yamagami, per NPR. Security quickly apprehended Yamagami and recovered the crudely made firearm used to assassinate Abe. It was determined that the assailant fired two shots, with the first one missing the former prime minister. The second shot hit Abe in the back, who collapsed to the ground. When news of the shooting broke, and with Abe still clinging to life, current Prime Minister Fumio Kishida issued a statement.
"I pray that former prime minister Abe will survive," he said. "It is a barbaric act during election campaigning, which is the foundation of democracy, and it is absolutely unforgivable. I condemn this act in the strongest terms." Sadly, Abe eventually died from his injuries. The 67-year-old politician's death drew tributes from other leaders around the globe.
Several U.S. presidents expressed their condolences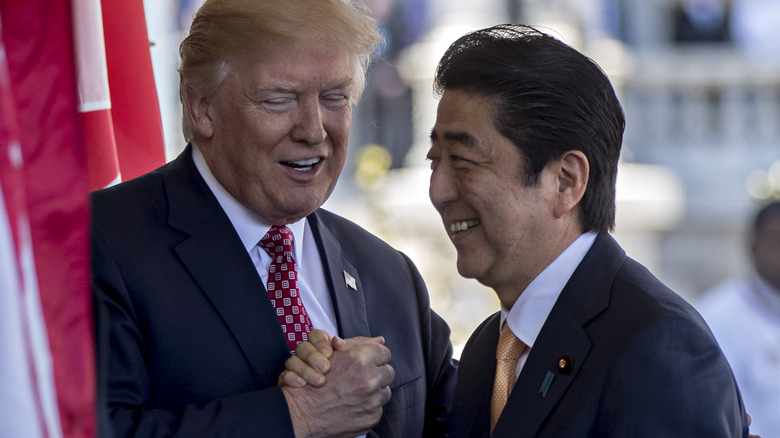 Bloomberg/Getty Images
According to Britannica, Abe was a member of the Liberal Democratic Party in Japan, a party known for embracing a pro-United States policy. As such, during his time as prime minister, Abe had his fair share of meetings with United States presidents and other high-ranking political figures.
United States President Joe Biden met with Abe quite a few times both as president and as vice president. Biden expressed his condolences and paid tribute to the late leader upon hearing of his death. "The longest-serving Japanese Prime Minister, his vision of a free and open Indo-Pacific will endure," Biden said. "Above all, he cared deeply about the Japanese people and dedicated his life to their service. Even at the moment he was attacked, he was engaged in the work of democracy." Former President Barack Obama echoed the sentiments of his former vice president, saying he was "shocked and saddened" by Abe's death (via the New York Post).
Former President Donald Trump wrote on his social media website, Truth Social, that Abe "was a true friend of mine and, much more importantly, America." Trump added, "This is a tremendous blow to the wonderful people of Japan, who loved and admired him so much. We are all praying for Shinzo and his beautiful family!"
Abe was well-respected by many world leaders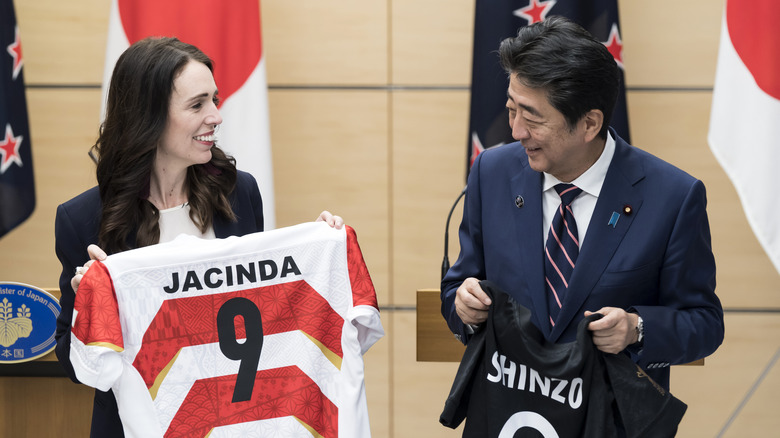 Tomohiro Ohsumi/Getty Images
Many world leaders expressed their sympathies in the hours after Abe's death. British Prime Minister Boris Johnson — who announced his resignation just the day before Abe's assassination — tweeted, "Incredibly sad news about Shinzo Abe. His global leadership through unchartered times will be remembered by many. My thoughts are with his family, friends and the Japanese people. The U.K. stands with you at this dark and sad time."
Indian Prime Minister Narendra Modi expressed his shock and sadness at the news on Twitter as well. "He was a towering global statesman, an outstanding leader, and a remarkable administrator. He dedicated his life to make Japan and the world a better place," Modi wrote.
Prime Minister of New Zealand Jacinda Ardern (above) paid her respects to Abe. She said on Twitter that Abe was one of the first world leaders she met after becoming prime minister. "He was deeply committed to his role but also generous & kind. My thoughts are with his wife and the people of Japan. Events like this shake us all to the core," she wrote.