Investigators Came Across A Horrifying Discovery In The Grim Sleeper's Home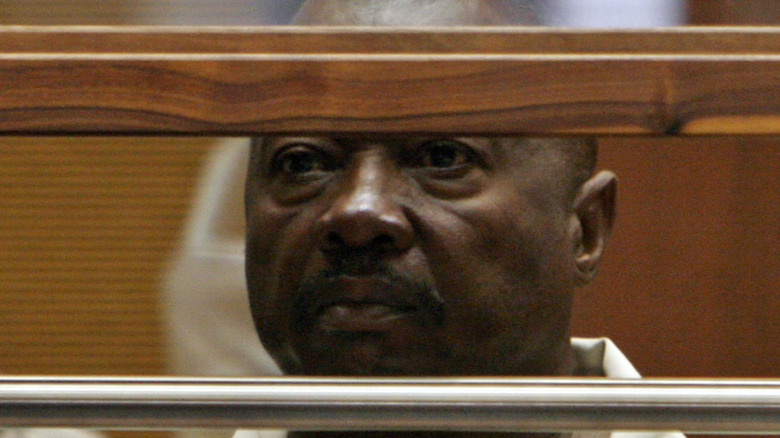 Pool/Getty Images
Princess Berthomieux, Valerie McCorvey, Janecia Peters and Debra Jackson, Henrietta Wright, Barbara Ware, Bernita Sparks, Mary Lowe, Lachrica Jefferson, and Alicia "Monique" Alexander: These are the 10 confirmed victims of California serial killer Lonnie David Franklin, otherwise known as "The Grim Sleeper." However, authorities speculate that there could be a multitude of others waiting to be discovered, according to A&E. Franklin first struck in 1985 when he took the life of one Debra Jackson, age 31. He'd shot her three times in the chest and left her body in a dark alleyway where she was later found by Los Angeles police officers (via Los Angeles Times). 
Six more women would die before Franklin engaged in an alleged 14-year hiatus from killing between 1988 and 2002 (it was this unusual grace period that earned him the nickname "The Grim Sleeper"). However, investigators suspect that the "gap" wasn't a gap at all and that Lonnie Franklin never actually stopped killing within that time period. While other bodies have yet to be exhumed and connected to The Grim Sleeper's treacherous saga of terror and cruelty, an abundance of evidence found at Franklin's apartment when police searched it suggests that investigators could be right in assuming that more may have died by his hand. 
What police found in Lonnie Franklin's home
New Africa/Shutterstock
"We found guns, we found identification cards, we found hundreds and hundreds of pictures of women. We tried, obviously, to identify as many as we could. In that effort, there were also a number of women who fit the profile, lived near him and went missing one day and were never seen again," said Los Angeles County Deputy District Attorney Beth Silverman following the chilling discovery (per A&E). Apparently, Lonnie Franklin had a tendency to keep certain heirlooms and trinkets from his victims, including nearly 1.000 different photographs of various unidentified women who police still believe could have also been murdered by him, as CBS News reports. 
In December of 2010, the LAPD released 180 of the photographs found in his home to the general public in hopes of identifying the women depicted in them. Most of the subjects were nude or only partially clothed and therefore couldn't be displayed via the news/other media outlets. "The fact he kept so many pictures and trophies to me indicates just how strong of an urge this was for him," psychologist Joni Johnston shared. According to A&E, Lonnie Franklin sexually assaulted his victims as well and was even convicted of rape back in 1974 — long before the killing started. Princess Berthomieux, one of Franklin's later victims, was only 15 years old when he strangled her to death in 2002. Eight years later, after DNA samples were linked to his identity, Lonnie Franklin was finally arrested (via Los Angeles Times).
If you or anyone you know has been a victim of sexual assault, help is available. Visit the Rape, Abuse & Incest National Network website or contact RAINN's National Helpline at 1-800-656-HOPE (4673).
The Grim Sleeper is arrested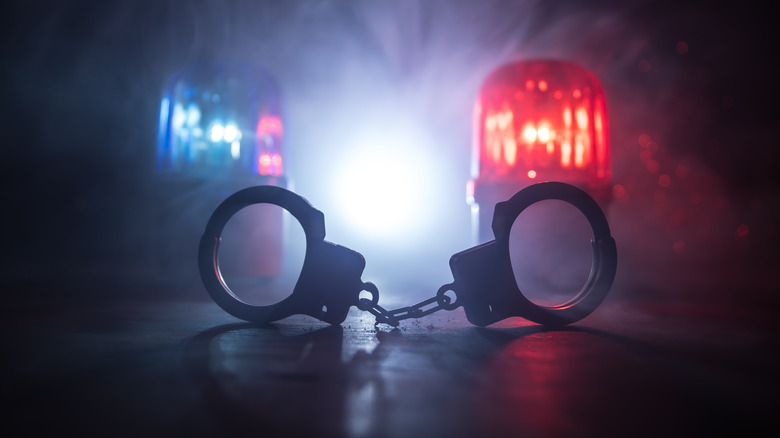 zef art/Shutterstock
A pattern started to surface when police noticed the same firearm that killed Debra Jackson (Franklin's first victim in 1988) being used in other homicides around the Los Angeles area. The .25 caliber pistol that Franklin was prone to using had left something of a signature upon his victims, and the fact that he also routinely left their bodies in dark alleyways and outside of dumpsters also gave authorities a thread of clues to examine. According to Oxygen, forensics teams were able to extract both semen and saliva samples from several of the murder scenes (including that of Debra Jackson) which helped them to identify the man who would soon become known as The Grim Sleeper. He was arrested at his home on July 7th, 2010.
The trial of Lonnie David Franklin didn't commence until February of 2016, though he was convicted and sentenced to death within a matter of months. He was sent to the infamous San Quentin State Prison in August of that year — the same facility that housed other notable killers like Charles Manson (via Britannica). However, Franklin only served a few years before passing away in his cell on March 28, 2020. Diana Ware, the stepmother of victim Barabara Ware, told People Magazine after his death, "I won't say I'm pleased he died but at the end there was justice for all the bad things he did in his life. We can now be at peace."