What The Last Hours Of Shinzo Abe Were Like After Being Shot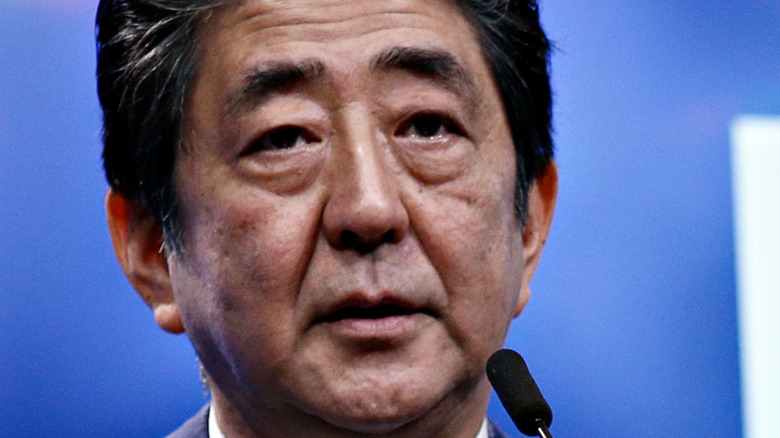 Alexandros Michailidis/Shutterstock
Shinzo Abe, born on September 21, 1954, was Japan's longest-serving prime minister. He served as prime minister for two terms, once from 2006 to 2007, and again from 2012 to 2020. According to Britannica, Abe was affiliated with the Liberal-Democratic Party of Japan. He drew controversy and critique for his firm, aggressive foreign and domestic policy that often skirted with ultranationalism.
Abe's politics were often described as ultranationalist and far right, garnering many critics (via The Washington Post). His most controversial actions included his visit to the Yasukuni Shrine, a shrine (per Britannica) dedicated to the nation's military dead which also includes some convicted of war crimes during World War II. As Reuters explains, thousands of Japanese people protested against Abe in 2016, calling for him to step down from office, and comparing him outright to Adolf Hitler. 
Abe was shot and killed on July 7 by Tetsuya Yamagami, as NPR reports. Abe was giving a speech in Nara, Japan, when he was assassinated, shot from behind. The final hours of his life left a country known for its low gun violence in despair, not knowing what the future might hold. 
Shinzo Abe was in critical condition at Nara Medical University Hospital
The assassin attacking Abe fired twice, utilizing a home-made firearm. The first shot missed; the second didn't. Abe immediately collapsed to the ground. As Sky News reports, officials rushed to the scene as Abe experienced cardiopulmonary arrest, which is when the heart stops working for whatever reason (per the National Library of Medicine). In Abe's case, it was because of the wounds to both his collarbone and neck. 
As reported by Al Jazeera, Abe was immediately rushed to the hospital, where over 100 blood transfusion units were administered over the course of four hours. While in the hospital Abe was in critical condition and unable to speak nor move. During this time, it was unknown what the outcome of Abe's condition would be, or whether he would survive. Police officers also took his shooter into custody. According to the BBC, the shooter admitted to police that he had committed the assassination.
Prime minister Kishida expressed concern and Japanese citizens paid respects
Pool/Getty Images
After Abe was rushed to the hospital, response was swift from Japanese citizens in general and politicians in particular. Japan's current prime minister, Fumio Kishida, spoke about the incident, as Sky News relates. "Everything that can be done is being done to revive him, but Mr. Abe is in a grave condition," said Kishida. On Kishida's orders, all cabinet members went back to Tokyo following Abe's assassination. Al Jazeera reports that he was showing no vital signs when he arrived at the hospital. Despite the best efforts of emergency medical teams, Abe died of blood loss.
According to The Straits Times, Japanese citizens laid down hundreds of flowers and other objects at the scene where Abe was shot. A Japanese flag was also laid down. All across Japan, people were sent into dismay upon the shooting; no doubt adding to the shock is the fact that Japan's gun laws are extremely strict and the country's rate of gun crime is exceedingly low, compared to many other countries (via BBC). There's no telling how this assassination will affect Japanese politics, but it's clear that shockwaves will ripple throughout the nation for a long time to come.