How A Gang Member's Body Art Landed Him A Major Conviction
In 2008, Rivera-13 gang member Anthony Garcia was apprehended by authorities for driving with a suspended license. It was protocol for the police to take photos of suspected gang members' tattoos, and that's just what happened when Garcia was taken to the police station. The photos were kept on file but little did the authorities know that the photos would be crucial pieces of evidence in an open murder case.
Rivera-13 is a street gang founded in the 1960s that operates in Pico Rivera, a city located southeast of downtown Los Angeles. The community is made up of mostly Latinos, and as reported by L.A. Weekly, the Rivera-13 gang is submissive to the Mexican Mafia. Unlike other gang members, those who are part of Rivera-13 are more privileged and belong to the middle class. With rampant gang activity in the Pico Rivera area, authorities keep track of tattoos of gang members who are apprehended, as they sometimes have symbols on their bodies that are graffitied on crime scenes, which can lead to an arrest.
The murder of John Juarez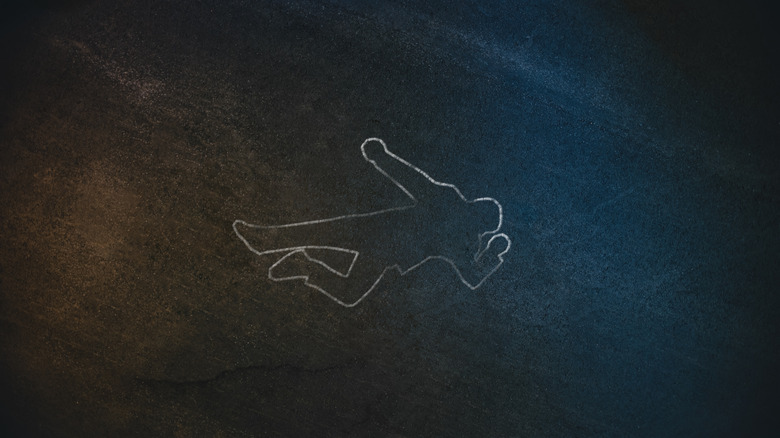 Gorodenkoff/Shutterstock
In 2004, a 23-year-old man named John Juarez was shot in front of a branch of Mr. Ed's Liquor located on Rosemead Boulevard. As reported by the Daily Bulletin, Juarez was a member of Pico Nuevo, Rivera-13's rival gang. His killer was never caught until Detective Sergeant Kevin Lloyd of the Pico Rivera Sheriff's Station happened upon a series of photos that reminded him of Juarez's crime scene.
Lloyd was working on an unrelated gang case and going through photos on file when he saw the ones taken of Anthony Garcia's tattoos. It looked like a storyboard on his chest that depicted a man grabbing hold of a Mr. Peanut character in front of a building called The Rivera. In the middle of his chest was another scene, this time with Mr. Peanut lying down bullet-ridden on the ground in front of Mr. Ed's Liquor. The third tattoo was a helicopter shooting bullets on Mr. Peanut, per ABC News. The tattoos looked eerily similar to the Juarez crime scene, and Lloyd knew that Garcia was somehow connected to the unsolved murder case.
Anthony Garcia was apprehended
Kevin Lloyd checked the John Juarez murder case files and realized that the Mr. Peanut tattoo was depicted in the same angle and position Juarez was found. The tattoos also matched the scene of the crime, specifically in front of Mr. Ed's Liquor and near The Rivera. According to the Independent, authorities went undercover as gang members equipped with recording devices and tracked Anthony Garcia. They asked him about his unique tattoo, and Garcia said that it was a representation of his first murder. He was arrested thereafter.
It turned out that the tattoos' symbolism went deeper as well. Juarez was represented as a Mr. Peanut character, as gangs refer to members of their rival gangs as peanuts. Furthermore, the helicopter represented Garcia, as his fellow Rivera-13 gang members called him by the nickname "Chopper." Per ABC News, the tattoo was so detailed that the trajectory of the bullets and the bullet wounds on Mr. Peanut exactly matched the shots on Juarez's body. Lloyd described the tattoo as a "crime scene sketch and a confession." As reported by New York Daily News, Garcia was sentenced to 65 years in prison for the first-degree murder of Juarez.