The Unexpected Reason Winona Ryder Was Arrested In 2001
s_bukley/Shutterstock
Born in a town called Winona, Minnesota, actress Winona Ryder won her first onscreen role in the 1986 film "Lucas," alongside Charlie Sheen (via Biography). She quickly landed a part in Tim Burton's "Beetlejuice" and starred in the high school drama "Heathers." While many professionals in Hollywood spend long years in small parts before making it to the top, Ryder almost immediately became a star.
The 1990s were a busy time for Ryder. She partnered with Johnny Depp in "Edward Scissorhands," earned an Oscar nomination for both "Little Women" and "The Age of Innocence," and starred in "The Crucible" and "Girl, Interrupted" (via IMDb). And while hardly the best release of the franchise, "Alien: Resurrection" benefited from Ryder teaming up with Sigourney Weaver to fight Xenomorphs. Whoever she played, Ryder had that caliber of talent that made the viewer forget she was Winona — she became Call or Jo March or Abigail Williams.
But in 2001, Ryder's career was derailed when she was arrested in Beverly Hills.
The arrest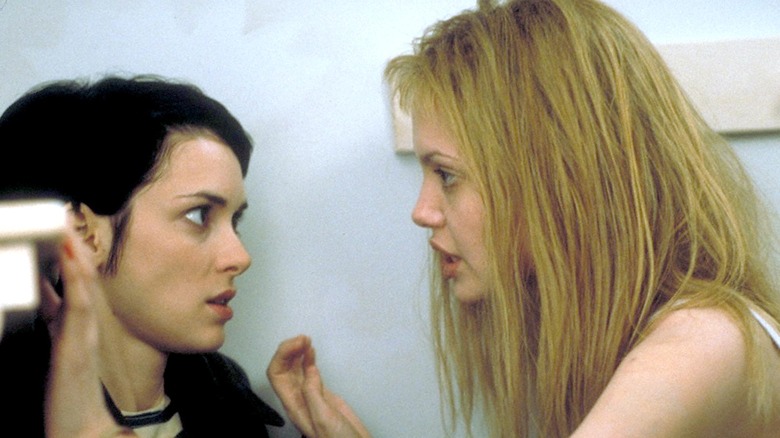 Getty Images/Getty Images
In December 2001, Winona Ryder was arrested at a Saks Fifth Avenue for shoplifting over $5,000 worth of clothes and accessories (via New York Daily News). She was also found to be in illegal possession of an antidepressant. In a case that saw obsessive media coverage, Ryder was found guilty and sentenced to probation, community service, and required to pay a fine and receive counseling, according to The Guardian.
Ryder faced mental health struggles in the preceding years, even spending time in a psychiatric hospital (via New York Daily News). She spoke about depression, anxiety, loneliness, and stress openly in interviews. She described herself as longing for "someone to talk to" and "in so much pain" to Diane Sawyer in 1999 (via YouTube). In another interview, she described her anxiety attacks (via Literary Hub): "My breathing would get labored, everything would start speeding up, and I'd get very scared." Ryder pushed to get "Girl, Interrupted" made to examine women's mental health.
Ryder has connected her mental health issues with the shoplifting incident. "​​Psychologically, I must have been at a place where I just wanted to stop," she said in 2016, per Entertainment Tonight. "It allowed me time that I really needed." That is, time away from acting. After 2001, Ryder kept a low profile for a number of years, until her return to both starring roles and advocacy for mental health.
The comeback of Winona Ryder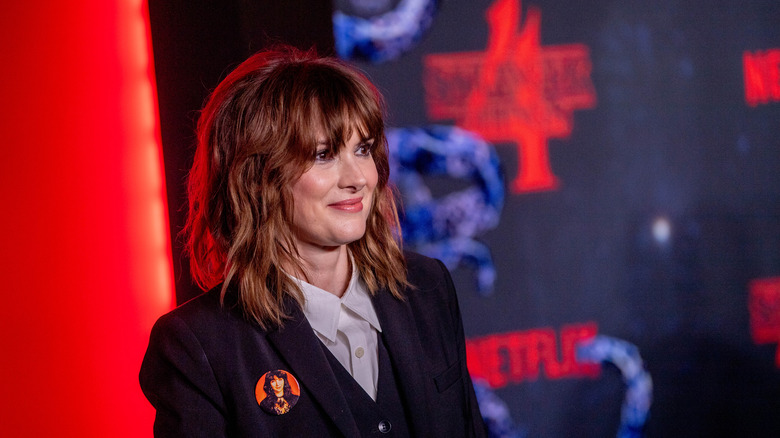 Roy Rochlin/Getty Images
For the rest of the 2000s, Winona Ryder took some small roles. There was the animated "A Scanner Darkly" and a part as Spock's mother in "Star Trek" (2009), for instance. As Forbes pointed out, not only was Ryder tainted from a scandal in a manner that male actors often escape, but she was also in her 30s, when women have a more difficult time landing roles in an industry that highly values their youth. Even when she was ready to return to starring roles, she was passed over.
In the 2010s, she appeared in "Black Swan" and "The Dilemma," but things remained slow until she won the role of Joyce in the wildly successful "Stranger Things" released in 2016. This is widely credited as her comeback, for instance in TIME Magazine. She used her restored platform to again discuss mental health. "I don't regret opening up about what I went through [with depression]," she told Stylist, "because, it sounds really cliché, but I have had women come up to me and say, 'It meant so much to me.'"
If you or someone you know needs help with mental health, please contact the Crisis Text Line by texting HOME to 741741, call the National Alliance on Mental Illness helpline at 1-800-950-NAMI (6264), or visit the National Institute of Mental Health website.