The Comic Book Character That Inspired Elvis Presley's Iconic Look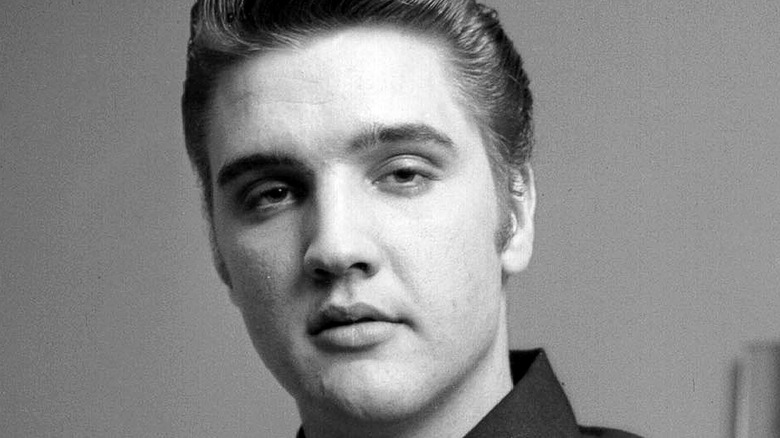 Michael Ochs Archives/Getty Images
Music, of course, is primarily about the songs. Great music can bring forth every possible emotion, it can lead us to spend outrageous amounts on gig tickets, and even encourage us to endure the awful outdoor toilet situation at festivals. According to Metro, an estimated 300,000 people (some of whom weren't ticket-holders) attended Glastonbury festival in 1994. That's the power of music, right there.
Of course, it's not just about songs. The person or band playing them is key. Anybody could pick up a guitar and start tunelessly warbling "Hey Jude," but that doesn't make them Paul McCartney and his buddies in the Beatles.
The Fab Four, needless to say, have inspired all manner of musical troupes over the decades. They, in turn, had their own idols and influences, one of whom was Elvis Presley. McCartney stated in an interview with Rolling Stone (via NME) that the concept for Sgt. Pepper's Lonely Hearts Club Band was an imitation of Presley: "We had this idea that we'd make a record, and the record itself would go on tour for us ... that came from a story we'd heard about Elvis' Cadillac going on tour. We thought that was an amazing idea: He doesn't go on tour, he just sends his Cadillac out."
Even a legend of Presley's caliber took inspiration from elsewhere. It seems he owed a great debt of gratitude to a certain DC Comics character.
Elvis Presley was a fan of Captain Marvel Jr.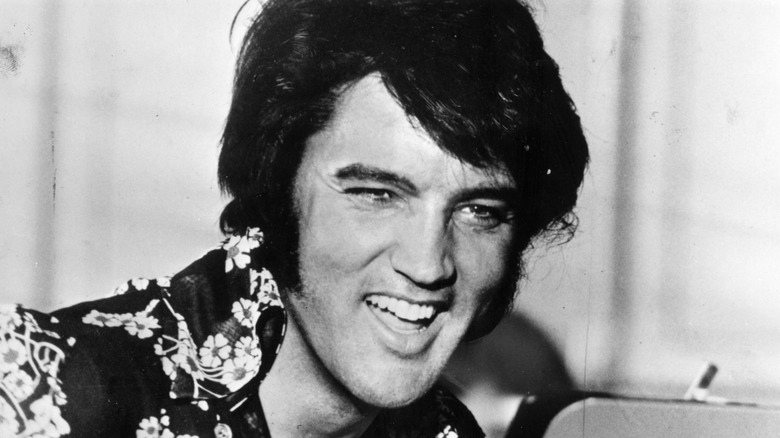 Keystone/Getty Images
From Slash's signature top hat and dark, curly mop to Slipknot's gloriously ghoulish masks, it's not just musical ability that makes an industry legend. Just as important is a unique look, an instantly recognizable and unmistakable style. This was just one of Elvis Presley's most valuable assets.
What defines the King? Is it his voice? His hair? His shades? His later-era jumpsuits? His oh-so-controversial hips? It's not any one of these traits, but rather everything in tandem. He was an icon and a visionary, but he was also a big fan of comic books when he was younger, and there are a lot of similarities to be drawn between elements of Elvis' style and those of DC Comics' Captain Marvel Jr.
In 1941's "Whiz Comics #25," The Vintage News reports, the origin story of a new comic book hero, Captain Marvel Jr., continued. This teenage hero was born from the tremendous success of Captain Marvel Sr., whose comic books, per Elvis Australia, sometimes proved more popular than those of flagship character Superman. The Vintage News adds that the young Presley was a big comic fan, and some of his own comic books are still housed in his beloved Graceland.
Captain Marvel Jr.'s costume, distinctive lightning bolt emblem and hairstyle and color all bear incredible resemblances to those later adopted by Presley.
The roots of a superhero
Michael Ochs Archives/Getty Images
Austin Butler, who plays the superstar in the hit 2022 biopic "Elvis," has discussed the great influence Captain Marvel Jr. had on the King's life. Butler said, via IGN on YouTube, "you see ... his black hair with the curl coming down ... also, the whole idea of a superhero being somebody who often is coming from nothing ... that whole ... that archetype, I mean ... that's him ... it's no wonder Elvis really resonated with Captain Marvel Jr."
In the same interview, Baz Luhrmann, who directed the movie, says of Tupelo, "there's a little museum down there, and in it is, in fact, [Elvis's] Captain Marvel Jr. comic. You can see it ... it's well-worn." Luhrmann goes on to cite "the lightning bolt and ... the capes he wore" as elements of Captain Marvel Jr. that Elvis seemed to emulate. In the movie, the young Elvis wears a handmade Captain Marvel Jr. lightning bolt logo on his chest, as so many children would have been inspired to do.
Elvis Australia notes, however, that Presley's people would have designed some of these elements for him, and that they may not have drawn direct influence from his comic book idol. Nonetheless, it's certainly true that Captain Marvel Jr. was an enormous inspiration for him, and that this adoration went both ways. According to the outlet, in "Teen Titans (vol.3) #23," the character confesses to idolizing the singer right back.