Inside Melanie Griffith And Don Johnson's Relationship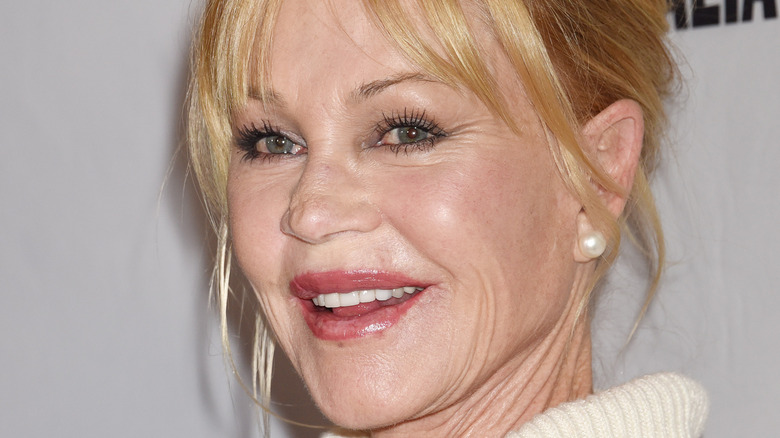 Ga Fullner/Shutterstock
Family relationships can be complicated. Consider, for example, the relationship between the parents of actress Dakota Johnson. Her mother and father — Don Johnson and Melanie Griffith are each accomplished performers in their own right, part of generations of Hollywood. The Academy Award-nominated Griffith is the daughter of Hollywood actress Tippi Hedren (via IMDb), perhaps best remembered for her lead role in "The Birds." Don Johnson also has a long string of screen credits, with both long-running series and films on his resume. He was recently seen in the 2019 whodunnit "Knives Out" (also per IMDb) and the TV series "Kenan." And Johnson and Griffith have been married to each other not once, but twice.
Johnson and Griffith first married in 1976 but that lasted only six months, based on 2019 reporting from InStyle. The couple would marry once more in 1989, around the same time that their daughter, Dakota, was born, according to the "Fifty Shades of Grey" star's biography, posted on IMDb. Dakota's parents would split once again five years later (via InStyle), and to this day, Griffith and Johnson remain close, as Closer Weekly reports. Believe it or not, though, the on-again-off-again nature of Johnson and Griffith's relationship is just where things start to get interesting.
Griffith was only 18 years old the first time she married Don Johnson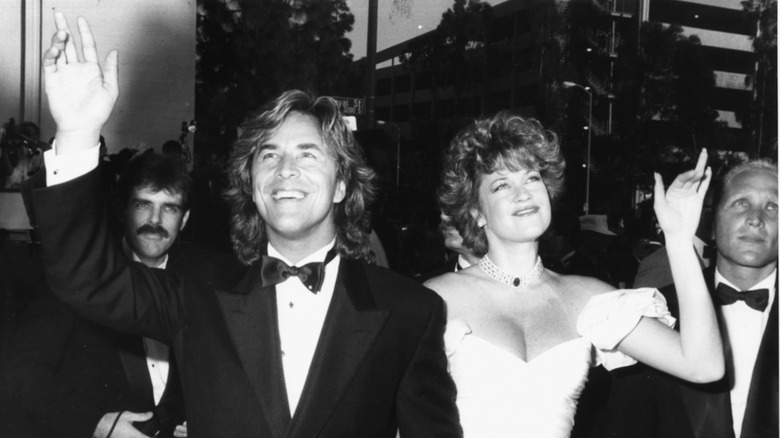 Kevin Winter/Getty Images
When Melanie Griffith and Don Johnson were first married, Griffith was just 18 years old, and Johnson was some eight years older. In a spur-of-the-moment decision, Johnson and Griffith flew to Vegas and were married. When that marriage fell apart six months later, Griffith dated other actors, such as Ryan O'Neal. She married Steven Baur ("Scarface"), but that relationship soured just prior to when Griffith reunited with Johnson in 1989.  
For his part, Johnson had a son with Patti D'Arbanville, but the pair never married (via InStyle). He also had a number of other brief relationships with well-known actresses. As word spread that Johnson and Griffith had reunited in 1989, it created a tabloid uproar, as People reported at the time. Referring to her bond with Johnson, Griffith said (via People), "We were always friends, and we always stayed in touch. There was always this connection. I can't explain it." With that, she gave no indication of just how far back in each of their lives that their bond truly stretched.
Melanie Griffith met Don Johnson when she was just 14 years old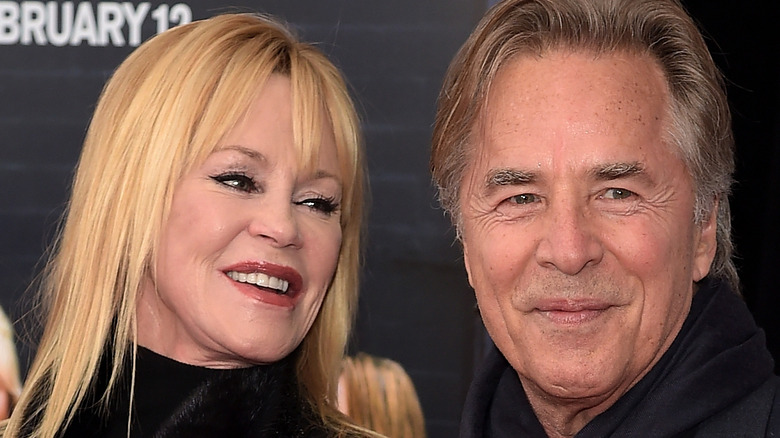 Theo Wargo/Getty Images
The connection that Griffith described with Don Johnson in that comment to People began when the "Working Girl" actress was just 14 years old and Johnson was 22. By the age of 15, the couple — who met on the set of "The Harrad Experiment," in which all three of them appeared (Griffith, uncredited, played a student, via IMDb) — had moved in together.  In 2017, Hedren, Johnson, and Griffith recalled that early encounter, speaking with The Hollywood Reporter.
In that interview, Johnson recalled chit-chatting with Griffith right away and Griffith said that up to that point, Johnson was the most beautiful person she had ever seen. For her part, Griffith's mother, Hedren, described sheer panic that her teenage daughter was romantically linked to an older man. But Hedren confessed, "[t]here was a very strong attachment between the two of them."