U2's Bono Compares Bob Dylan's Work To These Biblical Verses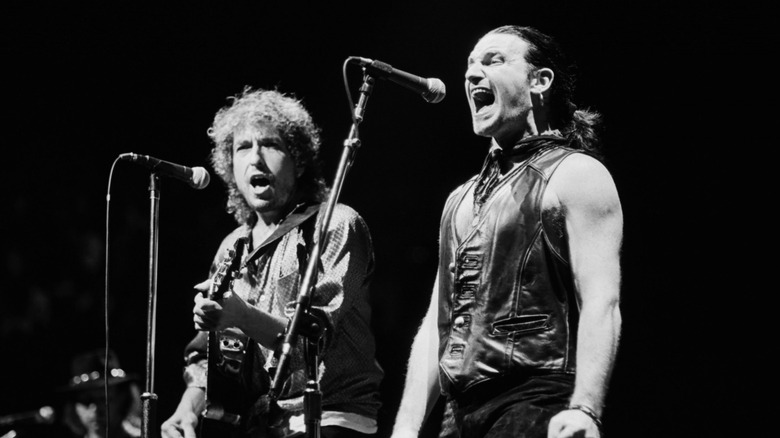 George Rose/Getty
Bono, the larger-than-life singer of Irish rock band U2, is rarely shy about anything, and that includes acknowledging his Christian faith and his favorite musical artists.
In 2020, for his 60th birthday, Bono made a list of 60 songs that saved his life. When he got to Bob Dylan's "Most of the Time," he also mentioned half a dozen other Dylan songs he loves (via The Star Tribune). It wasn't the first time Bono had been vocal about his love for Dylan. In particular, he has repeatedly likened Dylan's songwriting to the Bible.
Also in 2020, he wrote a short essay on "Like A Rolling Stone" for Rolling Stone Magazine's ranking of the 100 greatest Bob Dylan songs. In it, he calls Dylan "the Jeremiah of the heart," referring to the prophet Jeremiah from the Old Testament. Jeremiah was known for criticizing the ethics of his people (via Britannica). Similarly, Bono says, "Having railed against the hypocrisies of the body politic, [Dylan] starts to pick on enemies that are a little more familiar: the scene, high society, "pretty people" who think they've 'got it made.'" 
Here are a couple more Dylan songs Bono has compared to the Bible.
Every Grain of Sand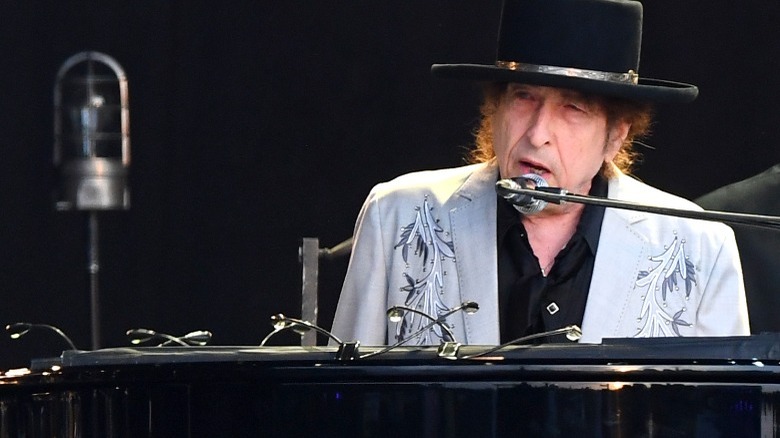 Dave J Hogan/Getty
"Every Grain of Sand" comes from Dylan's 1981 album "Shot of Love." This was during what Rolling Stone calls "Dylan's overtly Christian songwriting phase." The connection Bono makes is, therefore, logical.
Bono said "Every Grain of Sand" is 'like one of the great Psalms of David." Both Bono and Dylan are probably referring to Psalm 139 which talks about God's thoughts and says, "If I should count them, they are more in number than the sand" (via The King's Bible). The song could also refer to a Genesis verse in which God promises to make Abraham's descendants as numerous as grains of sand upon the shore.
Rolling Stone calls this song "a desperate prayer for salvation." Bono agrees, saying, "Dylan stops wailing against the world, turns on himself and is brought to his knees."
The religious nature of the song is underscored by the backing vocals by gospel singer Clydie King. Dylan himself describes this song as "inspired," saying the words came to him as if from another place.
Blowin' in the Wind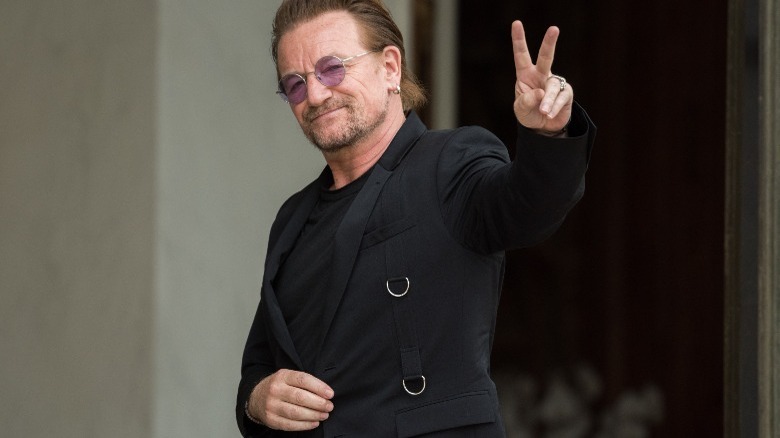 Frederic Legrand - COMEO/Shutterstock
In Bono's 2020 open letter to Dylan, part of the "songs that saved my life" series, he compares Dylan's song "Blowin' in the Wind" to a verse from the biblical Book of John. The verse says, "The wind blows wherever it pleases. You hear its sound, but you cannot tell where it comes from or where it is going. So it is with everyone born of the Spirit" (via Far Out). Rolling Stone notes the song's biblical feel as well, comparing it to the Ten Commandments.
Ironically, Bono once performed this song on stage with Dylan, forgot the words, and made up his own. Bono's friend Neil McCormick recalled him singing about "the Troubles" in Northern Ireland. Since the song has a definite anti-war slant, this wasn't too far off. Still, McCormick remembers Dylan's "jaw-dropping disbelief" about Bono's improv.
This incident wasn't the end for Bono and Dylan: A few years later, they co-wrote "Love Rescue Me" for U2's "Rattle and Hum" album (via SongFacts) The song, which references Psalm 23, is just one more display of the two songwriters' similar beliefs.