The Motive For America's First Female Serial Killer, Jane Toppen
An Irish girl named Honora Kelley was born in Boston to immigrant parents, sometime between 1854 and 1857 (via New England Historical Society). She was the youngest of four daughters, whose mother died of tuberculosis and father became mentally ill. Peter Kelley, aka "Kelley the Crack," was a local tailor who raised the girls despite his mental health challenges. He was rumored to have abused them and later took two of the girls — a young Honora and her sister Delia — to an orphanage in 1863 known as the Boston Female Asylum. 
The girls were placed in foster homes when they turned 10. Another sister, Nellie, ended up in an insane asylum. Delia turned to sex work and alcoholism. And Honora... well, she became one of the world's most notorious female serial killers.
If you or someone you know needs help with mental health, please contact the Crisis Text Line by texting HOME to 741741, call the National Alliance on Mental Illness helpline at 1-800-950-NAMI (6264), or visit the National Institute of Mental Health website.
If you or someone you know may be the victim of child abuse, please contact the Childhelp National Child Abuse Hotline at 1-800-4-A-Child (1-800-422-4453) or contact their live chat services.

If you or anyone you know is struggling with addiction issues, help is available. Visit the Substance Abuse and Mental Health Services Administration website or contact SAMHSA's National Helpline at 1-800-662-HELP (4357).

Creating Jane ... the killer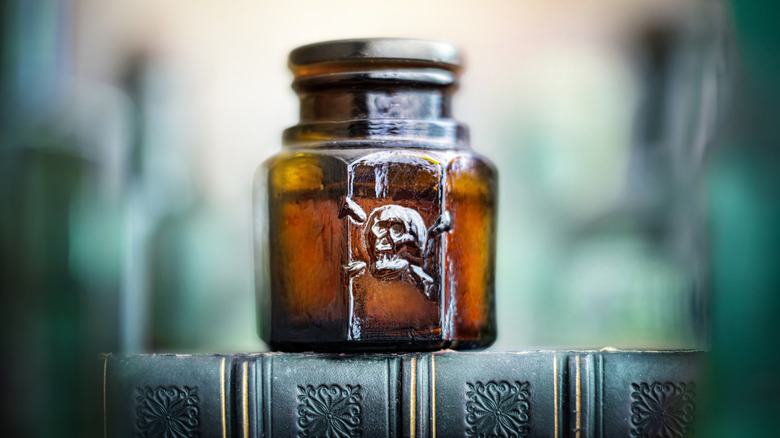 Triff/Shutterstock
Upon being placed in a foster home, Honora became an indentured servant to Ann C. Toppan of Lowell, Massachusetts, where her name was changed to "Jane," to sound less Irish. The family told people that she was an Italian child whose parents died at sea, to avoid stigma surrounding Irish immigrants at the time, but these lies at an early age may have started something the Toppan family never meant to awaken.
Jane Toppan did well in school, and had a lot of friends, but she was known for compulsively lying (via New England Historical Society). Telling tall tales about the great successes and accomplishments of her original (now disbanded) birth family, Jane exhibited early signs of sociopathy. She graduated from Lowell High School at 18 and was disbanded from her indentured servitude, but chose to stay in the house she called home. When Ann Toppan died, her daughter Elizabeth took over, who despite treating Jane nicer than her mother did, ended up being one of her foster sister's victims.
Jane became a nurse at Cambridge Hospital in 1887, where she earned the nickname "Jolly Jane" due to her bubbly disposition, but what she did there was anything but jolly. Fellow nursing students detested her for gossiping, lying, and stealing; supervisors were concerned about her obsession with autopsies, and surviving patients were burdened with uncertain memories most peculiar. But no one suspected what was happening right under their noses. During her time at Cambridge, Massachusetts General Hospital, and even as a private nurse, family member, and friend, Jane is said to have killed anywhere from 30 to 100 people.
A killer's reasoning and fate
She was believed by doctors to be an amazing nurse, but was poisoning patients with morphine and atropine and later laying with them as they died, holding them and even kissing them, which she explained was a driving factor in her urge to kill.
Jane was caught when she killed the entire family of Alden Davis. An autopsy of one of the family members showed morphine and atropine poisoning (via New England Historical Society). After an arrest in October 1901, Jane was found guilty by reason of insanity and sent to Taunton State Hospital, where she died in 1938. She once told a doctor, "I seem to have a sort of paralysis of thought and reason, something comes over me; I don't know what it is. I have an uncontrollable desire to give poison without regard of the consequences" (via Los Angeles Herald). She has also been documented saying, "my ambition [is] to have killed more people — more helpless people — than any man or woman who has ever lived" (via The Washington Post). 
She also claimed that her killing spree began when she was dumped by a boy at 16, and had she been a married woman, she would have never murdered. Most female serial killers fit a role — having killed for power or money — and accepting caregiving positions where they have access to those who cannot fight back (via The Journal of Forensic Psychiatry & Psychology). Jane fits this profile, whether due to her upbringing, the lies woven into the fabric of her early childhood, or a desperately twisted need to "care" for others.