The Theft Of The Original Hotel California Lyrics Explained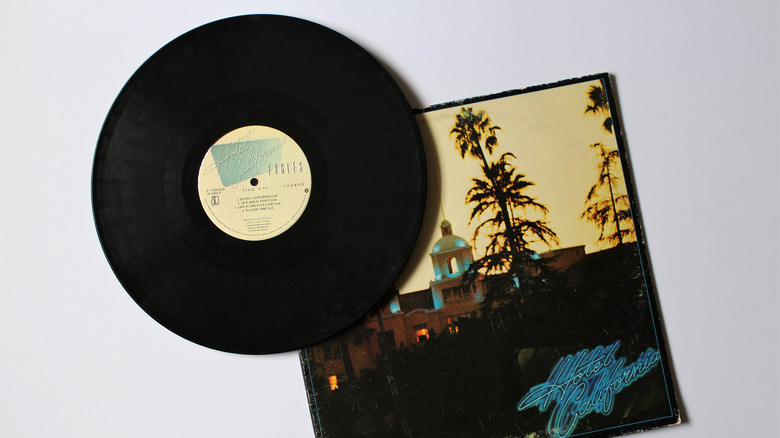 Blueee77/Shutterstock
One of the greatest and most enduring songs from the classic rock era of the 1970s is the Eagles' "Hotel California," from the album of the same name. The inscrutable lyrics, filled with poetic and mildly unsettling imagery, have left fans baffled for half a century (spoiler alert: the song is about excess and, in particular, the culture of hedonism in Southern California, according to ABC News). The song enjoyed (and continues to enjoy) immense popularity, and it solidified the Eagles as a dominant force in rock 'n roll.
The song didn't just spring into existence from nowhere, however. Like any other work of art, it was the result of a process — a process that included writing down notes, tinkering a bit, figuring out what works and what doesn't, writing more notes, and so on. And those handwritten notes, along with similar notes related to other Eagles songs, were in a notebook that mysteriously vanished from the band's possession in the 1970s. They turned up 50 years later, according to Law and Crime, when a group of New York men were charged with illegally trying to sell them for $1 million.
A Game Of Hot Potato With Don Henley's Stolen Notebook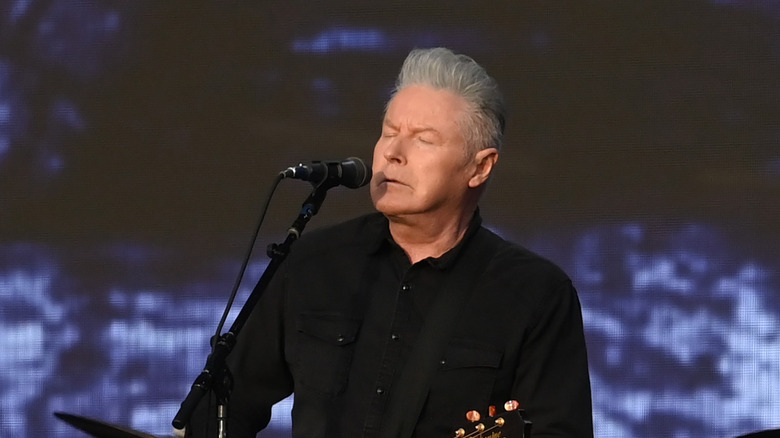 Dave J Hogan/Getty Images
Ordinarily, "100 pages of scribbles, notes and lyrics," as they're described by the Washington Post, wouldn't be a hard-sought collectors' item. But in this particular case, these notes document the history of some of the biggest songs in rock 'n roll, written in real time (so to speak) by the man who birthed those songs. As a pop-culture artifact, that book would have been priceless (or more accurately, worth about a million, as that's what someone eventually tried to sell them for).
Perhaps seeing an opportunity to make some quick cash, an unidentified writer, who was in town to research the band and write a book about them, stole the notebook all the way back in the 1970s. In 2005, the writer sold the notebook to rare book dealer Glenn Horowitz, who in turn sold them to rock auctioneer Edward Kosinski and Rock & Roll Hall of Fame director of acquisitions Craig Inciardi.
Henley, on learning who had his book, tried to get the documents back, but the men refused, and according to Manhattan District Attorney Alvin L. Bragg, they "made up stories about the origin of the documents and their right to possess them so they could turn a profit." Indeed, the book was this close to going up to auction at Sotheby's and Christie's, even as Henley insisted it was his and not to be sold.
Beginning in 2016, authorities began executing search warrants in order to retrieve the book.
A Criminal Indictment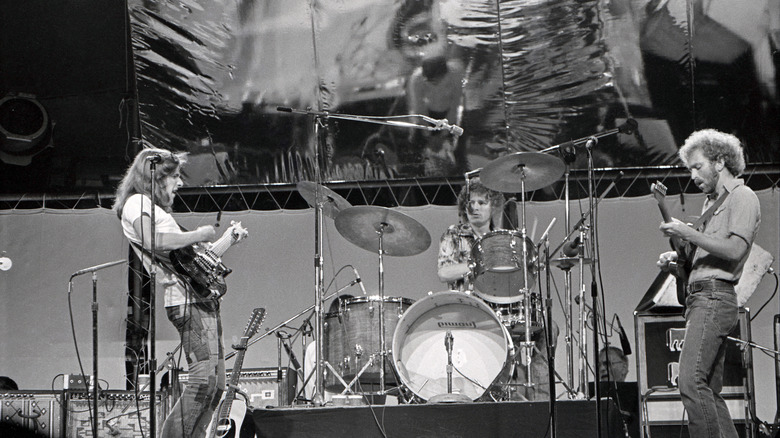 Icon And Image/Getty Images
On July 12, 2022, according to Law and Crime, Manhattan District Attorney Alvin L. Bragg, Jr. announced in a statement that a criminal indictment had been issued against Horowitz, Inciardi, and Kosinsky. Inciardi and Kosinski were charged with criminal possession of stolen property, Horowitz was charged with attempted criminal possession of stolen property and two counts of hindering prosecution, and all three men were each charged with one count of conspiracy.
"Despite knowing that the materials were stolen, the defendants attempted to sell the manuscripts, manufactured false provenance, and lied to auction houses, potential buyers, and law enforcement about the origin of the material," said Bragg's office.
In a statement to Billboard, Henley's manager, Irving Azoff, said that he is "look[ing] forward" to the notebook finally getting back into the hands of its original owner, adding that, once back where it belongs, Henley and his family can keep it "for posterity."