Tippi Hedren's Granddaughter Looks Just Like The Famous Actress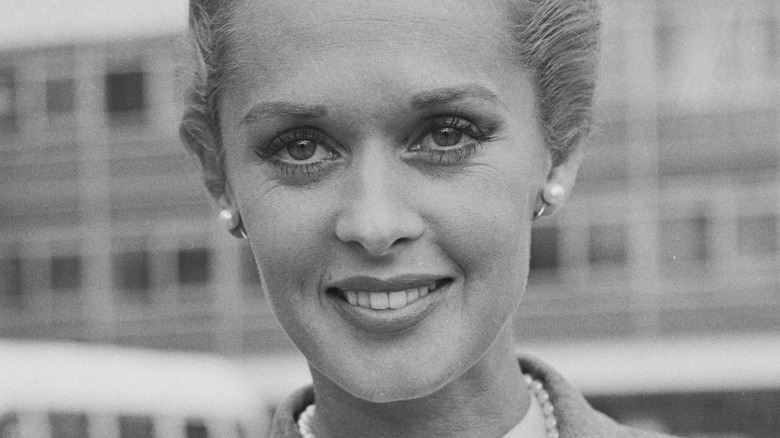 Evening Standard/Getty Images
Acclaimed classic Hollywood actress Tippi Hedren, star of films such as Alfred Hitchcock's "The Birds," is the matriarch of multiple generations of movie stars (via IMDb). Hedren's daughter is Melanie Griffith, an Academy Award-nominated actress for her role in "Working Girl" in 1988, among other credits. Griffith's daughter with actor Don Johnson — Hedren's granddaughter — Dakota Johnson, has made her own name in Hollywood with roles in movies like "50 Shades of Grey," among others.
But that's not all. Griffith's son from another marriage, Alexander Bauer — Hedren's grandson — also works in film production, as his IMDb page notes. After Griffith split with Johnson a second time, she married actor Antonio Banderas, with whom she gave Hedren a granddaughter. (Griffith and Banderas divorced in 2014, as Instyle reports). And not only does Hedren's Spanish-born granddaughter also seem destined for success, but she also bears a striking resemblance to her grandmother.
Stella Banderas Griffith is Tippi Hedren's granddaughter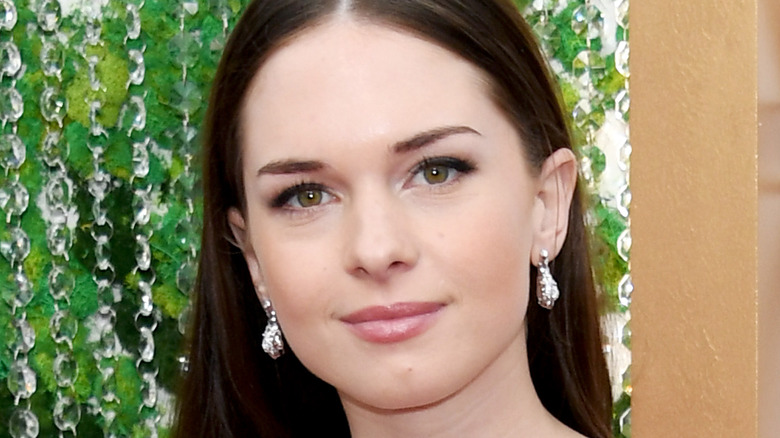 Kevin Mazur/Getty Images
Stella Banderas Griffith filed to remove the Griffith from the end of her name in 2021, not because of strife with her mother, but instead to shorten her name to how she tends to use it most in daily life, according to People. She got her start in acting in the 1999 movie "Crazy in Alabama." Since her mother is Melanie Griffith, that makes her siblings with Dakota Johnson and Alexander Bauer, and her grandmother Tippi Hedren.
As well as her single film role as of this report, Banderas credits herself as a multimedia storyteller on her Instagram page, and she also founded Lightbound, a perfume oil brand and online space for handcrafted products, according to her company's website. All combined, Banderas may not follow in the acting footsteps of her family. As her profile continues to gather attention, though, outlets have noticed how much she looks like her grandmother, based on several Instagram photos in particular.
Lately, though Banderas has sported long dark hair, her natural hair color is lighter, more like her mother and grandmother, who was known as a "Hitchcock blonde," referring to a string of blonde actresses Alfred Hitchcock was known to use in his movies. As Do You Remember notes, Banderas and her grandmother Hedren also bear a notable resemblance in their eyes. We also see echoes of her grandmother in Banderas' cheekbones.
Her career path looks different from that of her actor family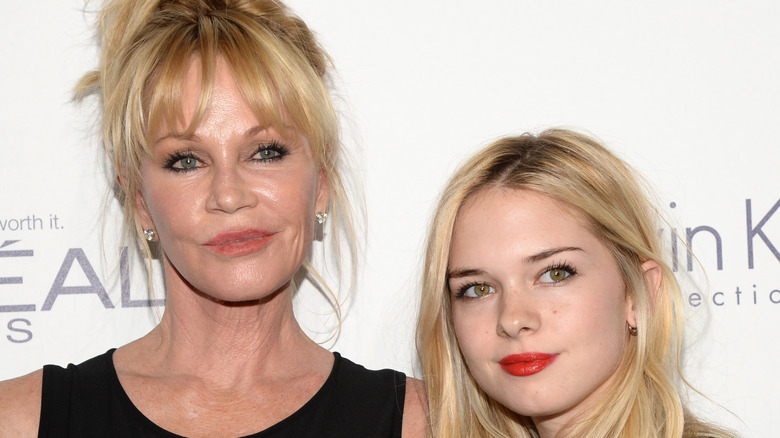 Michael Kovac/Getty Images
Although Stella Banderas' film credits are fewer than her mother, father, grandmother, and siblings, she worked as an assistant director in a Spanish-language production of Stephen Sondheim's "Company" in 2021, as Reuters reports. On the decision to hire his daughter to work with him on the play he directed and starred in, Antonio Banderas said that he simply trusts her opinion. "I ask her very direct questions and that's when I get very direct answers about what she's seeing," Banderas said.
More than anything, though, Stella Banderas' seems focused on her company, Lightbound, the makers of Alma, a genderless fragrance oil, based on 2021 reporting from Hola!. As Hola! goes on to explain, Alma was inspired by Banderas' upbringing in both LA and Spain. Of her daughter's business venture, the always-supportive Griffith reportedly described on social media the cruelty, paraben, and phthalate-free "Alma" as a "very beautiful perfume oil" and "as beautiful as she is," referring to Banderas.