All The Details Found In Daniel Prude's Autopsy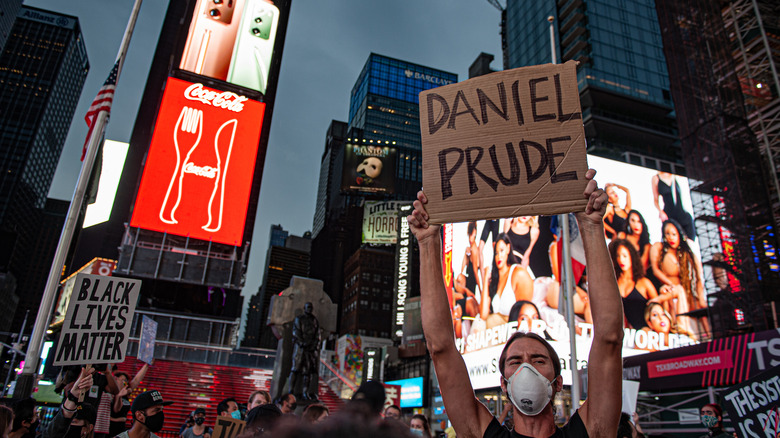 Kevin RC Wilson/Shutterstock
On March 22, 2020, Chicago resident Daniel Prude arrived in Rochester, New York to visit his brother, Joe Prude, according to the Democrat & Chronicle. Hours later, he would be critically injured by police officers. As another article by the Democrat & Chronicle explains, the trip to Rochester was awry from the start. Prude was booted off the train in Buffalo. When he finally arrived in Rochester, his family noted that he was acting bizarre and was perhaps high on PCP. They promptly called the police, who took him to the hospital.
According to NPR, it was clear that Prude was having a mental health crisis. He told his family that he wanted to die and was engaging in behavior that was endangering his life. By 11 p.m. that night, the hospital had released Prude. When he returned to his brother's home, Prude seemed to be at ease. Joe later told police that "He was fine for a little bit, then all of a sudden started acting crazy" (per NPR). A frenzied Prude fled the home at 3 a.m., which resulted in Joe calling the police once again.
Shortly after, the police found Prude on West Main Street. The Cut reports that Prude, who had a history of mental health problems, began spitting at officers. They responded by putting a "spit hood" on his head. This agitated Prude and as he moved around, Officer Mark Vaughn forcefully restrained him. Prude, per NPR, stopped breathing and was later declared brain dead.
His death was ruled a homicide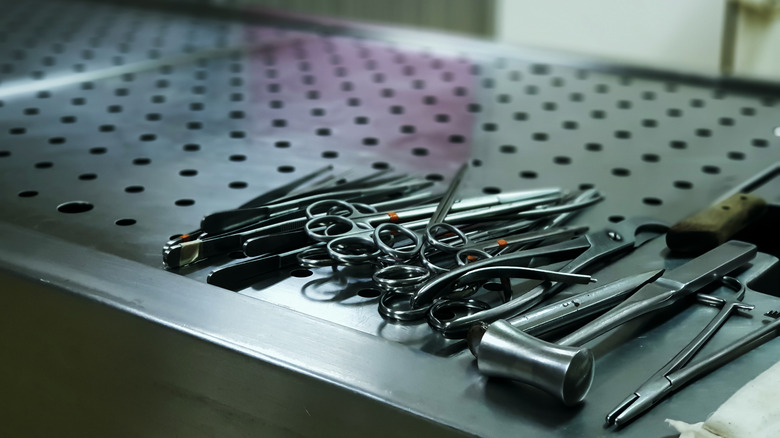 Arpatsara/Shutterstock
According to the Democrat & Chronicle, Prude, 41, was on life support for a week before he died on March 30. AP News reported that after an autopsy the medical examiner concluded that Prude's cause of death was "complications of asphyxia in the setting of physical restraint." Moreover, traces of PCP were found in his system. The autopsy stated that the drug and "excited delirium" contributed to his death.
Per The National Library of Medicine, excited delirium can be described as a drastic change in behavior generally caused by drugs. Death usually occurs when individuals are in police custody. Simply put, the PCP in Prude's system caused the excited delirium. Stat writes that this is a controversial diagnosis and its validity is often debated. The publication notes that it has little medical backing and is most often used to explain when individuals, most often Black men, die while in the custody of law enforcement.
That being said, Spectrum Local News writes that Prude's manner of death was deemed a homicide. This, however, does not mean he was murdered. Scott Schmidt, the president of the New York State Association of County Coroners and Medical Examiners explained, "When I see the word homicide, it just means the death of a person at the hands of another." The autopsy also showed that Prude had a previous brain injury, heart inflammation, and lung disease, but his liver and a kidney were donated (via the Democrat & Chronicle).
The aftermath of Daniel Prude's death
Joshua Rashaad Mcfadden/Getty Images
The Cut explains that Joe Prude, due to COVID restrictions, was unable to visit Daniel in the hospital and had few answers regarding his brother's hospitalization and eventual death. This prompted him to request police body cam footage. Meanwhile, the officers involved did not face any disciplinary actions. In September 2020, the footage was released and Prude's death became public knowledge (via ABC News). Per the Democrat & Chronicle, the video shows Prude losing consciousness as he is pinned to the ground. Joe was never told why or how this had occurred. Rochester Mayor Lovely Warren later described the video as "disturbing."
Furthermore, The Cut states that the mayor was told by Police Chief La'Ron Singletary that Prude died from an overdose and that he excluded any information about "the actions his officers took to forcibly restrain Mr. Prude." Reports indicate that it also took months for the footage to be released as officials did not want it to become public during the 2020 Black Lives Matter protests. Nearly a year after his death, NPR wrote that Rochester officials, including the mayor and police chief, "knowingly suppressed" details of Prude's death from coming to light.
In the end, the release of the footage led to protests, and the firing of Singletary, amongst other things (per NPR). In September 2021, Reuters reported that Officer Vaughn was facing "departmental charges" for his role in Prude's death. That same year, Prude's family filed a wrongful death suit against the city of Rochester and several police officers.