Where Is Cop Frank Salerno From Netflix's Night Stalker Today?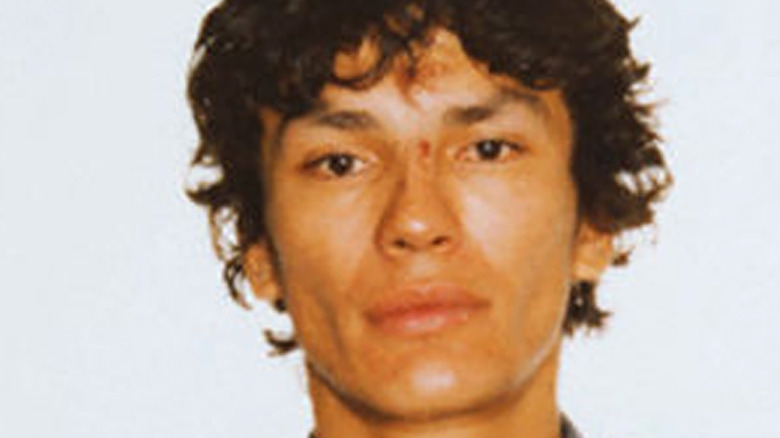 Michael Ochs Archives/Getty Images
The 2021 Netflix documentary series "Night Stalker: The Hunt for a Serial Killer" tells the story of Richard Ramirez, a notorious serial killer known as the Night Stalker (via IMDb). In the mid-1980s, Ramirez terrorized the Los Angeles area with a string of grisly murders (per Britannica). Central to any true crime documentary, such as "Night Stalker" on Netflix, is not just details of how the horrific crimes in question were committed, but also how law enforcement brought the perpetrator of those crimes to justice.
An important player in the true story of the Night Stalker case was detective Frank Salerno, who, along with detective Gil Carrillo, helped finally catch Ramirez through a fingerprint collected in the early days of fingerprint identification technology. Throughout Salerno's long career in law enforcement, Ramirez was not the only high-profile killer he helped catch, either. In the late 1970s, Salerno also worked on the "Hillside Strangler" case, another string of serial murders that menaced the city of LA and the surrounding area at that time, as Biography notes.
Salerno served in LA-area law enforcement for decades
As The Wrap explains, Frank Salerno worked in LA-area law enforcement for nearly 50 years, first for the Los Angeles Sheriff's Department juvenile and narcotic bureaus for some three decades, and then in homicide for almost 20 years more. It was under Salerno's watch that investigators discovered that the Hillside Strangler was in fact two men: cousins Kenneth Bianchi and Angelo Buono (via Biography). Together, Bianchi and Buono reportedly killed 10 women in their '70s-era crime spree.
By the time he was assigned to the Richard Ramirez case, Salerno was already held in high esteem by his colleagues, as Marie Claire notes. According to History, Salerno and other detectives on the case received a tip that a man named Ramirez was responsible for the crimes of burglary, murder, and rape that were taking place in the city and had local residents on edge. Ramirez would be convicted on 13 counts of murder and sentenced to death, but he died from cancer before his execution could be carried out, per Britannica. Crucial to Salerno and his team was a fingerprint lifted from Ramirez's car, which was later linked to him.
Post Night Stalker conviction, Salerno retired from police work
After Richard Ramirez was identified as a leading suspect in the Night Stalker case and his picture was published in the media, he was eventually apprehended by a mob of LA citizens after Ramirez attempted a carjacking. After his conviction in 1989, Salerno retired from his long career as a detective to prioritize family life, but he wasn't quite done with police and security-related work, based on 2021 reporting from The Sun. Once retired, Salerno established Salerno and Scully Investigations, offering private investigation and armored car transportation, among other services.
Salerno also continued to consult and teach on topics related to murder and detective work for institutions such as San Jose State University, the California Department of Justice, and the National Homicide Investigators Association. He's also provided commentary to a number of crime-related TV series and documentaries, including Netflix's "Night Stalker," based on Salerno's filmography as posted on IMDb. As of this report, though, little is known about the former detective's private life (via Cinemaholic).