How Danny Trejo Helped A Prisoner In The Midst Of Addiction While Filming A Movie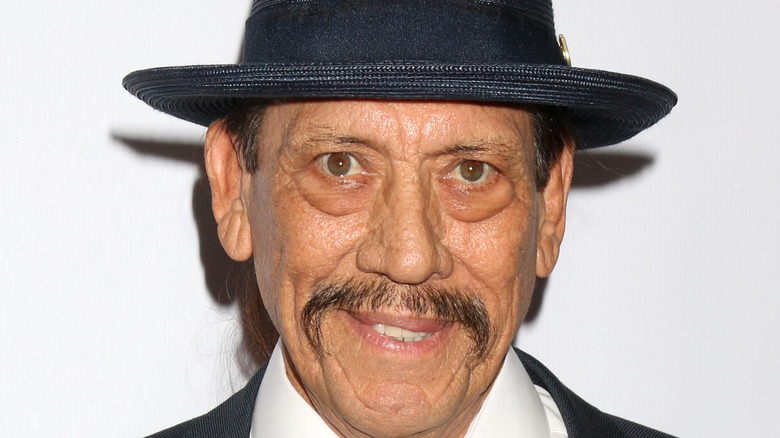 Kathy Hutchins/Shutterstock
Danny Trejo started his acting career in the 1980s, and since then, he has starred in several movies including "Desperado," "From Dusk Til Dawn," and "Machete" just to name a few. Trejo also owns a number of restaurants in California, such as Trejo's Tacos, Trejo's Cantina, and Trejo's Coffee and Donuts (per Movie Web). His success is the result of years of hard work and dedication, but it's no secret that his life wasn't always smooth sailing. He got in a lot of trouble with the law in his younger years and even spent time in jail.
As reported by ATI, Trejo was introduced to marijuana at the tender age of 8, and he started shooting heroin and drinking alcohol before his teen years. He had a close relationship with an uncle who was only six years older than him, and a young Trejo joined him in using drugs, dealing drugs, and committing robberies. Trejo was first sent to jail at 18 years old, and upon his release, his illicit activities escalated to armed robbery, drive-by shootings, and assault. In 1965, Trejo was sentenced to 10 years in prison for selling heroin to undercover agents.
Danny Trejo has been sober since 1968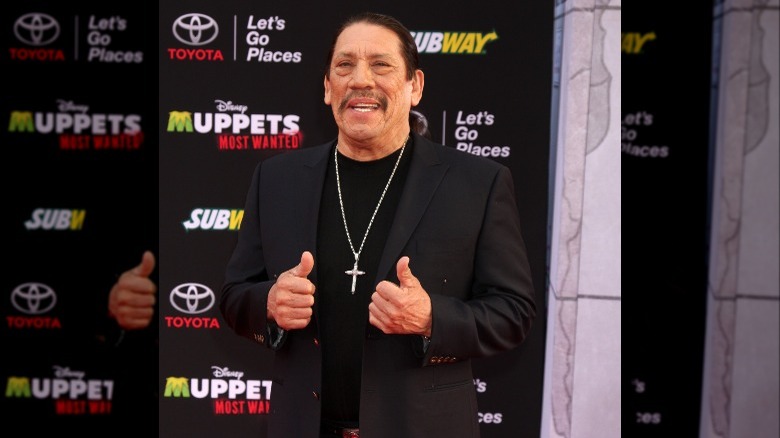 Kathy Hutchins/Shutterstock
It was during his stay in San Quentin State Prison when Danny Trejo decided to become sober. In an interview with Variety, he shared how a former inmate visited the prison to talk about his own journey to recovery. The inmate encouraged Trejo to join meetings to just try it out. After all, he had nothing to lose. He was released early in 1969 and attended meetings. Trejo focused on getting clean. He found work doing odd jobs and also spent time with the recovery community, eventually becoming a drug counselor.
Trejo shared with Fox News that he also found faith. During his last prison stint, he thought that he was never going to get out. Trejo said he made a deal with God, "If you let me die with dignity, I'll say your name every day. And I'll do whatever I can for my fellow inmate." When he got out in 1969, he made it his mission to help others. Since then, Trejo has been visiting prisons to talk about his experiences in hopes of inspiring and helping inmates in their own journeys to sobriety. And it was through helping others that he got his first acting gig.
As reported by Variety, a production assistant needed Trejo's help to stay sober, and he got him a job as an extra in the 1985 movie "Runaway Train." Coincidentally, the movie's screenwriter, Eddie Bunker, was a former inmate who knew Trejo from prison. From being an extra, Trejo was promoted to the character of a boxer.
Danny Trejo helped an inmate fight his heroin addiction
David Livingston/Getty Images
Despite making it big in Hollywood, Danny Trejo never forgot his promise to help inmates with their recovery. In 1991, the actor was filming for the movie "Blood In, Blood Out," and some parts were filmed in San Quentin State Prison. According to Texas Monthly, it was there where Trejo met an inmate named Mario Castillo, who was addicted to heroin and was sentenced to five years. Castillo had no interest in getting clean, but Trejo talked to him about seeking help to overcome his addiction.
In 1996, Castillo was released and contacted Trejo. The two developed a genuine friendship and Castillo has been sober ever since. At one point, Trejo and Castillo even lived with each other as the actor revealed in an interview with Prison Legal News in 2011. He said at that time that he shared a home in San Fernando Valley with Castillo — who has been sober for 14 years then — and another man named Max. Castillo sometimes accompanies Trejo during his talks in prisons and juvenile halls and said that his friend is "always helping someone." The actor also supports charities such as Best Friends Animal Society, Boys & Girls Clubs of America, and food banks. As Trejo once said, "You have no idea what's coming when you're clean and sober, but I can guarantee you that it's going to be better than what you had," (via True Healing Centers).
If you or anyone you know is struggling with addiction issues, help is available. Visit the Substance Abuse and Mental Health Services Administration website or contact SAMHSA's National Helpline at 1-800-662-HELP (4357).