How A Television Program Helped Lead Authorities To LaNell Barsock's Murderer
AstroStar/Shutterstock
In 2015, a Palmdale, California woman was sentenced to two terms of 25 years to life for the 2010 killing of Lanell Barsock, according to 2015 reporting from the Los Angeles Times. As the investigation unfolded, and as the first person to report the killing became the prime suspect, the woman who would one day be convicted of the crime fled the country, as the FBI website explains. And if it weren't for an episode of a popular American true-crime TV show highlighting the case, Barsock's murderer might still be on the run to this day, based on 2017 reporting from The Antelope Valley Times, a Palmdale news outlet.
After committing Barsock's murder, the woman who would eventually be convicted of the crime was also the first to report the incident to the police. She also allegedly made efforts to frame Barsock's boyfriend, with whom Barsock had recently rekindled her relationship. Barsock was shot in the head with a handgun in her own home, and her body was later found in the garage of her residence with what at first appeared to be blunt-force trauma to her skull, as the Los Angeles Times also notes. Barsock and the woman who killed her were briefly been in a romantic relationship that ended just a short time prior to Barsock's death.
Barsock met her murderer on Craigslist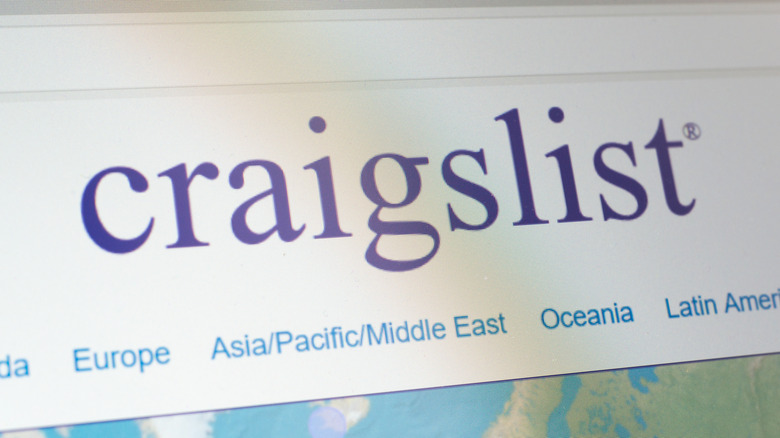 Photo Oz/Shutterstock
Lanell Barsock met her convicted murderer, Larene Austin, on Craigslist in a section of the website dedicated to women who were seeking romantic or sexual relationships with women, according to Dateline (via CrimeTV on YouTube). At the time that Austin and Barsock's relationship started, Barsock was allegedly romantically linked to two other men, one was named Louis Bonheur, whom Austin attempted to frame for Barsock's murder. It was later revealed Austin herself reportedly maintained relationships with two other women during this period. When Barsock broke things off with Austin, Austin allegedly came to her Palmdale home and killed her.
Austin reported Barsock's death to the police and alleged that Bonheur was responsible. Maintaining his innocence, Bonheur provided an alibi which was corroborated by surveillance video from a Los Angeles-area auto body shop. Over time the focus of the Los Angeles County Sheriff's department shifted to Austin, and a warrant for her arrest was issued on one count of murder, as the FBI website explains. Around that same time, Austin left the state of California for Belize. At that point, Austin was wanted for more than killing Barsock; she was also then charged with unlawful flight to avoid prosecution. With Austin gone, California investigators turned to the media for help.
The Barsock case was featured on America's Most Wanted
Investigators were desperate for clues as to Austin's whereabouts, and the Barsock murder and Austin's subsequent disappearance were featured In a 2011 episode of the long-running true-crime TV show "America's Most Wanted" (via IMDb). After that episode aired, the Los Angeles County sheriff's department received a tip deemed credible: Laren Austin had fled to the small Central American country of Belize. With that information in hand, LA authorities turned to the California branch of the FBI's Fugitive Task Force, according to the FBI website. At that point, Austin was apprehended in Belize and returned to California via Houston, Texas.
Once brought to trial, Austin pled not guilty to the crime. Evidence was later revealed, though, that Austin made an effort to frame Barsock's boyfriend, Bonheur, which included a forged letter from Barsock in which she broke up with Bonheur, as an apparent means to explain Bonheur's motivation for killing her, according to 2015 reporting from KABC-TV, a Los Angeles-area ABC network affiliate. There was also some evidence that Austin even took steps to adopt aspects of Barsock's life after her death, and prior to her flight from justice, as The Antelope Valley Times elsewhere notes. To this day, Austin is reportedly serving her sentence in a California state prison (via The Antelope Valley Times).