The Real Meanings Behind These Slipknot Songs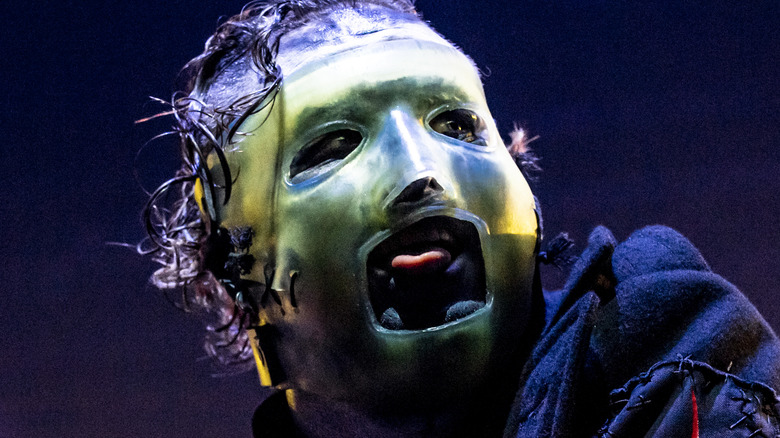 Francesco Prandoni/Getty Images
Since Slipknot's 1999 eponymous debut album tore through the charts and hit double platinum in the U.S. in 2005 (via RIAA), the Des Moines, Iowa, metal machine has been unrelenting with its amalgamation of extreme music and out-of-this-world live shows. The maggots — Slipknot's affectionate term for their fans — can't get enough, helping the band become one of the biggest names in heavy metal and to be mentioned in the same breath as icons like Metallica, Iron Maiden, Slayer, and Judas Priest. Their whole modus operandi might be centered around rage and carnage, but it's an organized chaos that continues to connect them with the metal community decades after the band's inception in 1995, as per AllMusic.
Part of the reason for Slipknot's success is because of the lyrical content of their music. Beyond the wall of double bass destruction and jagged, chugging riffs, lead singer Corey Taylor cuts his heart open and pours out his and his bandmates' feelings about a variety of subjects. Whether it's an encounter with a homeless man inspiring one of their hardest tracks, or their complicated and tumultuous relationship with the music industry, Slipknot aren't afraid to unravel and unpack in front of their audience. So put up the horns, turn up the dial to hellish levels, and find out more about the real meanings behind these Slipknot songs.
Snuff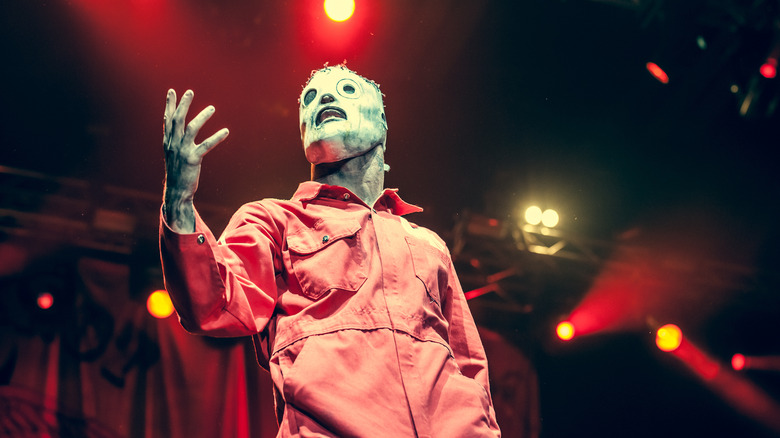 Yulia Grigoryeva/Shutterstock
After "Vol 3: (The Subliminal Verses)" arrived in 2004, Slipknot took four years to release another album. In 2008, "All Hope Is Gone" dropped and roughed up the Billboard 200 chart upon arrival, landing at the number one spot (via Billboard). While the singles "Psychosocial" and "Dead Memories" garnered much of the attention from the press and fans, a softer ballad titled "Snuff" raised eyebrows. The acoustic track broods with a melancholic atmosphere and features a heart-wrenching chorus with the lyrics: "Ooh, my smile was taken long ago, if I can change I hope I never know" — so what inspired a song that has become the breakup anthem for so many people around the world?
Speaking to Kerrang (via Songfacts), Corey Taylor revealed the backstory behind "Snuff" and how it was written about a former special someone in his life. "It's another personal one," he said. "Again, not naming names, it's about someone who helped me through a lot and I thought she felt the same way that I did and then she really let me down. At the same time, it was good that she did, because it was that final push to me figuring out myself. The lyrics are pretty self-explanatory."
The Chapeltown Rag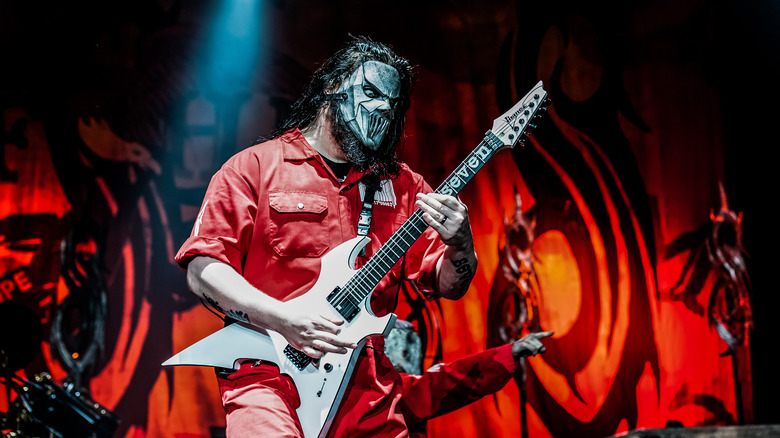 Yulia Grigoryeva/Shutterstock
As many bands mature, so do their sound. Some of them might slow down as the anger from their youth dissipates and they discover a softer approach to discussing other emotions and their new state of being. While Slipknot aren't afraid of pulling out the acoustic guitars or experimenting with pop sensibilities, they still haven't forgotten their bloody roots after all these years. They're more than capable of pulling out a rageful banger that'll melt faces and send the pits into a fury of delight. "The Chapeltown Rag" is a prime example of this, as it keeps a tiptoe in the waters of melody before unleashing a swift roundhouse to the face that kickstarts the headbanging rhythm.
Chatting to Knotfest, Corey Taylor confirmed the title was inspired by the Yorkshire Ripper and how the media distorted the case to focus on the victims and their supposed moral values rather than the actual perpetrator of the crimes. Taylor saw the relevancy in the theme and how it also applies to the social media landscape. "Lyrically, it's coming from a point of talking about the various manipulations that can happen when social media meets media itself," he said. "And the different ways that these manipulations can try to pull us in different directions, in the fact that we're all becoming addicts to it, which is very, very dangerous."
Killpop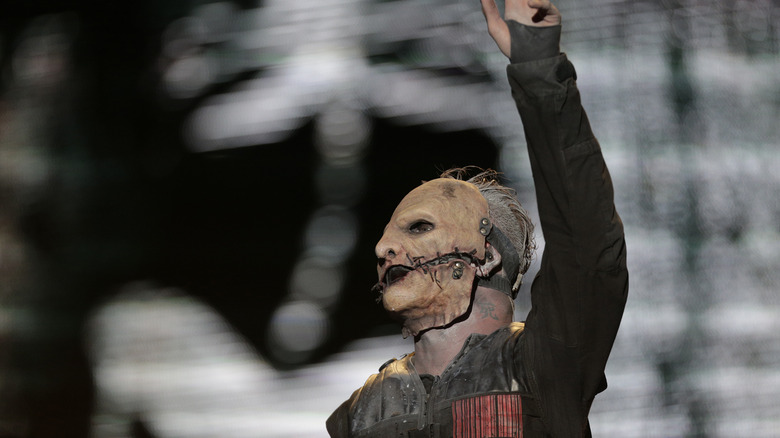 Antonio Scorza/Shutterstock
Having sold millions of albums and toured the world several times over, Slipknot is the kind of musical act that would have record labels drooling and falling over themselves to sign them up. In an industry where there are no sure bets, the Iowan heavy metal group is a name that anyone can take to the bank for guaranteed returns. The music industry, though, is filled with lying scoundrels and bottom-feeding fiends, and then there's still the bad side of it, too. Like others before them, Slipknot have experienced the shady side of the music biz and it even formed the basis for their track "Killpop," which was off 2014's ".5: The Gray Chapter" (via Apple Music).
Appearing on the radio station WGRD 97.9 FM (via Blabbermouth), Corey Taylor discussed how most fans misinterpreted the actual meaning of "Killpop," however, he clarified the details. "The song is my reflection on my relationship with music," he said. "That's who the 'she' is. And not just music, but the music industry in general. So there's a love-hate relationship there that really kind of comes into view." Taylor added how he hasn't lost his passion for making music, but he detests the business element of the industry and the snaky suits involved in the process, explaining how it does put a damper on the enjoyment of Slipknot's success.
All Out Life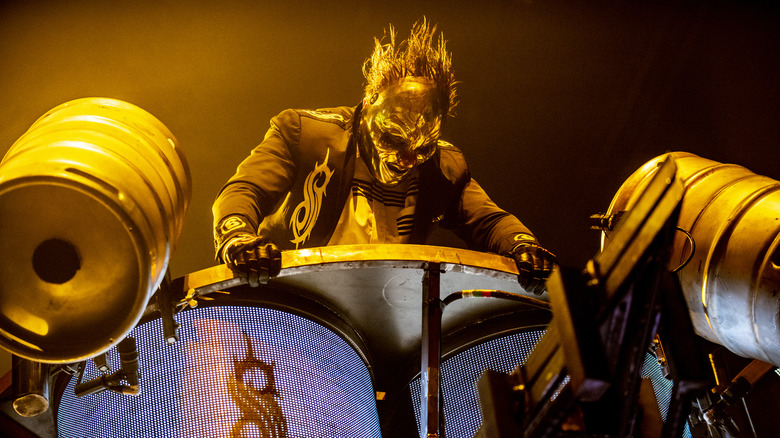 Francesco Prandoni/Getty Images
Ahead of the release of 2019's "We Are Not Your Kind," Slipknot released the track "All Out Life." With a one-two combo of heaviness and infectious melody, it captured the imagination and ears of the fans, even becoming the official NXT theme song (via WWE). When it came time for the release of "We Are Not Your Kind," though, the single wasn't included on the album. Corey Taylor revealed to Kerrang that was always part of the plan since "All Out Life" was meant to be an anthem and fun release for the fans, and not as a promotional single for the forthcoming record.
Nonetheless, many people were still curious about the meaning of "All Out Life" and where the initial idea for it came from. Speaking to Zane Lowe on Apple Music's Beat 1 (via Pitchfork), Taylor opened up about it. "'All Out Life' is a song that is trying to do two things: bring everyone together, but also remind everyone that the past is not something to be discarded with disdain," he said, adding that music doesn't have an expiry date. Taylor reasoned that we live in an era where people search for new entertainment constantly, but that shouldn't negate the value of everything that came before it.
Duality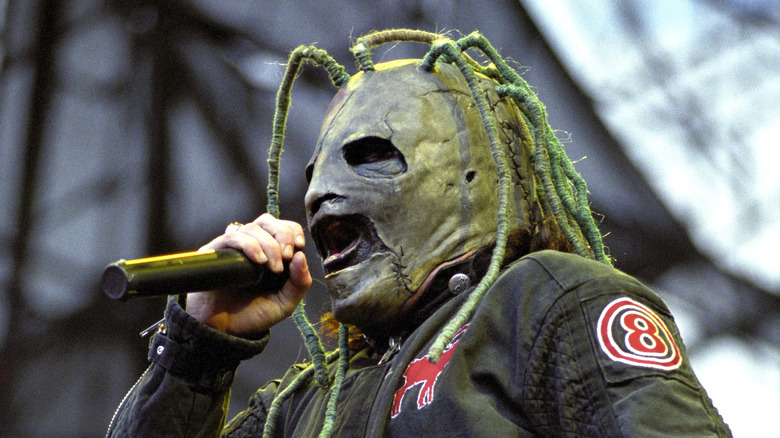 TDC Photography/Shutterstock
As soon as the hushed voice whispers "I push my fingers into my eyes," listeners know that Slipknot's "Duality" is about to kick in and stomp a mudhole in the speakers. The impassioned track has become a staple part of every Slipknot set and a fan-favorite singalong song since it appeared on "Vol. 3: (The Subliminal Verses)." Even Kerrang ranked it as number five on its 20 greatest Slipknot songs list, putting it above other anarchy anthems such as "My Plague" and "Before I Forget."
Speaking to Louder, Corey Taylor discussed the meaning behind the song, explaining how it is actually about the duality of people. "I wanted to put something together that represented the yin and yang of the human spirit, the light sides and really dark sides or people's personalities," he said. "Sometimes the struggle to balance those two sides really drive you mad. It's right in that line, 'I push my fingers into my eyes'. That's the moment you put your thumb and middle finger against the base of your nose to relieve that pressure." Percussionist Shawn "Clown" Crahan added that the plan for the music video was always to include their fans in it and they never intended to destroy the house in the video, but it happened organically.
Skeptic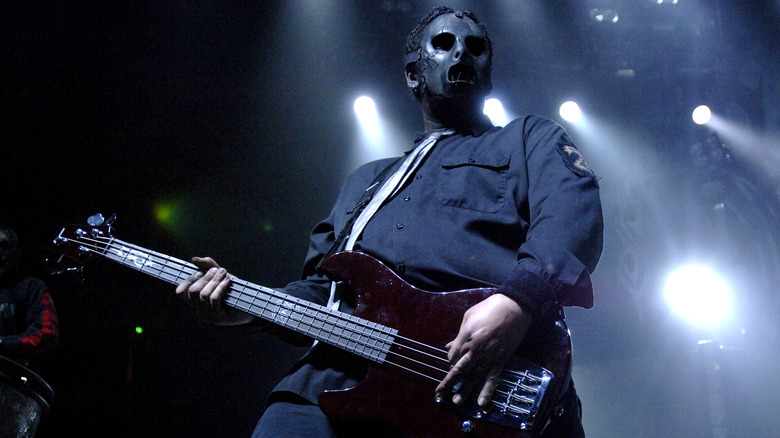 Tim Mosenfelder/Getty Images
Turmoil engulfs Slipknot. Rainbows and butterflies are never on the cards when this band gets together to write music or play a show. However, nothing could have prepared them for the death of their bassist Paul Gray in 2010 (via MTV News). It was an event that rocked the members to their core, as they put a brother in heavy metal arms to rest and had to consider what they would do next as a group. Slipknot took the necessary time to grieve and process what happened, only returning with a poignant album four years later. As they revealed to Rolling Stone, ".5: The Gray Chapter" was always going to be a tribute record to Gray, but they needed to find the strength to confront the emotions it would unearth in the writing and recording process.
Immediately, "Skeptic" stands out as an obvious salute to Gray as a bandmate and friend. As per Loudwire, there are several lyrics in the song that relate to him and the impact he left on everyone. The part of "the world will never see another crazy motherf*** like you, the world will never know another man as amazing as you" won't leave a dry eye in the room, as it's both a celebration and reminder of how Slipknot viewed Gray and the way he lived his life.
The Negative One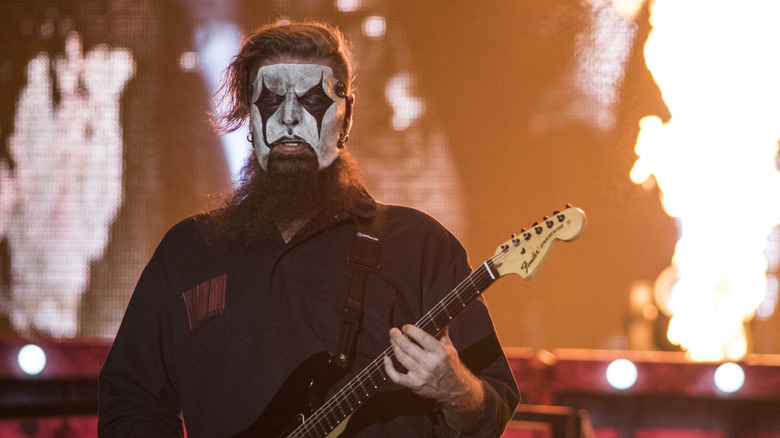 Raphael Dias/Getty Images
Drummer Joey Jordison's firing from Slipknot turned more than a few heads in 2013 (via Joey Jordison's official Facebook page). Widely renowned as one of the greatest drummers of all time and a major creative contributor to the band, it was a decision that seemingly came out of nowhere. There was also debate about the real reason surrounding his exit, with many fans expecting there to be bad blood between Jordison and the rest of the band. Adding fuel to the flames and sending the rumor mill into a sensational overdrive, Slipknot released the track "The Negative One," which many presumed was a final parting shot aimed at Jordison.
However, Corey Taylor set the record straight about the true meaning of the Slipknot song, stating it was actually about him and dealing with Paul Gray's death. "It's about, 'Why didn't I think of something?'" he told Rolling Stone. "'Why didn't I do something? Why didn't I try to be a better friend, to be a better brother?'" For Shawn Crahan, he interpreted the song differently the first time he heard it, too, since he believed it was Taylor's way of saying he wanted to quit the band before he finally found out the real intention of the track.
Sadly, Jordison and Slipknot never managed to team up again, as the drummer passed away in July 2021, as per Billboard.
Left Behind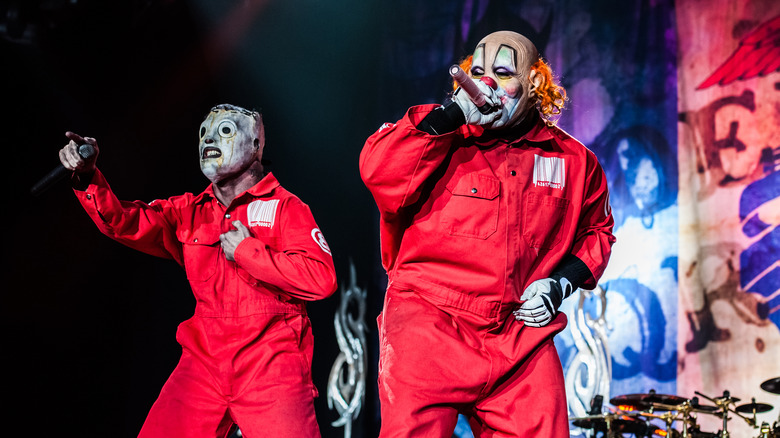 Yulia Grigoryeva/Shutterstock
After the success of their debut album, Slipknot had two choices. One, capitalize on their popularity and write a more pop-friendly record that would help them reach the next level of mainstream notoriety quicker. Or two, raise their middle fingers to the air and go heavier than ever before. Knowing the band like we do now, there was only one way they were prepared to go here. "Iowa" exploded out of the gates with an unrestrained viciousness and intense attitude, thanks in part to nose-breaking numbers like "Left Behind."
Speaking to VH1, Corey Taylor discussed this specific track's gravity and meaning to him. "'Left Behind' is a song about a time in my life that was really hard," he said. "I was homeless, and I was living under a bridge over by Southwest 9th in Des Moines." He explained how he made a lot of friends during this time and they supported each other in their daily lives; however, when his life changed and he joined Slipknot, those people seemingly disappeared. The song is about figuratively and literally leaving behind the people from the past — even when one doesn't have a choice in the matter.
Eyeless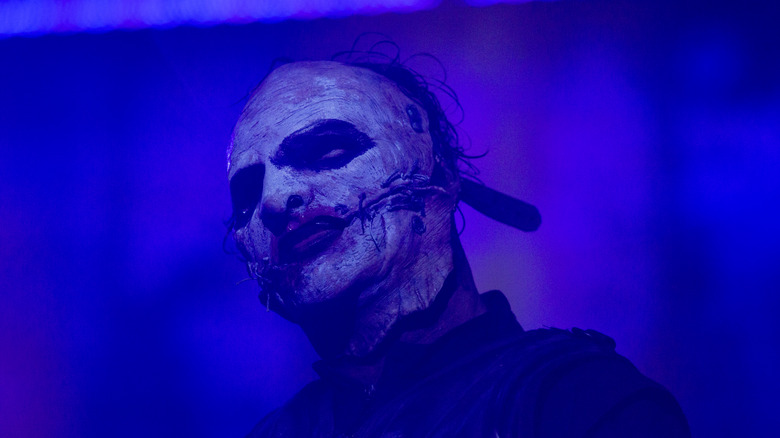 Epsilon/Getty Images
Slipknot's debut album doesn't believe in giving the listeners the time to catch their breath or settle their nerves. The eerie sample of "742617000027" sets the scene for something unsettling before the savagery of "Eyeless" opens the pit and sweeps the leg. The chorus, in particular, arrests the listener's attention in a beat as Corey Taylor belts out: "You can't see California without Marlon Brando's eyes." It's an interesting and evocative line; however, the group has someone else to thank for its curious inception.
"We were walking to CBGB's when the homeless man came up to us," Shawn Crahan told Louder. "He was just blurting out crap and then he came out with that line. I repeated it over and over in my head so I wouldn't forget it. Joey [Jordison] and I both knew that was a great line." In the same interview, Taylor revealed that he puked several times during the recording for that track since the session was fast and furious, and Slipknot wanted to capture all that unbridled anger and aggression right there in the studio with producer Ross Robinson.
Before I Forget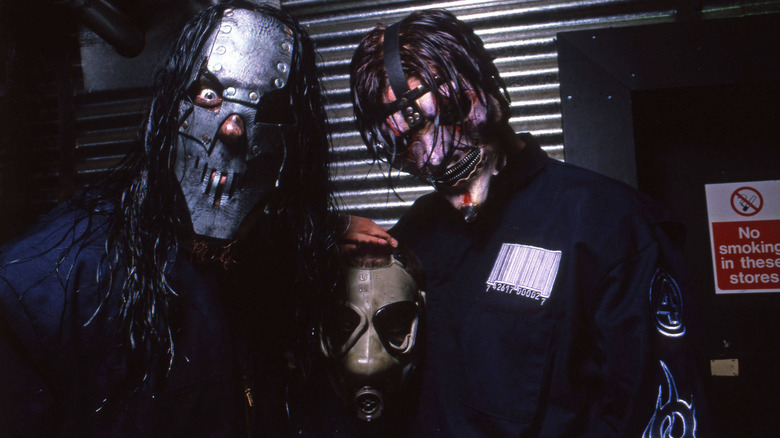 Martyn Goodacre/Getty Images
For a band that has left its undeniable stamp on the heavy metal genre, Slipknot only has one Grammy Award to show for their efforts to date (via Grammy Awards). They have been nominated many times throughout the years, but their only win was for "Before I Forget." While fans might dispute if it's the group's greatest song of all time, there's no disputing that it's one of the most successful and helped Slipknot bridge the divide between metal and non-metal fans especially with its powerful chorus.
Speaking to Kerrang (via Ultimate Guitar), Corey Taylor said the following about the track's meaning: "It's about standing your ground and deciding to be a good person, no matter what people say." While the song was released in 2004, its origins can be traced back to an old 1997 demo. Slipknot had fragmented pieces of "Before I Forget" in terms of the riffs, but changed what they needed to suit the approach and style of the "Vol. 3: (The Subliminal Verses)" album. Moral of the story: Never discard a song entirely because it might prove to be a Grammy winner later on in life.
Goodbye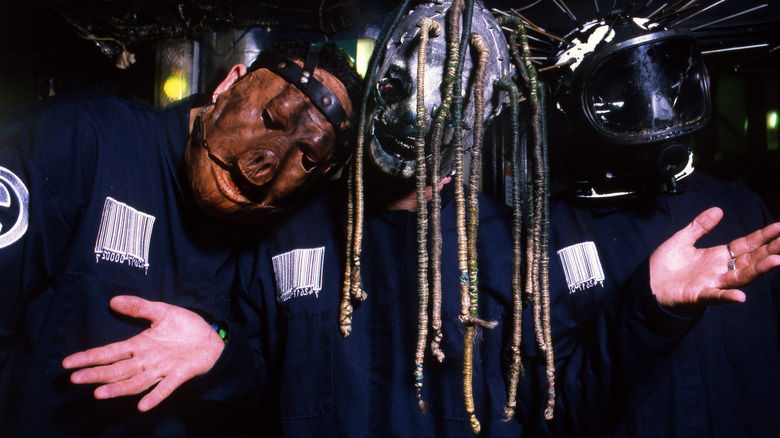 Martyn Goodacre/Getty Images
The untold truth about Slipknot is that they feel — a lot. Underneath the creepy masks, the high-energy shows, and the unstoppable barrage of heavy metal is a group of individuals who aren't afraid to wear their hearts on their sleeve and express themselves. Case in point: They admitted to Rolling Stone that the loss of Paul Gray changed them as both musicians and friends. While the band has continued to power on, they were left with scars and haven't forgotten about Gray.
Corey Taylor revealed that he struggles to sing the ballad "Goodbye" in front of a live audience, since it opens up old wounds and makes him emotional. "It's about the day we lost Paul," he said about the track. "It's specifically about sitting in my house two hours after we found out, just shell-shocked, completely numb and then completely overwhelmed with what we were dealing with. It's a heavy tune, and it's on a whole other level for this band."
People = S***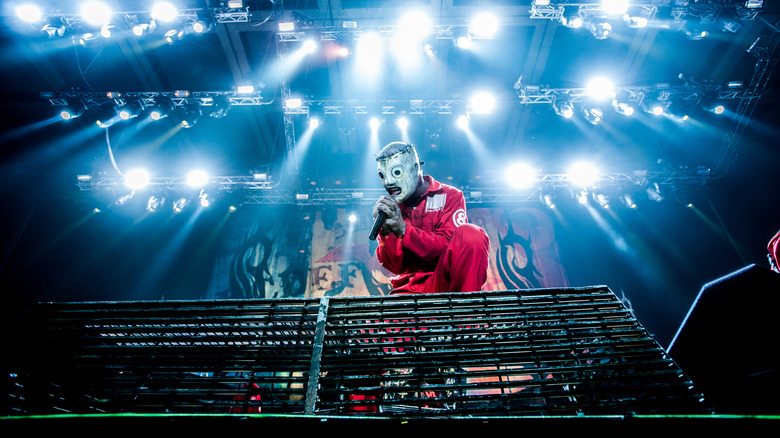 Yulia Grigoryeva/Shutterstock
There are a few Slipknot songs that utilize extended metaphors and play around with imagery. They leave their meanings deliberately open to interpretation, allowing for the audience to take away from the music what they need to. Then, there are tracks like "People = S***" that are as on the nose as they come, and not really hidden with a double entendre or ulterior message besides what's front and center here. Much like the title states, it's about comparing human beings to feces. Naturally, it comes from an angry place and the lyrics sting with the kind of poisonous venom that would give censorship boards nightmares for weeks on end.
Discussing "Iowa" and the tracks off the album with Louder, Corey Taylor dived into the process behind creating "People = S***" and where the idea came from. "[It was] one of the few songs we wrote on the road on the first album," he explained. "It was something that we used almost like a mantra. So when we wrote it, it was almost like a built-in anthem." It certainly is a useful song to sing along to when traffic is at a standstill or when someone breaks a friendship bracelet intentionally.