Dr. Seuss Lost His Editorship From Darthmouth For A Very Adult Offense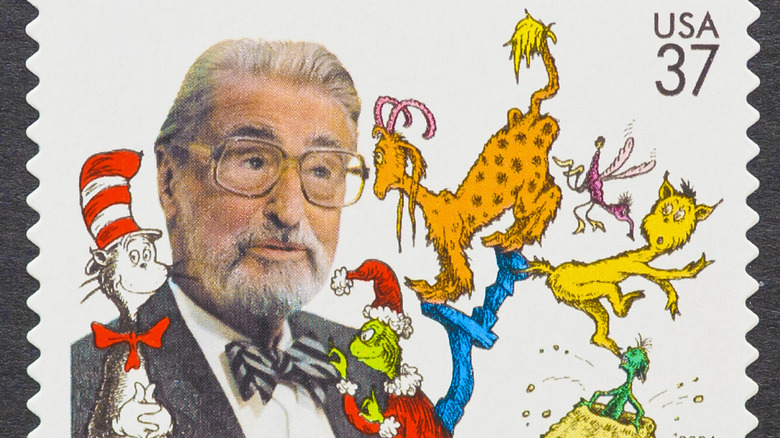 catwalker/Shutterstock
The name of Dr. Seuss is a familiar one around the world. The author of iconic volumes such as "The Lorax" and "Horton Hears A Who," the author's work is characterized by brightly colored and peculiar illustrations, as well as some equally peculiar wordplay.
He created some beloved and bizarre characters like the Grinch, and is regarded by many as a children's author. There are, however, some deep and haunting themes within his books, themes that are as critical to life as we know it today as they've ever been. If not more so. As CBS News reports, "The Lorax" is a harrowing tale of what happens when profit is placed before protecting the natural world, and when the warnings of those who try to advocate for such protections aren't heeded. That's just a little too on the nose for humanity today.
Seuss' books, like Disney's movies, speak to both adults and children alike. Seuss himself once indulged in a distinctly adult pursuit, and it saw him lose a rather prestigious position. Here's what happened.
Prohibition means it's prohibited, Dr. Seuss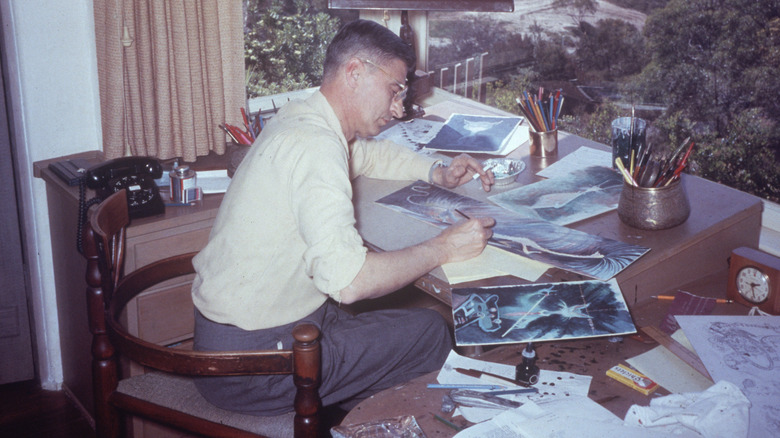 Gene Lester/Getty Images
As Britannica reports, the man who would become the mythical Dr. Seuss was born Theodor Seuss Geisel in March of 1904. He would spend much of his life in the unique literary fantasy world that was his own imagination, but he would also live through almost the entire 20th century (he died in California in September 1991). As a result, of course, he experienced some of the most harrowing events in human history, including both World Wars.
Another tumultuous event that happened in the United States during Geisel's long life was Prohibition. Per History, Prohibition began in January of 1920, and the wily purveyors of alcohol soon sought profitable ways to continue to distribute it. Drinkers continued to indulge, though they risked both their freedom and their health in doing so.
"Bugsy Malone" may paint a colorful and light-hearted picture of this period in the U.S., but it was a dangerous time. History goes on to state that the likes of Al Capone and his gang battled it out to become as rich as possible through speakeasies and other illicit booze-supplying activities (Scarface himself reportedly made $60 million every year from such schemes). Prohibition continued until December 1933, and it seems that Geisel was found guilty of illicit drinking (at least, possessing illicit drink) and lost his position as editor of a Dartmouth College magazine as a result.
The legend that was Dr. Seuss is born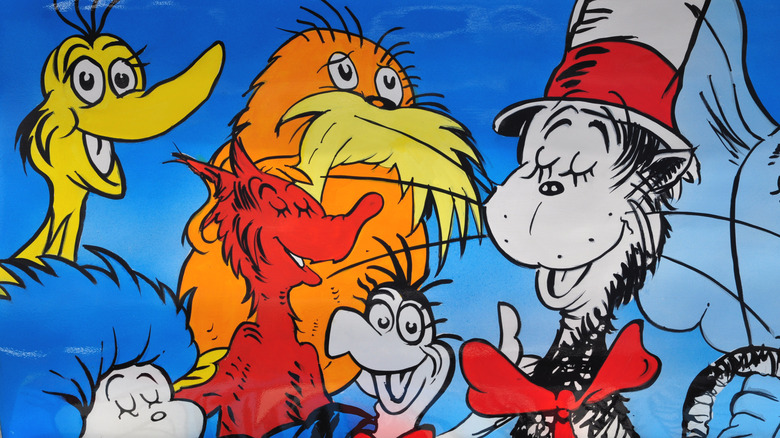 Ron Ellis/Shutterstock
"The Beginnings of Dr. Seuss: An Informal Reminiscence," from Geisel himself, explains that he wrote for his high school newspaper, "Central Recorder." For the Central High School, Springfield, publication, "he did articles, verse, humorous squibs, and occasional cartoons, as well as serving as one of the paper's editors." He then sought a similar role at Dartmouth College.
Of the College's magazine, Geisel reported, "I think I had something in Jack-o-Lantern within a couple of months after I got to college." per "The Beginnings of Dr. Seuss: An Informal Reminiscence," he became its editor in chief while still a junior. "pretty soon I was essentially writing the whole thing myself," he added.
What happened to Geisel's meteoric rise at the magazine? Gin happened. "The night before Easter of my senior year there were 10 of us gathered in my room at the Randall Club ... We had a pint of gin for ten people," he remembered, per "The Beginnings of Dr. Seuss: An Informal Reminiscence." These meager portions were enough, however, to incur the wrath of "Pa Randall, who hated merriment," and the police chief himself arrived on the scene soon after.
One meeting with the College dean later, and Geisel had lost his position as editor. He did, however, continue to contribute, both anonymously and through pseudonyms that reportedly included "Seuss." He explained in the book that this was the first time he used the name: "the 'Dr.' was added later on."