Dwight Eisenhower's Final Words To His Wife Before His Death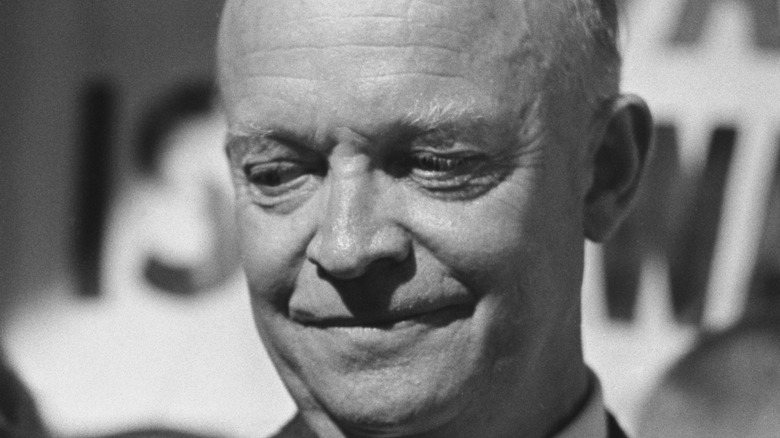 Michael Ochs Archives/Getty Images
Even before taking office as the 34th President of the United States, Dwight Eisenhower's name was etched in world history thanks to his role in World War II. Eisenhower was responsible for leading U.S. and Allied forces in Europe during the war, and his high-profile heroics made him a favorite to try to win back the White House for the Republicans after the Democrats held the office for two decades. Sure enough, that assertion was correct and Eisenhower delivered a sound trouncing of Adlai Stevenson in 1952 (via 270 to Win).
According to the White House, Eisenhower served two terms, from 1953 to 1961, and was in office to help the nation reach an armistice agreement for the Korean War. The respect for Eisenhower transcended political allegiances. When his successor, John F. Kennedy, was faced with some of the biggest crises of his presidency, like the failed Bay of Pigs invasion and the Cuban Missile Crisis, Kennedy turned to Eisenhower for insight and support.
Eisenhower's career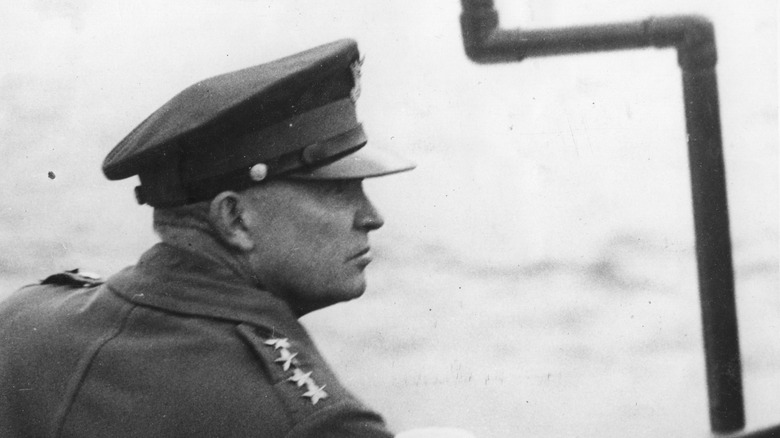 Keystone/Getty Images
Dwight Eisenhower was born in Texas in 1890 but grew up in Abilene, Kansas. Eisenhower embarked on a military career and attended West Point after high school. By World War II, Eisenhower was well-respected in military circles and was entrusted with leading Allied Forces in North Africa in 1942. According to the White House, in 1944, Eisenhower was named the Supreme Commander of the D-Day invasion of Normandy, France, one of the most pivotal moments of the entire war.
After World War II, Eisenhower spent some time as the President of Columbia University but left that post in 1951 to lead the newly formed NATO forces. That didn't last too long though, because, in 1952, Eisenhower threw his hat into the ring ahead of the 1952 U.S. presidential election. Eisenhower won the election in a landslide alongside his running mate Richard Nixon, per Britannica, partially riding the momentum of one of the most famous slogans in United States political history: "I like Ike."
A few health scares ahead of the 1956 election weren't enough to keep Eisenhower from earning a second term. He once again beat Adlai Stevenson in the most lopsided race the country had seen in 20 years. However, his popularity waned a little during his second term amid several crises, and he was blamed for the United States' failure to beat the Soviets into space after the latter launched Sputnik I, the first man-made satellite, into orbit in 1957.
Last words to Mamie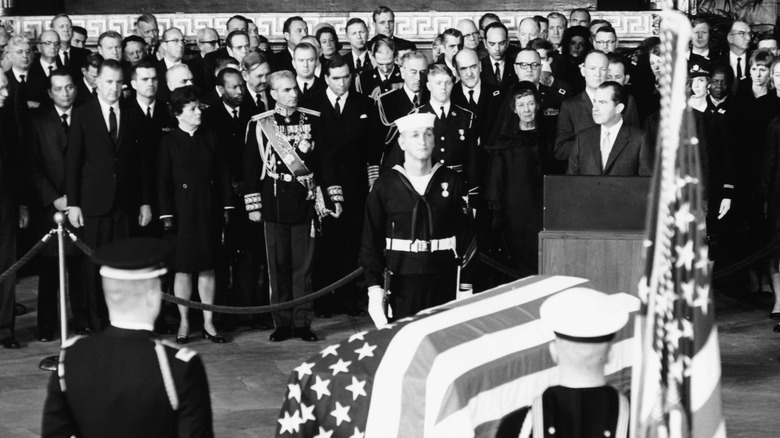 Keystone/Getty Images
According to Britannica, after leaving the White House, Eisenhower moved to his farm near Gettysburg, Pennsylvania. There he worked on his memoirs. He was fairly prolific, releasing three books from 1963 to 1967. He and his wife, Mamie, sent their winters away from Gettysburg, opting for the milder climate of Indian Wells, California. Eisenhower suffered a heart attack in 1965, according to Miller Center, and his health worsened further in 1968. The last nine months of his life before his death on March 28, 1969, were spent in Walter Reed Army Hospital.
At the time of his death, the United States President was Richard Nixon, Eisenhower's former vice president. Nixon was chosen to give the eulogy for his late political colleague. He shared Eisenhower's final words to Mamie, with which the late president expressed his love for her, his family, and his country (per The American Presidency Project).
"I know Mrs. Eisenhower would permit me to share with you the last words he spoke to her on the day he died," Nixon said during the eulogy. "He said: 'I have always loved my wife. I have always loved my children. I have always loved my grandchildren. And I have always loved my country.' That was Dwight Eisenhower."