An Unusual Side Effect Of The Wildfires In France Caused Pearl Jam To Cancel A Show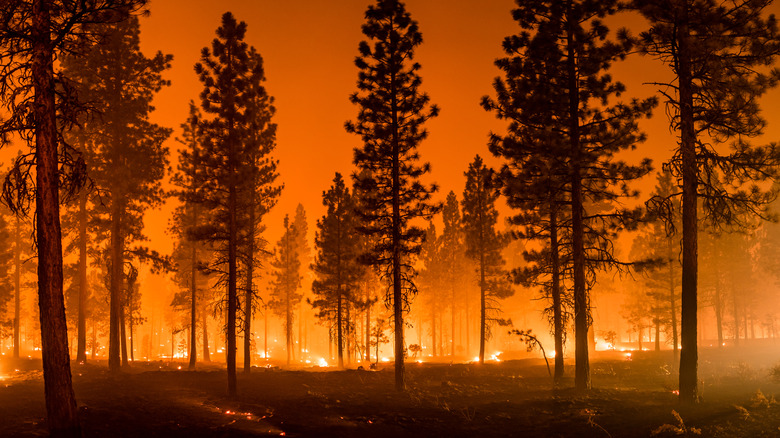 My Photo Buddy/Shutterstock
In July 2022, places all across the globe saw temperatures creeping into the triple-digits (or if you prefer to measure temperature in Celsius, the high 30s). Europe was seeing especially high temperatures. As if that wasn't enough of a problem already, wildfires in France had torched more than 25 times the amount of land than they had the previous year. It's no cakewalk for anyone having to deal with these issues, but the combination led to a surprising consequence for one particular group: Pearl Jam fans.
"To all those who were anticipating a great Pearl Jam show tonight in Vienna, we were too. However, due to the extreme circumstances at the last outdoor site outside of Paris (heat, dust, and smoke from the fires) our singer Ed Vedder's throat was left damaged," the band's statement said (via CNN). "He has seen doctors and had treatment but as of yet, his vocal cords have not recovered."
Europe's wildfires
Bloomberg/Getty Images
According to Pearl Jam's website, the band performed in Paris, France, on July 17, 2022, as part of Lollapalooza Paris. The festival drew 130,000 fans to Hippodrome Paris Longchamp, a horse racing facility. However, the festival took place as parts of southern Europe are dealing with some of the most ferocious wildfires the area has seen in quite some time, per NPR. The fires in Spain, France, and parts of Italy are being fueled by drought-ridden forests that have been left bone-dry thanks to an unprecedented heat wave that is affecting much of the continent, but the Iberian Peninsula — comprised of Portugal and Spain, according to Britannica — seems to be getting hit especially hard by the rising temperatures.
According to Reuters, firefighters in southwestern France were fighting to contain the blazes, but they continued moving farther north and spread to over 75 square miles worth of land in the Gironde region, best known for its wine production. The fires were the biggest the area has seen in 30 years, and French officials said that a man is in custody on suspicion of arson.
Eddie Vedder has been vocal about the dangers of climate change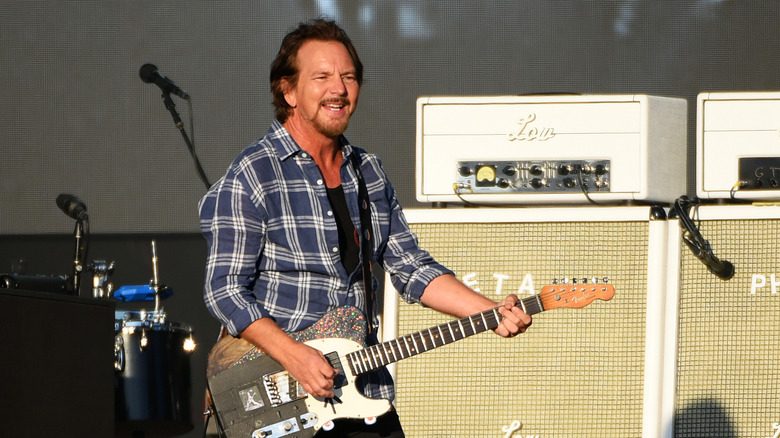 Matthew Baker/Getty Images
Pearl Jam's statement announcing the cancellation of their concert in Vienna — which was posted to the band's Instagram account — mentioned that Eddie Vedder had already seen a doctor in Prague to see if his health issues could be resolved. "We were hopeful that Ed would make a recovery in time to perform tomorrow. He has seen a doctor in Prague and is continuing the treatments for his vocal cords, but unfortunately, there is still no voice available. The effects on his throat from the last outdoor show are still just too brutal," the band said.
The heat wave and the wildfires hitting Europe have been blamed on the effects of climate change, which Vedder has been vocal about combating. On April 22, 2022, Vedder celebrated Earth Day by speaking via video to astronauts onboard the International Space Station (via Rolling Stone). During the chat, Vedder and the astronauts touched on how environmental decisions made in one part of the world affect the entire globe.