Here's Why People Think The Chelsea Hotel Is Haunted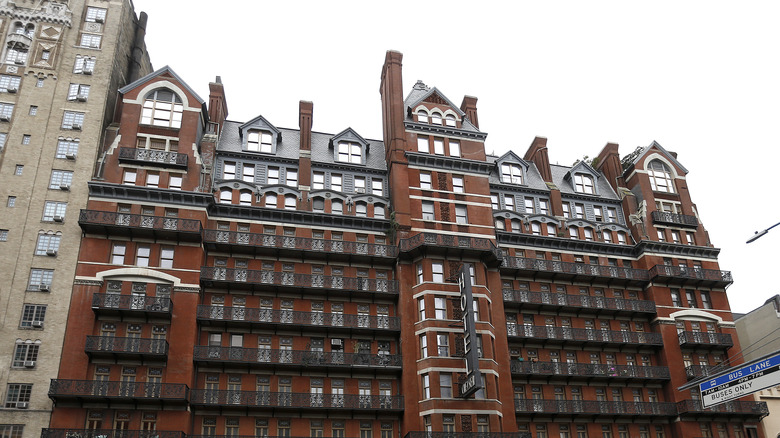 John Lamparski/Getty Images
The Chelsea Hotel is the kind of place most people would probably expect to be haunted. It doesn't matter. That isn't to say that it is or isn't, but a large, gothic-styled hotel that has seen more than its fair share of history — sometimes very tragic history — and looms over the streets of New York seems like a pretty good bet. It's no Civil War battlefield or abandoned amusement park, but it's still impressive. And by some accounts, creepy.
According to Only In Your State, the Chelsea Hotel is considered by some to be one of the most haunted places in all of New York City. Since it officially opened in 1884 (per Vanity Fair), the hotel has played host to all kinds of notable artists, including writers like Mark Twain and Arthur Miller, artists like Jackson Pollock and Andy Warhol, and musicians like Janis Joplin and Bob Dylan, among many, many others. According to eyewitness accounts, spirits of deceased residents still roam the hotel's halls to this day.
Celebrity deaths at the Chelsea Hotel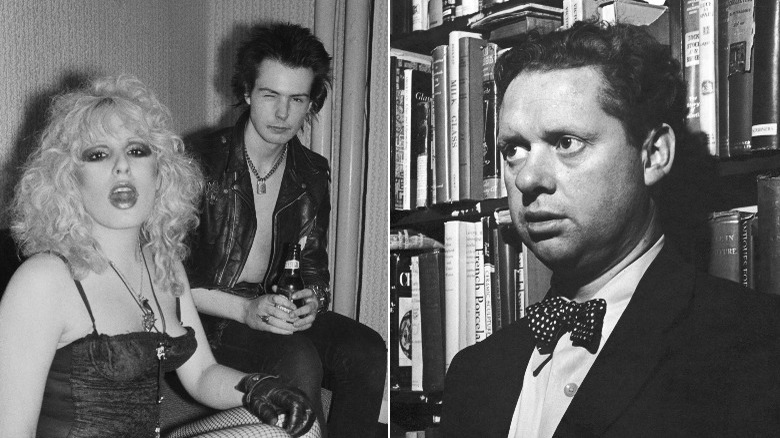 Mike Lawn & Gabriel Hackett/Getty
While the Chelsea Hotel is most notable for its famous residents and the art that they produced over the years, there is a darker side to the hotel's history. Perhaps the most traic and disturbing event in the hotel's history was the 1978 murder of Nancy Spungen. Spungen — the girlfriend of Sex Pistols bassist Sid Vicious — was found dead in the bathroom of Room 100, per the New York Post. Spungen had been stabbed in the stomach, and police quickly arrested Vicious and charged him with the murder (via Rolling Stone). Vicious died of a heroin overdose before going to trial, and there remains speculation over whether or not he was the culprit. According to Fox 5, Spungen's spirit is said to still haunt the Chelsea Hotel.
Welsh poet Dylan Thomas died at the Chelsea Hotel in 1953 at just 38 years old. In a 2004 review of the book "Dylan Remembered: 1935-1953," The Guardian reports that Thomas suffered from alcohol addiction and is said to have remarked, "18 straight whiskies; I think it's a record" during his last binge that contributed to his death. However, new evidence suggests that it wasn't alcohol that killed Thomas, but instead, it was a bout with pneumonia and mistakes made by doctors. His ghost is said to roam around one of his frequent hangout spots at the Chelsea Hotel: the bar.
If you or anyone you know is struggling with addiction issues, help is available. Visit the Substance Abuse and Mental Health Services Administration website or contact SAMHSA's National Helpline at 1-800-662-HELP (4357).
A ghost called Mary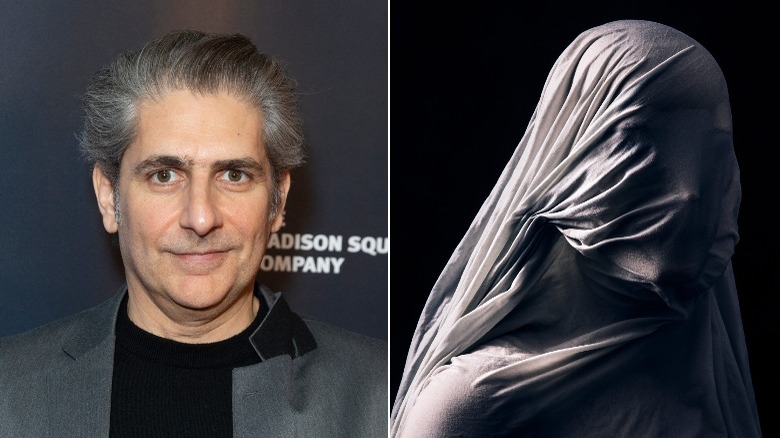 lev radin & Jakub Krechowicz/Shutterstock
Another ghost — this one of a woman named Mary — ties the history of the Chelsea Hotel to one of the worst maritime disasters in history, the sinking of the Titanic. According to Book Riot, Mary was a woman whose husband died aboard the ill-fated ship. Some versions of the story say that she was a passenger and survived, while other accounts say that she had traveled to New York City from Buffalo to welcome her husband home from a trip to England.
It's said that Mary, distraught at the prospect of having to live without her husband, hanged herself in a room on the fifth floor of the Chelsea Hotel. Mary's ghost has been seen numerous times over the years, but perhaps most famously by actor Michael Imperioli.
According to the New York Post, Imperoli — perhaps best known for his role as Christopher Moltisanti on "The Sopranos" — lived in the building for about two months in the 1990s. He said in a 2010 episode of the TV series "Celebrity Ghost Stories" that late one night he came across a woman hunched over and seemingly crying. He asked if she was okay, but as soon as he did, things got very strange. "Right ­after I said that, from behind me I heard a loud pop. I turned around immediately — the light bulb in the fixture had popped, so that part of the hallway became very dark. And when I turned back around, she was completely gone." (He also tells a version of the story on the "Talking Sopranos" podcast, posted on YouTube.)