Weird Al's 'Trapped In The Drive-Thru' Samples A Band That Once Refused To Work With Him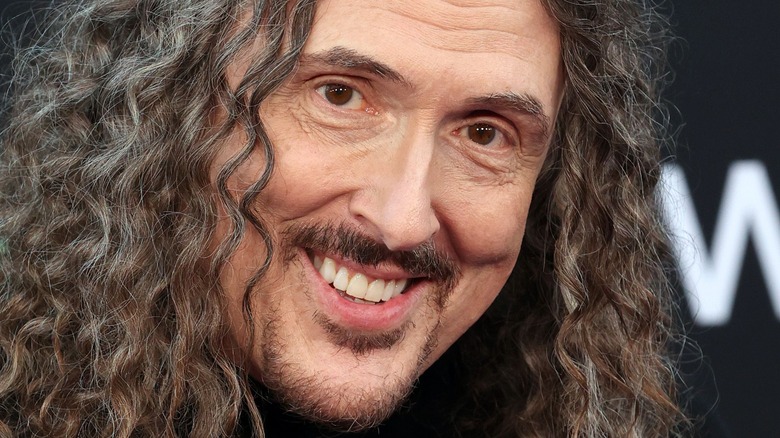 Kevin Winter/Getty Images
With dozens of parodies, more than 12 albums, and numerous original songs under his belt, "Weird Al" Yankovic has carved a niche for himself in the entertainment industry. The award-winning performer is known for his zany hits, including "My Bologna," "Eat It," and "White & Nerdy."
Despite the fact that some artists might consider it a compliment to be parodied by the "King of Parody," others aren't too keen on the idea. Artists who have taken umbrage with Yankovic include Coolio, Prince, and Paul McCartney (via Mental Floss). According to his website, Yankovic respects the wishes of other artists if they don't want him to riff off one of their songs. However, that doesn't mean he can't sample a song in one of his parodies, and that's just what happened with his 2006 track "Trapped in the Drive-Thru." In fact, with this song, Yankovic managed to sample a famous band that didn't necessarily want to work with him.
'Trapped in the Drive-Thru' features Led Zeppelin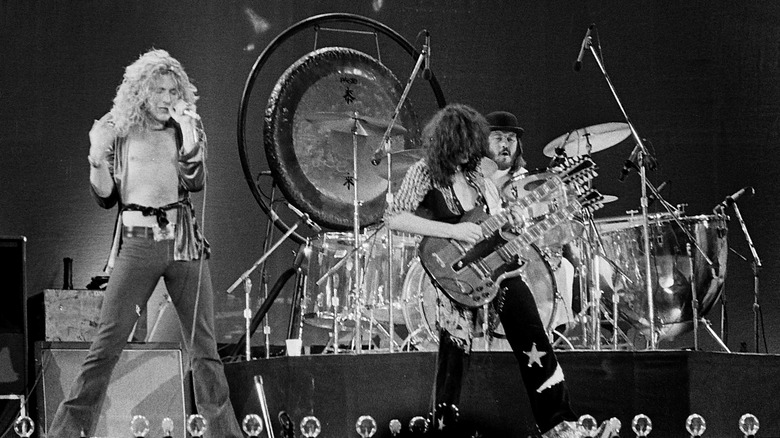 Bruce Alan Bennett/Shutterstock
The band was none other than Led Zeppelin, and the song features a sample of the unmistakable guitar riff from the band's hit, "Black Dog," which was featured on their fourth album, released in 1971. It seems the only way Yankovic could work any of Led Zeppelin's music into any of his work was to sample them, which in this case featured a re-recording of the guitar riff. "Trapped in the Drive-Thru," released in 2007, has nothing to do with Led Zeppelin. The almost 11-minute-long song parodies R. Kelly's "Trapped in the Closet," and Yankovic's version centers around a couple getting burgers at a drive-thru.
Perhaps one of the most memorable portions of the video comes almost seven minutes in, when the main character turns on the car radio only to hear the unmistakable guitar riff from Led Zeppelin's hit song "Black Dog." The couple is visibly distressed by the music, prompting the main character to turn off the radio.
A sample was allowed, but not a parody or a polka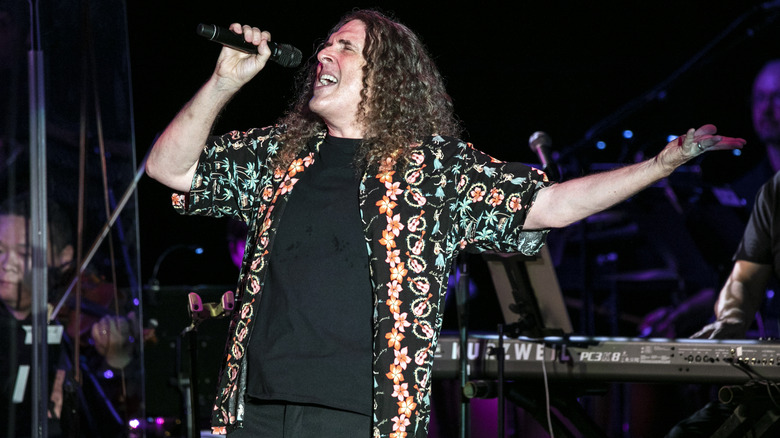 Jeff Hahne/Getty Images
"Trapped in the Drive-Thru" might not have received as much fanfare as "Black Dog," but that doesn't mean that Yankovic doesn't consider it an accomplishment. "[I]t's actually quite a coup that I was able to get Led Zeppelin to let me and my band do that little bit of 'Black Dog' in 'Trapped In The Drive Through.' They're famous for not letting people do anything with their music," he explained in a 2006 interview with the Toronto Sun.
But using a portion of a recording is much different from a parody. While Page might have granted Yankovic permission to use the "Black Dog" riff in a video, he apparently never wanted to see or hear a Yankovic-inspired version of one of the band's songs. On his website, Yankovic explains to a fan why he never parodied Led Zeppelin songs: "Oddly enough, a few years ago Jimmy Page called my office to get some copies of my videos, so I knew he was a fan. Unfortunately, when I asked him shortly after that how he'd feel about my doing a Led Zeppelin polka medley, he was less than thrilled with the prospect, so I didn't pursue it."