Vince McMahon's Office Decor Is Straight Out Of The Natural History Museum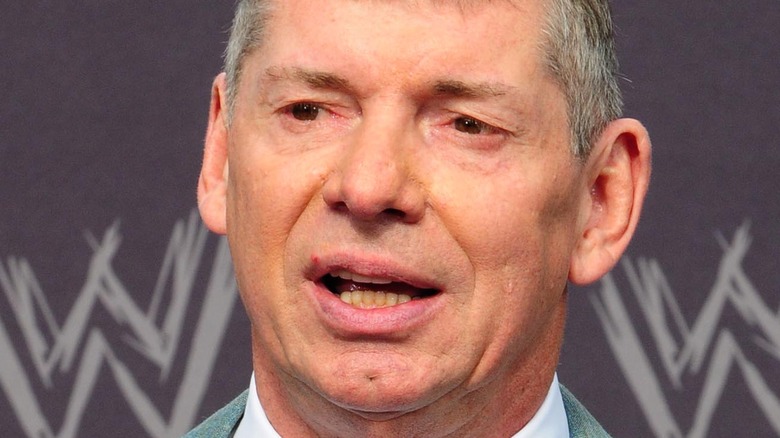 Vallery Jean/Getty Images
After temporarily stepping back from his duties, long-time Chairman and CEO of World Wrestling Entertainment (WWE) Vince McMahon announced his retirement. This announcement, made via Twitter, comes as McMahon is being investigated for allegations of sexual misconduct, according to Bleacher Report. McMahon's July 22, 2022, tweet read, "At 77, time for me to retire. Thank you, WWE Universe. Then. Now. Forever. Together." According to The Daily Beast, McMahon's daughter Stephanie will chair the wrestling company and serve as co-CEO along with current company president Nick Khan. McMahon himself bought the company from his own father in 1982 after which time he greatly boosted its profile, as Bleacher Report goes on to note.
Fans of WWE are well aware there's a great deal of theatricality involved in the sport of professional wrestling. That penchant for spectacle even extends to how McMahon decorated his office while at the helm of his company. Few see inside WWE headquarters in Stamford, Connecticut. Those that do, though, say the high-stakes drama the company is known to produce is not just confined to the ring (via The Sportster).
WWE headquarters is called Titan Towers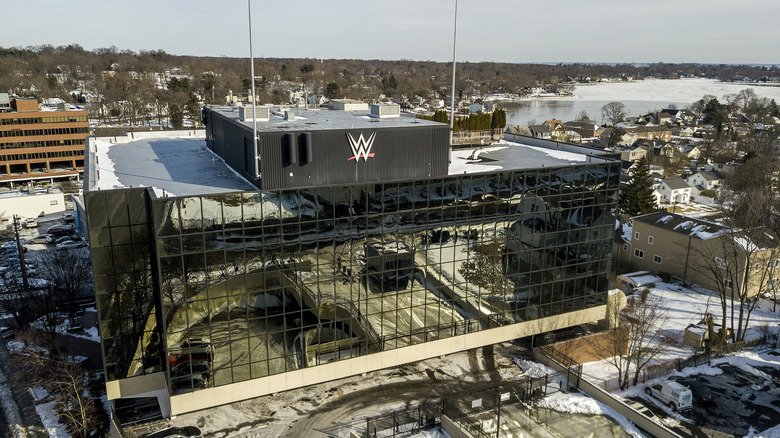 Bloomberg/Getty Images
WWE is headquartered in Titan Towers, an elaborate facility with a massive video vault, a live performance center, and an enormous warehouse for props, among other amenities that few wrestling fans will ever get to experience, according to The Sportster. There's even a gym on the premises with a miniature version of the WWE Hall of Fame in the lobby, complete with statues of well-known wrestlers from history such as Andre the Giant, among others.
Further examples of the lavish surroundings for those who work at WWE headquarters include a unique bit of decoration in Vince McMahon's office, as the official WWE website explains. One part of McMahon's office décor includes a gift from the pro-wrestling executive's son-in-law, Paul "Triple H" Levesque. Levesque starred in the 2011 film, "The Chaperone," where some scenes were shot in a museum. Levesque decided to buy something from those scenes for himself, which he then gifted to McMahon, as the WWE website goes on to note.
There's a dinosaur fossil in McMahon's office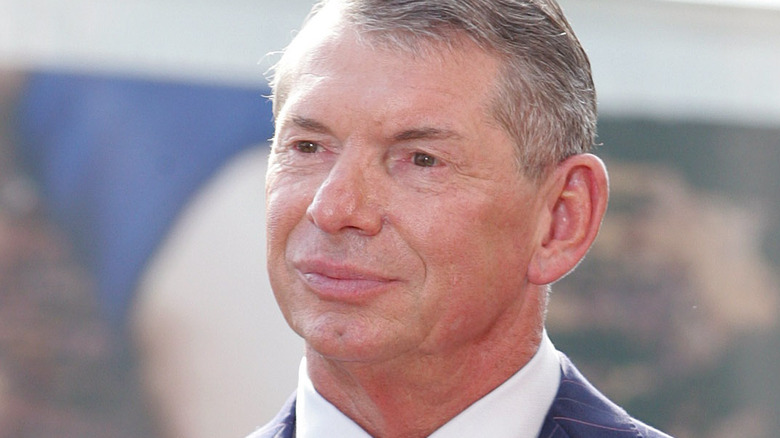 Mark A. Wallenfang/Getty Images
The piece from those museum scenes that Paul Levesque bought for his father-in-law is an actual Tyrannosaurus rex skull fossil, which Vince McMahon named Stan T. Rex and hung in his office (via The Sportster). Like his retirement, McMahon announced that new acquisition on Twitter. "It's on my wall and symbolic of my voracious appetite for life," his tweet read. 
McMahon followed up his retirement tweet with a statement. In it, he thanked WWE fans and said (via CNBC), "​​I would like to thank my family for mightily contributing to our success, and I would also like to thank all of our past and present superstars and employees for their dedication and passion for our brand."
The sexual misconduct allegation that McMahon is under investigation for by the WWE board relates to hush money he reportedly paid a paralegal with whom he is said to have had an affair, among other accusations (via The Wall Street Journal). As CNBC goes on to report, McMahon is believed to have paid as much as $12 million to four women to cover up sexual impropriety and marital infidelity over the past 16 years.