What Thomas Lane's Sentencing Means For Other Officers In The George Floyd Case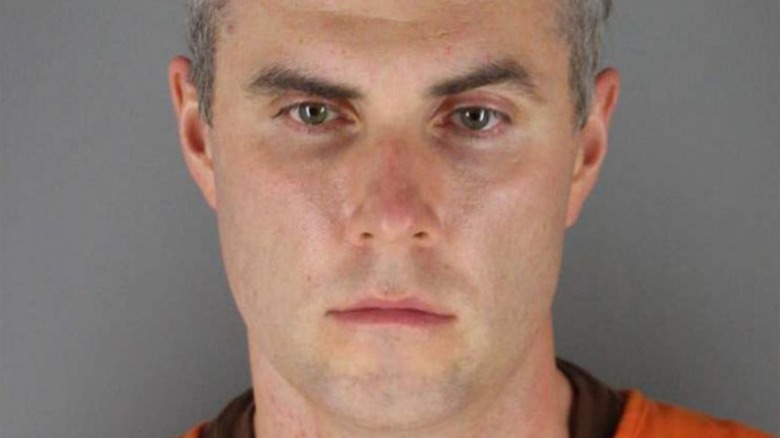 Handout/Getty Images
Ex-Minneapolis police officer Thomas Lane was sentenced to 30 months in prison and supervised release for two years by a federal jury in St. Paul, Minnesota for charges related to the death of George Floyd, according to the Department of Justice. Those charges stemmed from the 2020 incident during which Lane's fellow Minneapolis officer Derek Chauvin knelt on Floyd's neck for more than nine minutes, during which time Floyd died, as the Associated Press (posted by ABC News) explains. Lane was convicted of depriving Floyd of his civil rights for failing to stop Chauvin's actions, despite the fact Lane was aware of Floyd's distress.
Two other former Minneapolis police officers, Tou Thao and J. Alexander Kueng, also witnessed Floyd die. Like Lane, Thao and Kueng reportedly did nothing to intervene. Both Thao and Kueng were also convicted on charges of depriving Floyd of his civil rights through the use of excessive force on Chauvin's part. The length of Lane's sentence offers clear indication of what may lay in store for Thao and Kueng once their sentences are announced. Chauvin is currently serving 252 months in prison for convictions related to Floyd's killing (per another Department of Justice statement).
Lane's sentence should be six-and-a-half years, according to the prosecution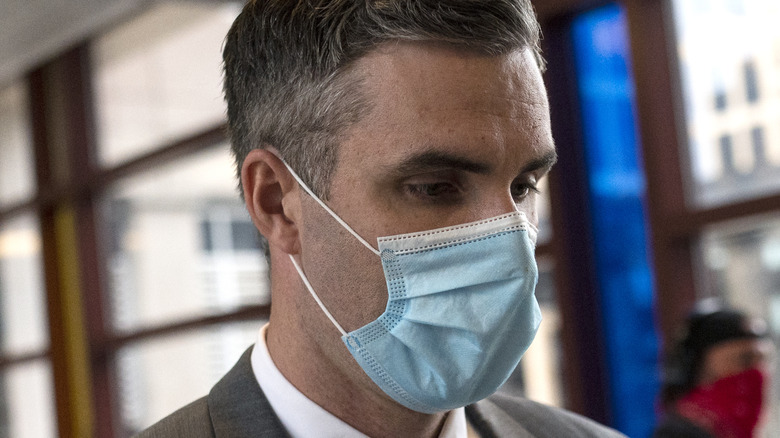 Stephen Maturen/Getty Images
Based on reporting from People, prosecutors in the trial of ex-Minneapolis police officer Thomas Lane asked for a sentence of six-and-a-half years in prison. Lane's defense thought a sentence of 28 months would be appropriate. As evidence in the case revealed, Lane, who pleaded guilty to depriving Floyd of his civil rights, did inquire twice with Chauvin if Floyd should be turned on his side due to his apparent breathing difficulty and his numerous cries for help (via NBC News). Chauvin declined.
For this reason, Lane's sentencing should be more lenient, in the opinion of his defense attorneys. When Lane's sentence was announced, U.S. District Judge Paul Magnuson said (via USA Today), "Mr. Lane this is a very serious offense, in which a life was lost ... The fact that you did not get up and remove Mr. Chauvin when Mr. Floyd became unconscious is a violation of the law." Magnuson also presented more than 140 letters written in support of Lane.
Sentencing awaits for two other former officers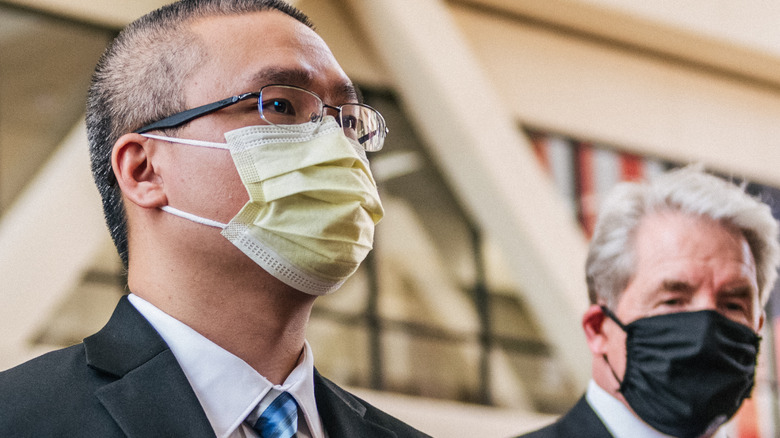 Brandon Bell/Getty Images
Once Lane's sentence was read, U.S. Attorney for the District of Minnesota Andrew M. Luger said (via the Department of Justice) that though Lane knew Floyd was in danger, Lane "chose passivity rather than action. As a sworn law enforcement officer, he failed to uphold his duty to step in and save a man's life." Lane now faces further sentencing in Minnesota state court on charges of aiding and abetting manslaughter, to which he pleaded guilty, as USA Today goes on to report. Lane also pleaded guilty to Floyd's civil rights violation.
As of this report, the sentencing hearing for former Minneapolis officers Thao (above, left) and Kueng, who witnessed Floyd die, was unscheduled. Complicating matters in Kueng's sentencing, the ex-officer was captured on video restraining onlookers attempting to come to George Floyd's aid. Thao is Hmong-American and Kueng is Black, reports the Associated Press (via ABC News). Attorneys for the two former officers — both free on bond until their federal sentencing — have objected to sentencing calculations "under the complicated federal guidelines." It's further reported that prosecutors are requesting "unspecified" sentences for the former officers — "lower than Chauvin's but 'substantially higher' than Lane's."