Texas' Firearm-Related Deaths Were Already Getting Worse Even Before Uvalde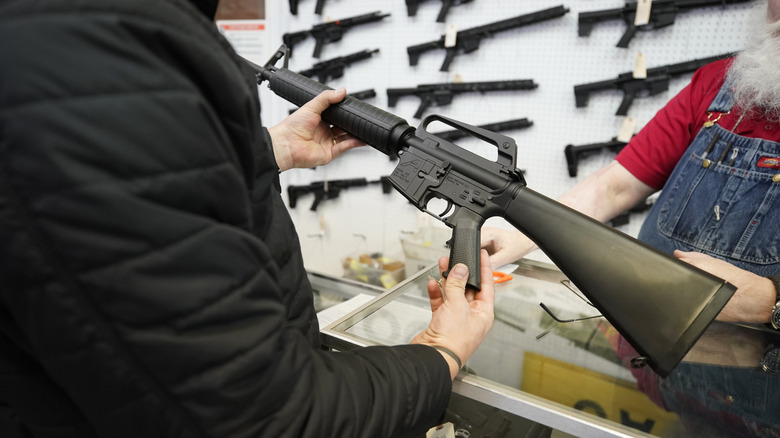 Bloomberg/Getty Images
In the deadliest U.S. school shooting in a decade, 19 children and two adults were killed at Robb Elementary in Uvalde, Texas, on May 24, 2022, as The New York Times reports. Authorities killed the 18-year-old gunman at the scene. This tragic incident reignited debate over the complex issue of gun rights in the U.S. Some say the right to bear arms is unassailable, outlined by the Second Amendment of the U.S. Constitution, and that gun control legislation would do little to curb such tragedies. Others counter that high-powered AR-15 rifles such as what the Uvalde gunman used in his Texas attack should be better regulated among other safety measures, per the BBC. 
Mass shootings such as Uvalde highlight the issue of gun control in the United States, where nearly half of all privately-owned guns worldwide reside, per the Council on Foreign Relations. A mass shooting is any shooting where four or more people are killed in a single occurrence a mass shooting, shooter not included, per the Gun Violence Archive. Data shows firearms-related death is an issue all across the U.S., though, and it's getting worse. Moreover, most of those gun deaths don't make the headlines. As of 2020 more than half were suicide, based on Pew Research data. Gun safety regulations vary by state, and Texas ranks among the laxest, via World Population Review. Was the mass shooting at Robb Elementary an anomaly, or are there any takeaways from firearms-related deaths in Texas before Uvalde happened? Data from the Center for Disease Control (CDC) helps tell the story. 
Firearm related
As can be seen in the graph above, in the state of Texas firearm-related death was increasing per capita even prior to the Uvalde attack. And since May 2022 it's gotten worse with an estimated 15.5 deaths per 100,000 residents reported per month. What's also notable is that firearm killings are up all across the U.S. in 2022 with suicide plateaued and murder increasing, based on CDC data. Social and economic pressures and the pandemic are thought to contribute to the trend, as the CDC also notes. For this reason, Texas gun deaths per capita may be indicative of a much larger problem in every state. 
Also notable, as of 2020, Texas ranked below average for gun deaths per capita. Alabama, Wyoming, Alaska, Missouri, and Arkansas top the list, per the CDC. Also reported by the CDC in 2020, Eastern states including Massachusetts, Rhode Island, New York, and New Jersey ranked among the safest in the U.S. in terms of gun violence per capita. Those states also have some of the lowest gun ownership rates in the U.S., according to World Population Review. 
Since 2020, Texas has made it even easier to carry a concealed weapon, though, via Texas House Bill 1927, per the Texas Law Library. Though direct causality can't be determined between the Lone Star state's new gun-friendly legislation and an uptick in gun deaths, the graph above shows that deaths from firearms have steadily increased since 2019.