MLB Legend Gaylord Perry's Strange Connection To The Moon Landing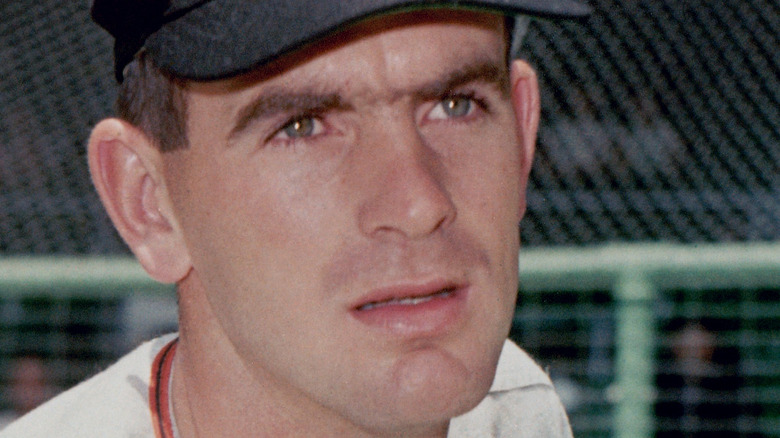 Photo File/Getty Images
Gaylord Perry is remembered as one of the best Major League pitchers of his era. In 22 big league seasons, Perry racked up 314 wins and a career ERA of just 3.11, per Baseball Reference. Perry also struck out a jaw-dropping 3,524 batters, many of whom fell victim to his infamous spitball — sometimes called a greaseball — and rules intended to outlaw it was primarily introduced because of Perry (via Society for American Baseball Research – SABR). For this reason, any game he appeared in usually wound up getting a considerable amount of media coverage. However, he, and even his family, knew how to defend his controversial use of the pitch. In 1971, a reporter asked his 5-year-old daughter if her father threw a greaseball, to which she replied that it wasn't a greaseball, it was a "hard slider."
Like many pitchers throughout baseball history, Perry wasn't exactly a threat in the batters' box. Sure, there have been exceptions to the rule — Babe Ruth and modern-day two-way player Shohei Ohtani (also via Baseball Research) come to mind — but for the most part, pitchers are typically not great hitters. Perry's lack of success at the plate led his manager to make an offhand remark that led to one of the strangest coincidences in sports history, per MLB.
Alvin Dark sets the stage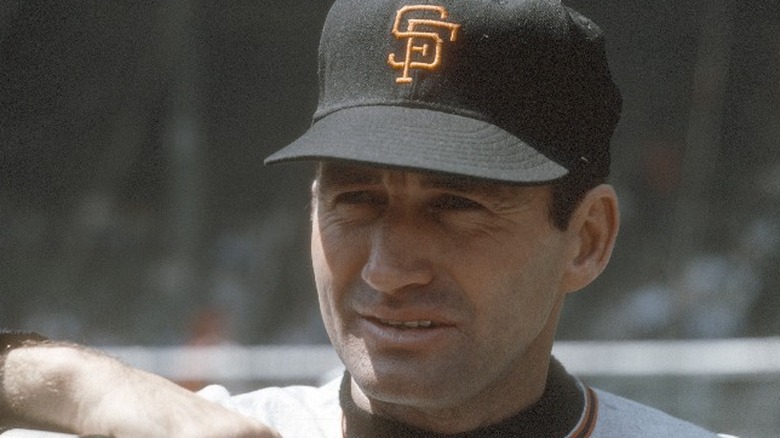 Focus On Sport/Getty Images
Perry spent the first two seasons of his Major League career as a member of the San Francisco Giants. Perry's career started with a handful of starts in his first two seasons in 1962 and 1963, before upping his number of starts to 23 in 1964. That season, Perry went 12-11 for a Giants team that fell just short of making the postseason (via Baseball Reference). Perry wasn't just grabbing attention with his pitching appearances, however. At least one reporter picked up on what looked like a burgeoning hitting ability.
According to additional stats at Baseball Reference, Perry had a .085 batting average that year. Then one day, San Francisco Examiner reporter Harry Jupiter watched as Perry crushed home runs in batting practice. Seeing Perry crushing longballs got Jupiter thinking that the up-and-coming right-handed pitcher could be a threat at the plate and brought it up to Giants manager Alvin Dark (above), per MLB.
Dark didn't see it that way. "Mark my words," he told Jupiter, "a man will land on the moon before Gaylord Perry hits a home run." The fact that he said this to a reporter with a space-related last name wasn't the only cosmic coincidence.
A strange coincidence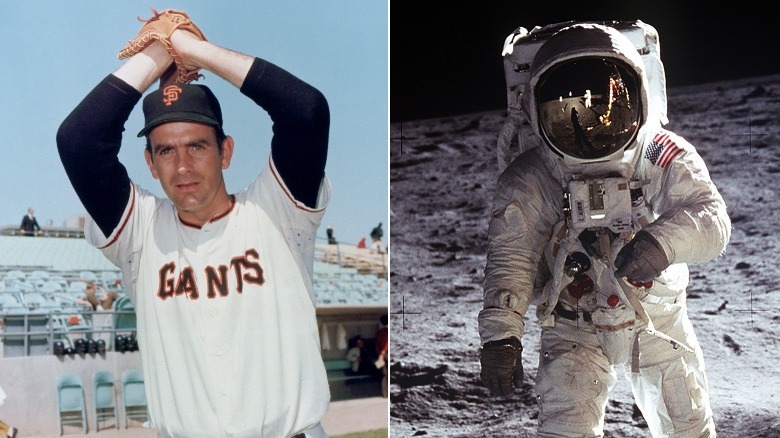 Photo File & Heritage Images/Getty
Saying that Perry wouldn't hit a home run before a man set foot on the moon was an interesting choice of words. For years, it was the same as saying "when pigs fly," but by 1964, the U.S. space program was well underway and President John F. Kennedy had announced his hopes of setting the United States' feet on the moon before the end of the decade. This is to say that while Dark used this as a colorful way of saying that Perry hitting a home run would never happen, the truth is, that humans landing on the moon was just five years away. Specifically, it happened at 1:17 p.m. Pacific time on July 20, 1969.
Meanwhile, that same day, Dark was no longer managing the Giants. The team was hosting the Los Angeles Dodgers. Perry started that day, and about 30 minutes after the announcer told the crowd that Neil Armstrong had walked on the lunar surface, Perry stepped up to the plate for his first at-bat of the day. He faced Dodgers pitcher Claude Osteen and got a hold of a pitch which he belted out of the park, per MLB.
This became a classic anecdote among baseball fans, but as SABR points out, Perry hit five more home runs in his career. Additionally, his batting statistics, while not stellar, weren't any different from other pitchers from his era.