Tragic Details Found In José Fernández's Autopsy Report
Marc Serota/Getty Images
NBC Miami writes that in September 2016, José Fernández, a pitcher for the Miami Marlins, was at the height of his career and life. Although he was only 24 years old, he had already won a Rookie of the Year award and was a two-time All-Star player (via NBC News). Additionally, Bleacher Report states that in April 2014, Fernández was voted as the National League Pitcher of the Month. Only a few years earlier, as CBS Sports explains, he had fled Cuba with his mother. Born in Santa Clara, Cuba, Fernández had attempted and failed to leave the country three times.
Per Sports Illustrated, these escapes landed him in prison. In 2008, on his fourth attempt, the 15-year-old was on a boat in the Gulf of Mexico when someone fell overboard. Fernández jumped into the water to rescue them. Unbeknownst to him, he had saved his own mother, Maritza. Of the harrowing experience, he later said, "If that does not leave a mark on you for the rest of your life, I don't know what will." After they successfully made it to the United States, Fernández settled with his family in Tampa, Florida (per CBS Sports).
In 2011, he was drafted by the Miami Marlins (per another posting at Bleacher Report). Soon after, he was playing in the big leagues. However, the life of Fernández, as well as those of his two friends, Emilio Macias and Eduardo Rivero, would be cut short on September 25, 2016 (via ESPN). According to Yahoo! Sports, the three were on Fernández's boat, named "Kaught Looking," when it crashed into a jetty near Miami Beach.
The fatal boating accident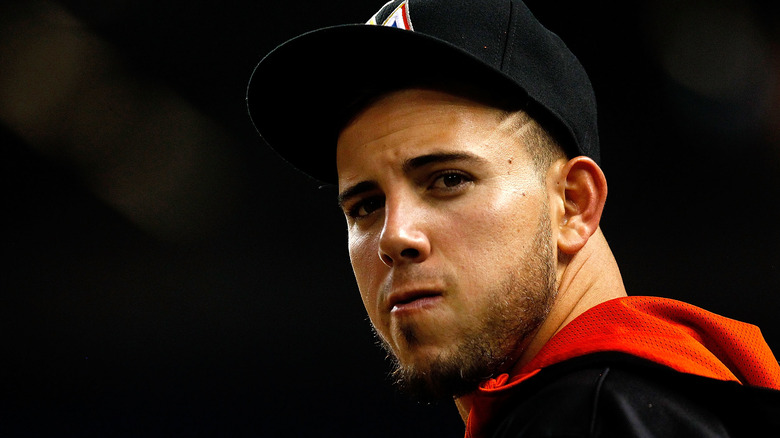 Mike Ehrmann/Getty Images
Per NBC News, Fernández, Macias, and Rivero were at a bar before making their way onto the 32-foot "Kaught Looking." ESPN states that by 3 a.m., the Coast Guard had discovered the overturned boat near the jetty. All three young men were dead; two were found underneath the boat, while one was in the water. Fernández, per NBC Miami, was only 24 years old and had recently announced that he and his girlfriend were expecting their first child. The Florida Fish and Wildlife Conservation Commission surmised that speed had caused the accident. They noted that Fernández had died from trauma.
His autopsy, however, revealed that there was more to the story. According to USA Today, Fernández had both cocaine and alcohol in his system. Blood taken from a vein and eye determined that his blood alcohol level was .147, which NBC News writes is almost twice the legal limit. Macias and Rivero were not legally drunk. Furthermore, Fernández and his friends all died from blunt force trauma. His autopsy report stated that his injuries included lacerations on his right eye, his right cheek, mouth, lip, and chin.
Additionally, Fernández had various broken bones in his face including the mandible, maxilla, and zygomatic bone. The autopsy concluded that he had cerebral edema and a subgaleal hemorrhage (via USA Today). In other words, Fernández's brain had swelled and his skull was internally bleeding. He also suffered pulmonary edema, or fluid build-up in the lungs (per Mayo Clinic) from the impact. Nevertheless, the report failed to mention who was actually driving the boat.
José Fernández was at fault for the accident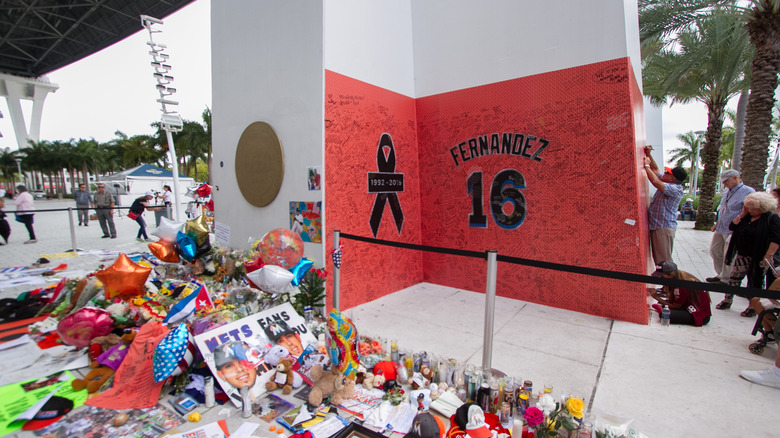 John Parra/Getty Images
CBS Sports reported that months after the crash, an investigation by the Florida Fish and Wildlife Conservation Commission had determined that Fernández was driving the boat at the time of the fatal crash. His DNA was found on both the boat's wheel and throttle. It was believed that Fernández was driving 65 mph. Prior to this, Yahoo! Sports states, his attorney had asserted that Fernández was not behind the wheel. Furthermore, the investigation disclosed that Fernández's body was found underneath the boat and that his facial injuries were so severe that he had to be identified using his MLB ID and his tattoos.
Before the crash, Fernández and his friends had been seen purchasing tequila and other alcoholic drinks at a local bar. The accident, per CBS Sports, occurred less than 20 minutes after they left the establishment. According to CBS News, the families of Rivero and Macias, who were 25 and 27 years old, respectively, when they died, filed wrongful death suits for $2 million each against Fernández's estate soon after. The lawsuit was eventually settled in 2018 for an undisclosed amount.
NBC Miami notes that ultimately, the boat crash tainted Fernández's legacy. Before his death, he was seen as a Cuban hero who had achieved the impossible. The investigation, however, had cast shadows on his accomplishments. The Sun-Sentinel points out that if Fernández had survived the crash, he would have faced manslaughter charges over the deaths of Macias and Rivero. Days after his death, Fernández's ashes were scattered at sea (per Fox Sports). His daughter, Penelope, was born to his girlfriend Maria Arias in February 2017 (via Univision).