Bernard Cribbins' Connection With The Beatles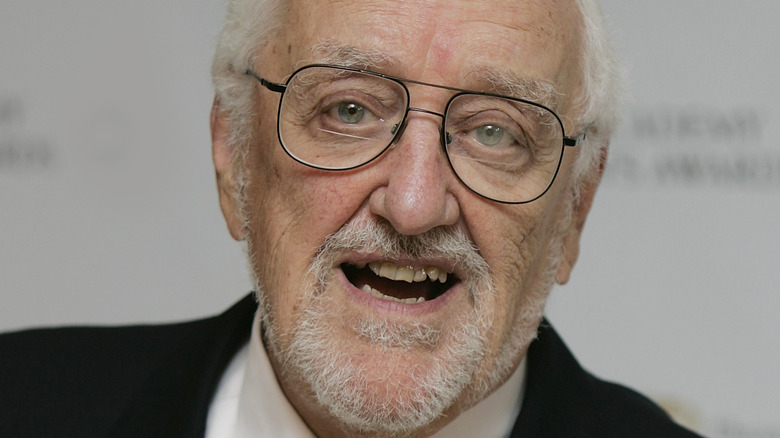 Jo Hale/Getty Images
Bernard Cribbins, who died July 28 at the age of 93, was one of the most beloved British actors of his generation. He had a long and varied resume, with numerous roles like those on "Fawlty Towers," "Doctor Who," "Two-Way Stretch," "Carry On," and more. Cribbins was also an accomplished singer, having produced a few successful hits like "Right Said Fred" and "The Hole in the Ground," as well as appearing in musicals on stage, as The New York Times says.
While Cribbins might be best known as an actor, his talents as a singer were also notable. As he told The Guardian in a 2012 interview, Cribbins put out a number of popular comedy recordings back in the 1960s. Around the same time, a producer by the name of George Martin became interested in Cribbins and decided to produce Cribbins' recordings. George Martin would later go on to become one of the most famous producers of all time, most notably for being the producer of The Beatles. What's even stranger, however, is how Cribbins became connected with The Beatles themselves. 
Who was Bernard Cribbins?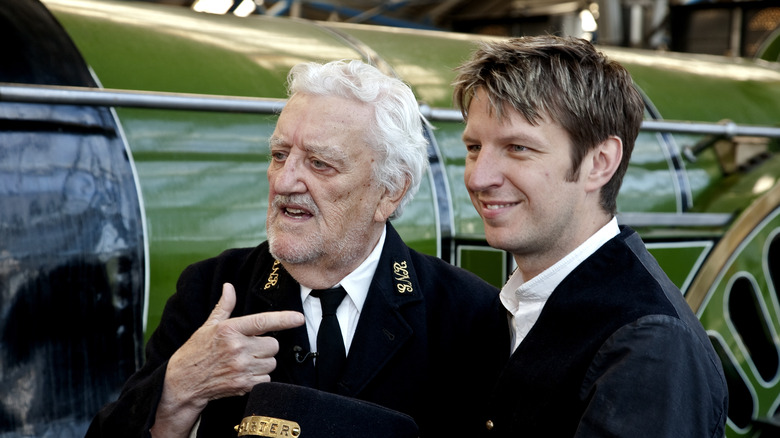 Wirestock Creators/Shutterstock
Born on December 29, 1928, Cribbins had worked for almost his entire life. As reported by The New York Times, he didn't retire even in his 90s. He got his start at the Oldham repertory company as a 14-year-old actor. Eventually, he would expand out into other projects and media, like film, television, and music. For decades, Cribbins was involved in a British children's TV series, "Jackanory," narrating popular books like "The Wizard of Oz." Eventually he was involved in over 100 readings. In 2011 he was awarded an Order of the British Empire for his contributions to the arts (per BBC).
Of course, Cribbins might have come to be best known as Wilfred Mott, the sidekick of the 10th Doctor in the hit British series "Doctor Who." As Polygon explains, Cribbins was one of the most beloved characters in the show's history. Cribbins's performance as Mott was that of a gentle, kind grandfather, who often used compassion to solve problems. This fit in with the show's overall themes about non-violence and peace, which made Mott even more important to the storytelling. 
George Martin used techniques from working with Cribbins on future the Beatles records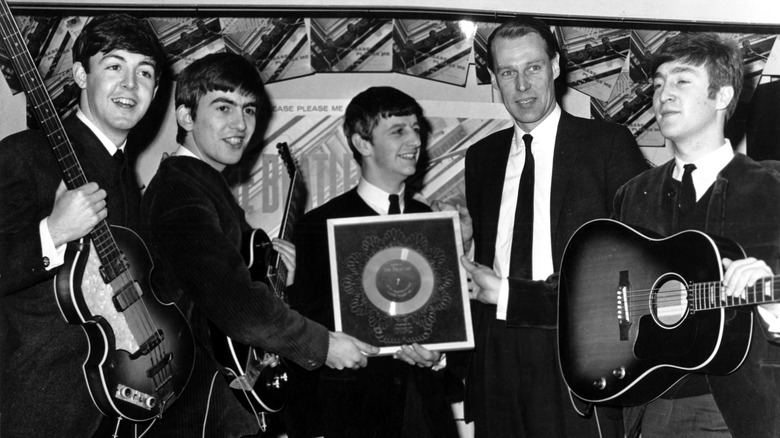 Michael Ochs Archives/Getty Images
At this point, The Beatles probably need no introduction. As Britannica states, they were one of the most famous and beloved rock bands of all time, having monumental influence on popular music. Cribbins being connected with them at all might seem weird and implausible, but it's actually true. It all starts with the early 1960s, producer George Martin, and Abbey Road Studios. 
Cribbins had been appearing and singing in a revue show called "And Another Thing" (in "1961 or '62, something like that"). According to Cribbins (via The Guardian), George Martin came to see the show with an eye to possibly recording one of Cribbins' two numbers. This eventually expanded into a series of other opportunities and gigs for Cribbins, like the comedy recording "Right Said Fred," which he told The Guardian he recorded, with Martin producing, at No. 3 studio at Abbey Road. "This was just before the Beatles got in there — we warmed it up for them!" he said.
As reported by The Guardian, Cribbins and Martin continued to work together, creating an album titled "A Combination of Cribbins" in 1969, which included "a surprisingly faithful" cover of the Lennon and McCartney song "When I'm Sixty-Four." Sixty years later, Cribbins' "Right Said Fred" continues to enjoy popularity in England. "Long-range applause, I call it," he said. (It's posted on YouTube.)