The Inspiration Behind These Popular Santana Songs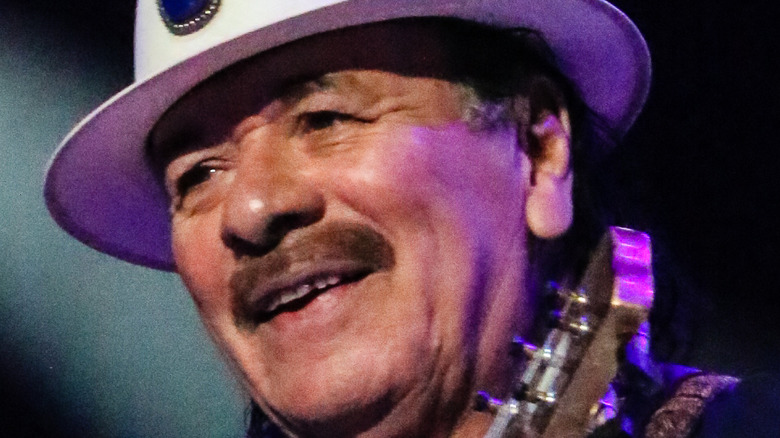 Myzz Frantastic/Shutterstock
To say Carlos Santana is a well-known name in the music world would be a huge understatement. Since his performance at Woodstock in 1969, Santana has traveled the world, rocking the planet with his musical collaborations, and uniting people and sounds from around the globe. Now a member of the Rock and Roll Hall of Fame and holding the No. 15 spot on Rolling Stone's 100 Greatest Guitarists of All Time list (via Santana.com), Carlos Santana is known not only for his bluesy, afro-slash-rock mashups but also for the distinct tone of his guitar. It is often claimed that one can recognize Santana by the first note he plays.
All of these mashups and collaborations lead to some incredibly diverse music, but what is the inspiration behind these collaborations? When he isn't reinventing a music genre or adding his distinct twist to an already existing piece, what drives Santana to sit down and write some of his most noteworthy stuff? Here is the inspiration behind some of his most popular songs. 
Maria Maria (1999)
"Maria Maria" features voclas by R&B team Project G&B and appeared on Carlos Santana's 1999 album "Supernatural," as per Songfacts, quickly becoming a fan favorite. The song features a mix of Spanish and English lyrics and the instantly recognizable tone of Santana's guitar, first acoustic and fast-evolving into a passionate electric solo. Without singing more than backup vocals, Santana is able to, with this tune, portray the passion of the song's lyrics in a few artful riffs on his guitar.
Santana told Giselle Fernandez (via YouTube) that he remembers the night Wyclef Jean began writing the lyrics for the song. He said in the interview that the songwriter came face-to-face with him and began humming the tune and writing lyrics. "My face was like a chart," says Santana, "with music and with lyrics." The song "Maria Maria" references, both in name and in text, the famous musical "West Side Story" and the conflicts faced by the character Maria inside the musical. Santana recalls being amazed by the song's creation, saying in the same interview with Fernandez, "I was like 'Woah, this guy is something else... he's writing a song by looking at my face.'" Few people can claim their face inspired a famous song, and even fewer can say they played two guitars in the same tune.
Oye Como Va (1970)
Released as part of the 1970 album "Abraxas," "Oye Como Va" was first recorded by Tito Puente in the 1950s. Super fans may recognize the original tune used in some Nissan commercials from the early 2000s (via SongFacts). Carlos Santana references Fuente as inspiration, often attributing much of his Latin flare to the artist's music. In Santana's 1970 version of the song, Gregg Rolie, who would later join Journey, sang the all-Spanish lyrics.
In an interview with PRS Guitars, Santana spoke about the musicians who inspire his music. He said in the interview that he has learned from greats like Tito Puente, B.B. King, and more who "all look at [Santana] with eyes of encouragement." Santana said these music greats told him to "'walk like a giant. You're one of us.'" He considers himself a representative of these musicians, claiming, "I am what I love." There is nothing quite as inspiring as being told by your favorite musicians that you fit right in. It's no wonder Santana felt driven to mix a piece of himself into Fuente's "Oye Como Va" when he has been told to consider himself cut from the same cloth as the great musicians he loves.
Jingo (1969)
Inspired by African rhythms and drums, "Jingo" is included in Santana's first album. "Jingo" is a reimagination of Babatunde Olatunji's "Jin-Go-Lo-Ba." The original song's lyrics mean "do not worry," as per Salisbury University, a concept that Carlos Santana seems to identify with. Cover songs are the meat and potatoes of an up-and-coming band like the 1960s Santana. Melding your own musical style with the familiar tunes of the past provides an excellent jumping-off point for new musicians, and this is exactly what "Jingo" did for Santana that day in 1969 when the band played the cover at Woodstock (via Pop History Dig).
When it comes to choosing the types of songs to cover, many aspects are taken into consideration, and style is one of the most important among these. Santana has a special interest in the drums of Africa, which he so often uses in his music. In the end, this choice played a huge factor in taking Santana from dishwasher to the legendary guitar hero he is today.
Santana spoke with NPR back in 2019 about his ties with different types of African music and the inspiration he pulls from them. "African rhythms and melodies, they have a nutrient and ingredient that supplies vast amounts of hope and courage, which equals joy," he said. He said his favorite types of music, including the styles he hears in Cuba, Puerto Rico, and other islands, all come from Africa. Santana also said in the same interview that he hopes these African rhythms and tunes "would be the mystical medicine music for a twisted, crooked world."
Everybody's Everything (1971)
Carlos Santana deals in rhythm, and the musician is a master of tone. It is no wonder, then, that his third album, "Santana III," includes a song with a backstory very much rooted in the power of both. The story, according to Songfacts, is Santana was so inspired by the horn section used by Tower of Power that he needed to write a song and include in it the same horns. Thus, "Everybody's Everything" was born.
Emilio Castillio, the leader of Tower of Power, shared with Songfacts, "You can tell how excited Santana was by how loud the horns are in the mix." He also told the story of the song's creation. According to Castillio, Santana called him one night very late and asked if his horns could be used in a new song, and he wanted them to come over at that very moment. So, Tower of Power recorded "Everybody's Everything" for Santana as a late-night last-minute request.
Released just two years after the first Santana album and the unforgettable performance at Woodstock, "Everybody's Everything" would prove to be an important jumping-off point for Santana's career as one of the first original Santana songs. Santana didn't know this would happen, though. He told PRS Guitars in an interview, "We weren't aware that we were being given a gift of multi-dimensional expression," citing the greats he covered in the early days.
And, as Songfacts notes, lyrically, the song touches upon themes that Santana has used often throughout his career — music as enlightenment.
Joy (2021)
"Joy" is a part of Carlos Santana's 2021 album, "Blessings and Miracles." "Joy" is a special word to Santana, so much so that it likely influenced his title. Back in 1992, Santana told Whoopi Goldberg, "Music is what reminds us of compassion. ... When you hear good music, it pulls you away [from life] and when you pull away, that's only when you can have compassion." This sort of spiritualism is engrained in Santana's work.
Santana collaborated with Chris Stapleton on the song, and he relived this songwriting process in an interview with Rock & Blues Muse. The two artists wrote "Joy" during the height of the coronavirus pandemic, and Santana said that with so much fear and pain in the world, he and Stapleton wanted to "create music as a healing force." In the same interview, Santana said the line from the song, "flying on the wings of angels," is his own, and that he enjoyed collaborating with Stapleton on the piece.
In an interview with Mainstreet Nashville, Santana described the inspiration behind "Joy" and the album it is featured on. He said, "I keep hearing inwardly and outwardly voices that says ... people are thirsty for impeccable integrity, righteousness, and a living water." Santana's mission with this song seems to be to heal the world, and that is no easy feat. He said it best himself: "This world is infected with fear and darkness and ... needs some mystical medicine music to heal that." Whether "Joy" heals the world or not, the song's creation story is inarguably pure.
Do You Remember Me (2019)
Included in his 2019 EP, "In Search of Mona Lisa," "Do You Remember Me" was written by Carlos Santana himself and recorded in only one take (via Songfacts). Santana believes there is a measure of innocence in the first take of a song that is severely lacking in the world today.
Santana says the inspiration for the song, and for the entire album, was his first time seeing Leonardo da Vinci's famous painting the "Mona Lisa" in person, as per Santana.com. He says the painting followed him and showed up in his dreams months later. Santana awoke one night from a dream with the lyrics to "Do You Remember Me" clearly distinguished in his mind. He is quoted as having said that it was his first time capturing a song's words in his sleep. Santana said, "I could just grab [the words] and write the songs," because they were so vivid in his imagination.
Smooth (1999)
Many saw Carlos Santana's 1999 album "Supernatural" as a comeback for the musician, as it was likely the most attention Santana had since his 1969 performance at Woodstock (via Esquire). Santana collaborated on the song "Smooth" with Rob Thomas and Itaal Shur. The song is about a lover who confuses and excites the singer. 
Santana was underwhelmed when he first heard "Smooth." He thought of the tune as an incomplete painting, and he wasn't sure the style was a good fit for his band. He told Giselle Fernandez that the demo, brought to him by Clive Davis, sounded too unfinished and that he didn't really believe what the singer was saying. Davis talked Santana into giving the song a shot, and Santana set out to add dimension to the tune with his classic solos. Santana told Fernandez that he asked the band to record the song all together as opposed to recording parts individually. The act of making music together is what eventually inspired Santana and the others to play and record the new version in a single take.
That being said, "Smooth" might not have even gotten that treatment if Santana hadn't previously had a vision. When putting together the album, he told Fernandez he had seen an angel named "Metatron" during a seance — someone that he says looked like Santa Claus — who had a message for him. According to Santana, Metatron told him that he would be a bigger hit than ever before. According to Santana's story, if he had not seen the angel that night, "Smooth" would never have seen the light of day. 
Samba Pa Ti (1970)
For an artist like Carlos Santana, who has become famous not just for his distinct Santana tone but also for his collaborations with so many top music names of the world, creating a song that is clearly and completely unique to the self can be a real challenge. According to Songfacts, the 1970 song "Samba Pa Ti," or "Samba for You," was this original beat for Santana. 
In an interview with Mojo Magazine (via Songfacts), Santana attempted to explain what exactly it was about "Samba Pa Ti" that inspired him to write the song. He said he has trouble conveying his thoughts in words, and he is often frustrated at this inability to make himself understood. When he recorded the song, it was pure feeling. He felt, for the first time, that he was able to convey exactly what was in his mind, and it would be something that everyone could understand, according to the musician. 
The inspiration behind writing an original tune is more complex than simply wishing to hear oneself in a note. Santana told Anderson Music, "I also want to believe that the notes that come out of my fingers and my heart can actually touch people's hearts and give them the hope and courage to be better people." His inspiration for writing "Samba Pa Ti" was to put into words the music he feels in his soul. 
Black Magic Woman (1970)
"Black Magic Woman" was released as part of Carlos Santana's 1970 album "Abraxas," but it was a reimagination of an earlier 1968 Fleetwood Mac song adapted from Peter Green's blues song, "I Loved Another Woman," (via Songfacts). Not many fans know of Santana's partiality to Fleetwood Mac. Santana said in the book, "The Guitar Greats," by John Tobler and Stuart Grundy (via Far Out Magazine), that he used to see Fleetwood Mac perform all the time. He said they blew him away. "To me," said Santana, "they were the best blues band." He told Andertons Music that he learned a lot from going to see those Fleetwood Mac shows, and that his most valuable lesson from that time was that he belongs with those greats. He even said, "I can see myself onstage ... with them."
Another Santana fact few people know is that the band originated in the blues genre (via Songfacts). Although the band's history with blues music is short, Santana has always considered himself separate from the distinction of genres. What inspires Santana most is "the dimension of passion, emotion, and feeling" in a song (via Relix). So, when Carlos Santana adds his soulful Latin flair to a bluesy Fleetwood Mac song, the music is reborn into what fans know now as "Black Magic Woman,."
Whiter Shade of Pale (2021)
"Whiter Shade of Pale" is a Procol Harum song that Carlos Santana adopted into his own style, which he describes as "Santana, Cuban, Puerto Rican in an African way," as per Society of Rock. The song features fellow guitarist Steve Winwood.
According to Society of Rock, Santana was inspired by Winwood's singing and wanted to create a song with him. When asked what he thought of Winwood in an interview with Evan Toth, Santana said, "I love him. Stevie Winwood is meant for all seasons." He shared in the same interview that a major reason he has for working with Winwood is his spirituality, a key element of the 2021 album "Blessings and Miracles." Santana told American Songwriter that he simply wanted to add a little more sexiness to a song that was already a classic.
According to Gold Radio UK, the 1967 original made it to the top five on the United States charts, ultimately selling 10 million copies, with Santana's cover being one of many. 
Los Invisibles (2019)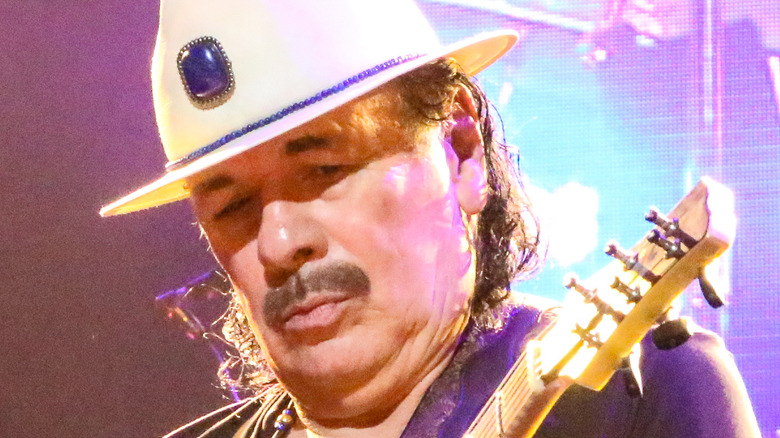 Myzz Frantastic/Shutterstock
The first song on Carlos Santana's 2019 album "Africa Speaks" is "Los Invisibles." The song's lyrics are sung exclusively in Yoruba. In an Interview with Stereogum, Santana explained that he's wanted to record a song in the language since he first recorded "Jingo." He said he was and always has been inspired by African music, and even Latin music has its roots in the beat and rythmn of African drums.
His idea for "Los Invisibles" was to champion this mother of music. According to Santana, "Africa is saying to me, bring hope and courage to the listener and give them encouragement."
He also discussed the fact that his wife, Cindy Blackman, is a drummer and was instrumental to the sound. "t wasn't until we found Cindy Blackman Santana, my wife, to play drums on it, and then this band and Buika and Laura Mvula and Rick Rubin ... I had to wait for the grand design to inwardly put all the pieces together, and now we did it," he said.