How Much Was Vicente Fernandez Worth When He Died?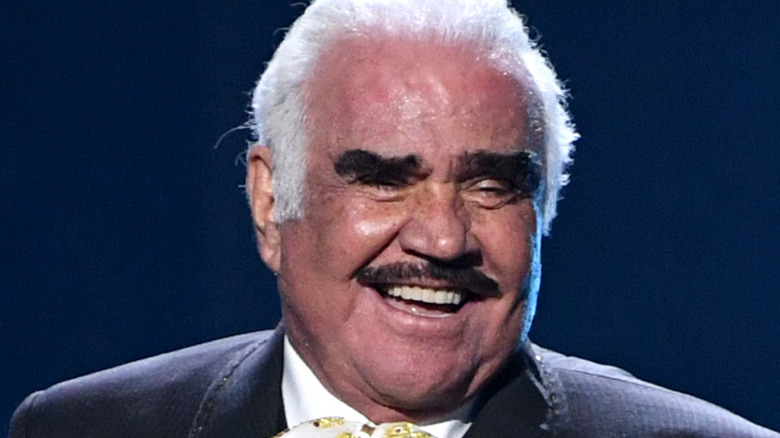 Kevin Winter/Getty Images
Three-time Grammy Award-winning singer Vicente "Chente" Fernández, known as the king of Mexican ranchera music, died in 2021 at the age of 81, according to NPR. Born in 1940 in Jalisco, Mexico, Fernández maintained a tireless work schedule up until the end. He released 50 records over his career and is considered one of the great Latin music artists of all time, according to Billboard. He also toured up until 2016, with a farewell show in Mexico City's Azteca Stadium, as Billboard notes. That venue has an estimated total capacity of some 100,000 people — not bad for a singer who was then in his seventies (via ESPN). As late as 2014, in fact, Fernandez tours ranked among the most lucrative in the business (per Billboard).
With an iconic baritone and known for wearing traditional charro outfits on stage, Fernández moved between pop and traditional music, and for this reason he was considered the voice of Mexican music with notable hits like "Tu Camino y El Mío," from 1969, as NPR notes. More recently, Fernández recorded "El Rey," in 1991, first by José Alfredo Jiménez, but Fernández's version is now considered the gold standard, as Billboard reports. In 2012, Fernández let Billboard in on the secret to his success: "A singer can sing anything. But me, my life is Mexican music. For me, putting on my charro outfit is a matter of pride and it's a very big responsibility," Fernández said.
Fernandez died from complications related to spine surgery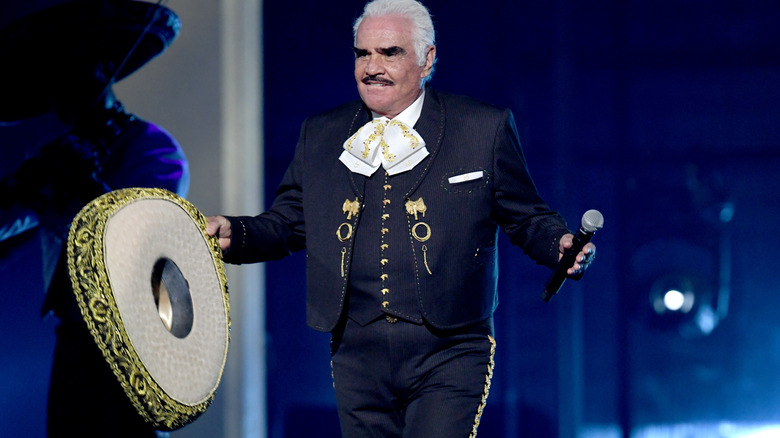 Kevin Winter/Getty Images
According to 2021 reporting from Billboard, Vicente Fernández was in the hospital when he died. About one year prior, he had a bad fall in his home which required surgery. At that time, Fernández's condition was described by his medical team as stable but critical (per Billboard). It was later revealed that Fernández was also diagnosed with an autoimmune condition known as Guillain–Barré syndrome, according to NPR. Months later, Fernández was still in the hospital as his condition fluctuated. Complications from spinal surgery and a case of pneumonia were later confirmed to be his cause of death, as Celebrity Net Worth notes. These were not the only health issues that the aging star endured late in life.
In 2012, Fernández had a renal infection and half of his liver was removed. Shortly thereafter, Fernández experienced pulmonary thrombosis, as Billboard explains. Around that same time, the singer also had surgery to repair a hernia. Upon his death, Vice President of Billboard magazine Leila Cob said (via NPR), "He would sing these songs with so much pathos and so much emotion, that grown men would cry, and he would cry. Perhaps because he was such a macho man, he could cry." With a career as long and as successful as Fernández had — he sold more than 60 million records and appeared in some 35 films — the Mexican baritone had an impressive net worth when he died, as Celebrity Net Worth explains.
Fernandez' net worth when he died was $25 million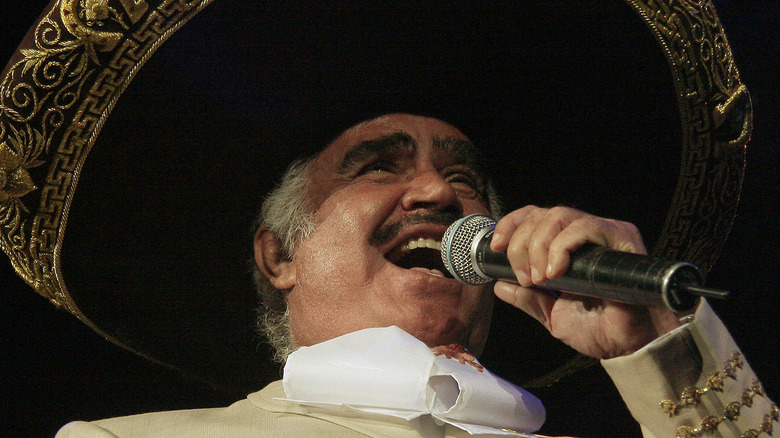 Medios Y Media/Getty Images
Despite the persistent health issues plaguing Fernández late in life, his net worth when died was $25 million (via Celebrity Net Worth). Along with that financial reward, Fernández's work was richly awarded throughout his career with nine Latin Grammys on top of the Grammys already mentioned, and 14 Lo Nuestro Awards. In 2002, Fernández was also given the honor of Person of the Year by the Latin Recording Academy. His last Grammy was for the album "A Mis 80's." came posthumously the same year that he died, as the Grammy website explains. Some 5,000 guests came to see Vicente Fernández's star on the Hollywood Boulevard Walk of Fame when it was revealed (per BBC).
All that said, Fernández's life was not without controversy. He was accused of sexual impropriety by singer Lupita Castro, which he denied, and allegations of inappropriate sexual conditions were also made regarding Fernández by a number of other women with whom he posed, as Billboard reports. In 1998, the son of Vicente, Vicente Fernández, Jr., was abducted for ransom. Two of Fernández Jr.'s fingers were cut off and mailed to the family. After four months, Fernández, Jr. was released after his father paid millions to his captors, according to the BBC. Fernández is also the father and grandfather of Alejandro Fernández and his son, Alex Fernández, both of whom have built careers for themselves as singers.