How Star Trek's Iconic Nichelle Nichols Both Named And Shaped The Character Uhura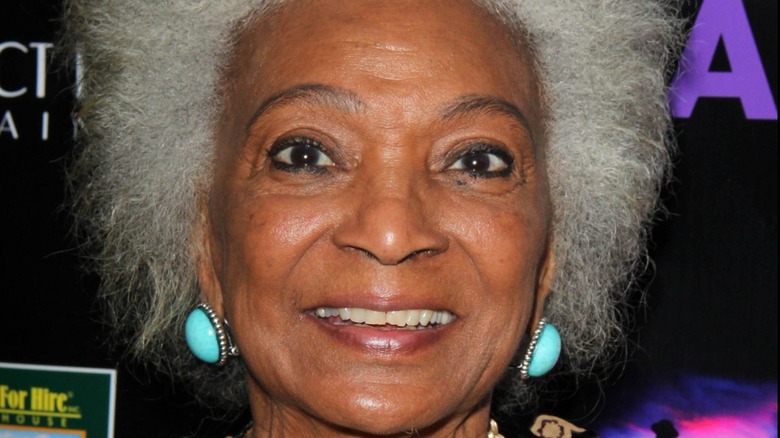 Kathy Hutchins/Shutterstock
Nichelle Nichols started her career in entertainment in the 1940s as a singer and dancer, but she eventually made her way into acting. In 1966, she got her most iconic role — Lieutenant Commander Nyota Uhura — in "Star Trek: The Original Series." Since then, Nichols had reprised her role in various "Star Trek" movies and TV shows throughout the years, as noted by The History Makers.
Nichols nabbing the role of Uhura was groundbreaking at that time, as it was rare for a Black woman to have such an authoritative character in television. Uhura specialized in cryptography, philology, as well as linguistics and was a talented singer and musician who entertained crew members by playing a Vulcan harp. At the beginning of the series, Uhura was a communications officer, but she rose up the ranks and eventually became a commander (via Star Trek). Interestingly, Nichols didn't know the role she was going to play when she went for an audition. In fact, when she was handed the script, she was told to read the part of Spock.
The inspiration behind Uhura
In an interview with The Wall Street Journal in 2011, Nichelle Nichols shared how Uhura was created. The character didn't even exist when she went for her interview with "Star Trek: The Original Series" creator and screenwriter Gene Roddenberry. Nichols brought a book with her by Robert Ruark titled "Uhuru," which in Swahili means "freedom." Roddenberry thought that Uhuru would be an interesting name for a character, and Nichols suggested "Uhura" to which Roddenberry replied, "You are Uhura and that belongs to you."
It wasn't just the name of the character that Nichols helped create. As she said in the interview, she was also responsible for creating Uhura's backstory. "They were ambassadors and one was a scientist, so I had this to live up to as well as the expectations of Spock. I made him Uhura's mentor," she said. "Star Trek: The Original Series" aired for three seasons from 1966 to 1969. Afterward, as reported by The Washington Post, Nichols starred as Uhura in six "Star Trek" that were released between 1979 and 1991.
Nichelle Nichols' legacy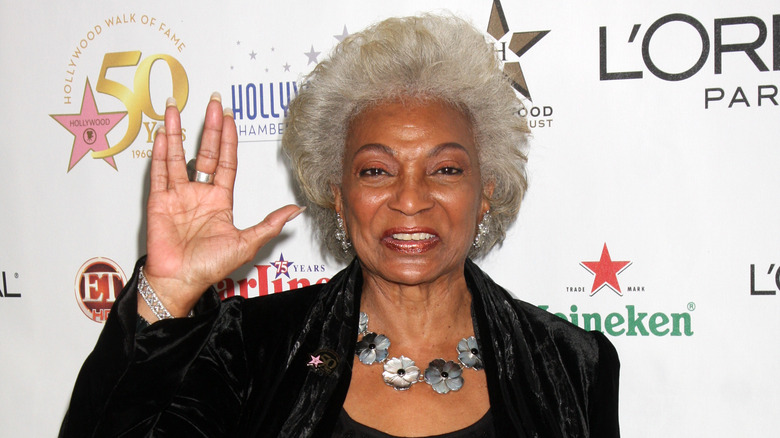 Kathy Hutchins/Shutterstock
After the first season of "Star Trek: The Original Series," Nichelle Nichols thought about leaving the show to focus on theater. She confided in Martin Luther King, Jr., who convinced her to stay, as he said that role of Uhura was inspiring to young African Americans. "You've changed the face of television. That's no small achievement. And I am very, very proud," King told the actress (via Star Trek).
In addition, Nichols had other notable achievements throughout her lifetime. As The New York Times reported, NASA honored the actress with the Exceptional Public Achievement Medal for her role in inspiring diversity in space exploration. Many minorities and women who have applied to NASA cite Nichols and her role as Uhura as their role models. In 2019, Nichols announced her retirement from public appearances. She died of natural causes on July 30, 2022, at the age of 89, but her legacy continues.